Amazing Corn Mazes Near Chicago for Kids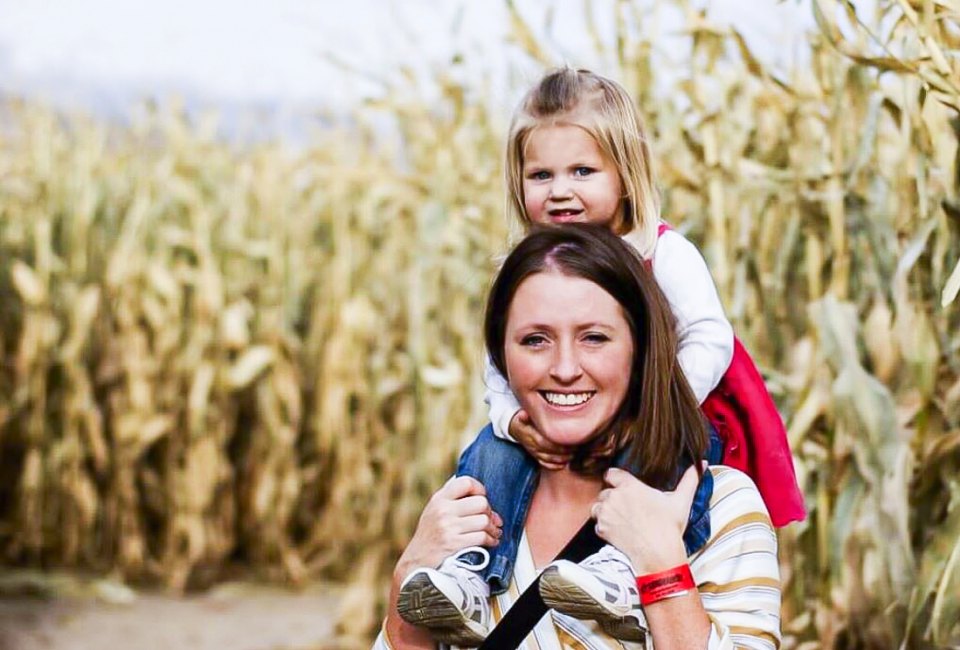 9/15/23
- By
Maureen Wilkey
Corn mazes near Chicago are usually located on a farm that offers a cornucopia of fall fun. Corn mazes throughout Illinois, Indiana, and Wisconsin present creative themes and different ways to navigate the twists and turns, so children of varying ages can join in the challenge. Some corn mazes also have flashlight corn maze nights and hayrides.
At most of these corn mazes near Chicago, families can also enjoy plenty of harvest time fun, including apple picking, pumpkin patches, corn bins, and even Halloween-themed outdoor movies. Many of the farms listed on our corn maze list also host fall festivals throughout the season. Read on for our top picks for corn mazes near Chicago, and check out our Fall Fun Guide for Chicago Kids for more seasonal fun.
Corn maze adventurers of all ages are encouraged to dress appropriately in clothes they don't mind getting dirty. Families should plan ahead by checking corn maze websites for weather-related closures.
Top Corn Mazes Near Chicago
Richardson's Adventure Farm touts its corn maze as the largest and most intricate in the world, with 9.7 miles of trail through 28 acres of corn. The maze is actually four separate mazes with their own entrances and exits, so families can choose to do as many quarters of the maze as they choose. Visitors can also play five corn maze games that take between 20 minutes and two hours as they wander through the corn, or view their position from one of three 8-foot tall wooden bridges. The 2023 theme is Jurassic Park.

All Seasons Orchard has two corn mazes near Chicago. Photo courtesy of All Season Orchard
Open Aug. 26 - Oct. 29, 2023
Families can navigate through either a shorter 20-minute route or a longer 40-minute trail. The mazes are part of the orchard's larger Barnyard attraction, which features a jumping pillow, pedal carts, mini zip line park, pony rides, and an apple cannon. Pick-your-own apples and pumpkins and a country store provide additional farm-themed entertainment. Some attractions are open during the week.
Open for the 2023 season
Entrance into the Jonamac Orchard corn maze is free with your admission. Big kids and grown-ups can experience the haunted corn maze with glow sticks or penlights from dusk to 10:30pm on weekend nights in October. After the maze, families can pick apples or pumpkins, visit the cider house, or shoot the apple cannon. Jonamac Orchards also offers special after-school hours throughout September and October.

Enjoy a corn maze and all the other fall fun at Konow's Corn Maze. Photo courtesy of Konow's Corn Maze
Opens Sept. 16, 2023
Families can pick between a 3.4-mile maze for experienced maze runners or a 0.4-mile maze for little kids and newbies. Before or after the maze fun, kids can visit an animal zoo, ride a pony, enjoy a hay ride, or participate in duck races. Indoor fun is also available in the form of corn pits where families can wade in corn, plus an indoor "Wild West" town.
Open for the 2023 season
Dollinger Farm's 4-acre corn maze is open every day of the week and has a new theme each year. Kids can also visit the bee barn, farm animals, corn bin, tipi, and pumpkin farm on their trip. Admission to the farm is free, but the corn maze requires tickets.
Opens Sept. 23, 2023
From above, aerialists can read this farm's name in its 15- acre corn maze. When kids emerge from out of the maze, they can pick pumpkins in the farm's pumpkin patch, ride the cow train, visit the petting zoo, shoot the corn cannon, and cheer for their favorite celebrity pig at the farm's pig races. Big kids may want to stay up for the farm's flashlight maze for an extra thrill after dark.
Open for the 2023 season
From apples to pumpkins to Christmas trees, Kuiper's offers much more than just a corn maze. The 5-acre maze is included with admission and includes many twists, turns, and games. Smaller adventurers can wind their way through a hay bale maze. Kids can also watch pig races, ride on the tractor train or hayride, or visit farm animals, the cornstalk cavern, or the gourd arbor.

Corn maze at dusk. Photo courtesy of Abbey Farms
Opens Sept. 16, 2023
At this farm owned by the monks of Marmion Abbey, families can work their way through two corn mazes. One is the largest in Kane County and includes a lookout bridge. Grown-ups can enjoy a local craft beer or wine during family-friendly Halloween-themed movies presented on weekend nights throughout October. Other attractions include hayrides, giant slides, a jumping pillow, lasso challenge, duck races, a farm animal petting zoo, and a pumpkin patch.
Open for the 2023 season
Keller's mermaid-themed corn maze has three observation decks that overlook the maze and the farm. The corn is actually harvested after the maze closes for the season. Families can also pick apples or pumpkins, take small children through the straw maze, go on a hayride, or visit farm animals. To participate in the Fall Festivities, reservations must be made. No reservations are needed for pumpkin and apple picking or farm stand shopping.

Photo courtesy of Siegel's Cottonwood Farm
Open for the 2023 season. Weekends and Columbus Day only.
Siegel's offers a 12-acre, 5-mile corn maze for bigger explorers and a smaller 2-acre maze for little kids which is also open during the week. The 2023 theme is Super Mario Brothers. In addition to corn mazes, the farm offers more than 30 harvest-themed attractions including an authentic Native American tipi, a baby chick nursery, a hayride, pony and camel rides, a pumpkin picking field, and live farm animals.
Corn Mazes in Indiana
Open for the 2023 season.
This Indiana apple orchard and farm has two corn mazes with two different themes that vary each year. In addition to the mazes, families can enjoy cow train rides, apple, pumpkin, sunflower picking, and Barnyard Jams on the weekends.
Corn Mazes in Wisconsin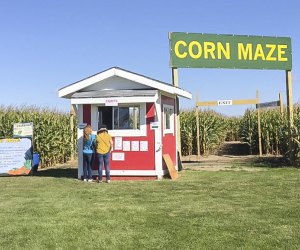 Take a hayride to the pumpkin patch after completing the corn maze. Photo courtesy of Pearce's Farm Stand
Open from Sept. 8, 2023 - Oct. 31, 2023
Pearce's Farm Stand is located just over the Wisconsin border and is a quick drive from Lake Geneva and Lake Delavan. The corn maze is open from September through October. There is a fee to enter the corn maze; however, the fall festivities are free. You'll find live music, a hay barrel climbing zone, a tractor slide and playground, and more. There are also wagons full of pumpkins, apples, mums, and other great fall treats. On weekends you can also take a free hayride out to pick your own pumpkins from the pumpkin patch.
Photos courtesy of the farms/orchards
Click Here to Sign Up!
i