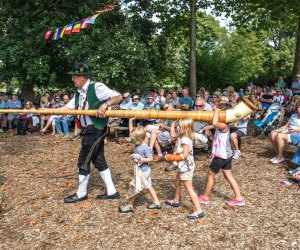 Best Fall Festivals for Chicago Families
Fall harvest season brings a host of family-friendly street fairs, and festivals to Chicago—many of them FREE. From neighborhood fests honoring Chicago's diverse communities, like Pilsen's Mexican Independence Day Parade or the Ukrainian Village Festival, to festivals that dig deep into Chicago's thriving food and art scenes, like the World Dumpling Fest or Andersonville Arts Week, there's a celebration happening every weekend from now till Thanksgiving, with fun things for kids and families to do at each. Even Oktoberfest celebrations in Chicago, which might make you think of boozy crowds, make room for families with kids' zones and activities. And because it's fall, there's lots of apple crunching, pumpkin-peeping, and harvest celebrating to do, too...oh, and a little thing called Halloween.
Bookmark this list, which we'll update all season long with the best of fall for Chicago kids. And get your calendar and your favorite fall sweater ready!