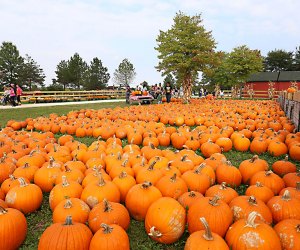 Best Pumpkin Patches for Kids Near Chicago
Did you know Illinois is the number one pumpkin-growing state in the country? So it should come as no surprise the Chicago area boasts dozens of pumpkin patches lfor intrepid jack-o'-lantern enthusiasts and pie bakers to pick their own pumpkins. Many pumpkin patches also offer an array of additional autumn-themed activities including apple orchards and corn mazes for kids.
Before selecting a pumpkin patch, families should decide how far they want to travel, whether they want to pick their own or choose from preselected pumpkins, and what other attractions they might want while on their pumpkin patch excursion. Many farms offer hayrides to the pumpkin patch, but the patch itself might be muddy or vine-covered, so parents with young children should check to see if the pumpkin patch is stroller-friendly. Some pumpkin patches also offer late-night activities for bigger kids.
Here are a few of our favorite pumpkin patches within a two-hour drive of the Loop.
Be aware that social distancing protocols, including mask wearing, are likely to be in place at these pumpkin patches. Some might reqire timed admission and advance ticket purchases.
Pumpkin Patches North of Chicago
Waukegan, Ill.
13236 W. Town Line Road
90-minute drive from Chicago Loop
Kroll's has a variety of pumpkins pre-picked and priced in rows for convenience. Find any size, shape, or color for decorating, carving, or baking. Get into the fall spirit with gourds, Indian corn, mini-pumpkins, straw bales, and corn stalk bundles available for purchase. Families can also have fun with hayrides ($4), a corn maze ($5 for kids and $7 for adults) and visiting farm animals such as goats, donkeys, sheep, chickens, and turkeys. During the 2020 season, timed tickets are required on weekends and on Columbus Day. Masks are required.
RELATED: Great Fall Day Trips for Chicago Families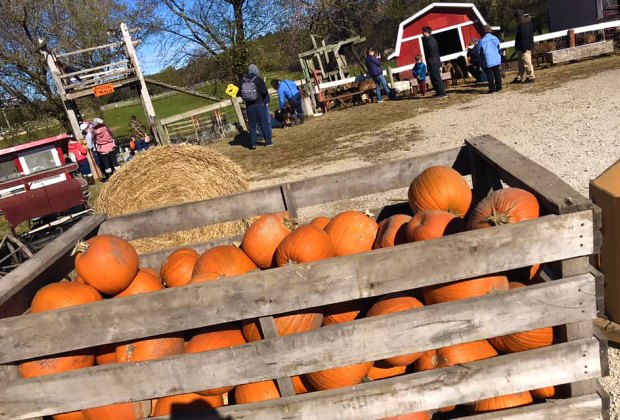 Pick a pumpkin and then enjoy a day of activities at Patch 22.
Wadsworth, Ill.
15900 W. Kelly Road
55-minute drive from Chicago Loop
Thousands of farm-grown pumpkins in many varieties are available at this pun-named working family farm, open weekends throughout October with a $10 charge per car for admission. When families finish picking pumpkins, they can enjoy a pony ride in which the parents walk the pony around a large open pasture ($10 for 20 minutes). Hayrides and a spooky hayloft are also available for a fee. Masks are required.
Pumpkin Patches Northwest of Chicago
Woodstock, Ill.
14510 Ill. Route 176
70-minute drive from Chicago Loop
Pick your own pumpkin straight off the vine at this northwest suburban patch that also includes several barnyard attractions. A ticket to the barnyard buys admission to the pumpkin patch as well as a corn maze, petting zoo, bunny village, giant swing, goat bridge, duck races, and a bee observation station. Families can complete the festive fall fun with apple picking. Hand sanitizer is provided throughout the orchard and capacity limits are in place in buildings. Masks are required in buildings, on the wagon ride, and other times when social distancing is difficult.
RELATED: The Best Orchards for Apple Picking Near Chicago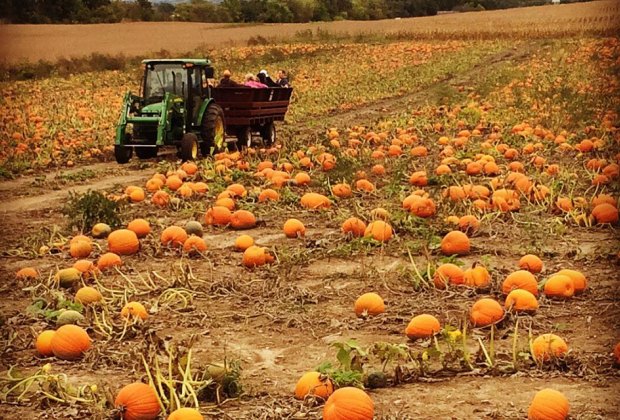 Roam the fields to find the perfect pumpkin at Cody's Farm and Orchard.
Marengo, Ill.
19502 River Road
65-minute drive from Chicago Loop
Families can choose their own adventure at Cody's Farm: Take a free hay ride to the pumpkin patch for a $7 pumpkin of any size, then return to the farm for FREE kids activities that include a corn play box, sand box, and play tractor. Upgrade to additional activities with a $6 wristband that gets kids into the rubber duck races, barrel rides, corn maze, pedal tractor play track, and barrel roll. Families can buy fall foods like apple cider donuts, pulled pork sandwiches, and pie, or fall decorations like pumpkins, gourds, corn stalks, and mums. Only one family member is allowed in the shop at a time.
Huntley, Ill.
9112 Algonquin Road
50-minute drive from Chicago Loop
Any pumpkin big or small from Dave's Pumpkins is just $8. With no parking or admission fees, families can get their money's worth at this northwest suburban farm. In addition to picking pumpkins, families can take part in pumpkin bowling using a pumpkin as a ball, as well as antique pedal tractor riding and hayrides to celebrate the season. A mini sunflower maze can entertain small children who might not be big enough for a corn maze yet. Many activities have been modified to enhance social distancing and masks are required in areas where it is difficult to socially distance.
Lincolnshire, Ill.
16678 Aptakisic Road
40-minute drive from Chicago Loop
Didier Farms' Pumpkinfest runs from September 21 to October 31, when kids can explore a variety of unusual pumpkins in the farms' pumpkin patch, or buy tickets to participate in activities and take rides around the farm. Pumpkins are sold by the pound and include unique varieties such as munchkins, magic lanterns, mystics, Cinderella, Lumina, Casper, wee be little, and knuckleheads. Fun activities include pig races, a silly string asylum, hayrides, a dragon wagon, and a corn maze. Face masks must be worn by visitors ages 2 and older, and hand sanitizing stations are available throughout the farm.
RELATED: Great Places to Hike With Kids Near Chicago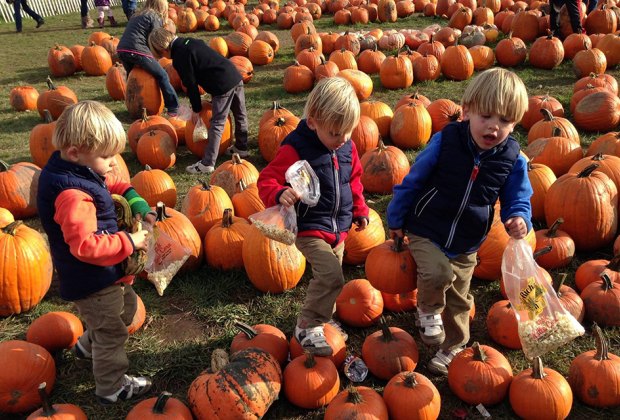 Kids can wander the fields at Richardson Adventure Farm in Spring Grove.
Spring Grove, Ill.
909 English Prairie Road
115-minute drive from Chicago Loop
Families can come for the pumpkins and stay for the adventure at Richardson's, which has a free wagon ride to take visitors to the pumpkin patch on weekends. Farm-goers can pick from thousands of pumpkins and gourds in breeds such as superior, Cinderella, Atlantic giant, baby boo, crunckin, and bird house gourds. Some are pre-picked for families with smaller kids, or more adventurous families can pick straight off the vine for 45 cents per pound. The farm also boasts the "World's Largest Corn Maze," with games and a 50-foot observation tower, as well as a carousel and wagon rides. Masks are required inside buildings and in locations where it is difficult to maintain social distancing.
Harvard, Ill.
15908 Hebron Road
95-minute drive from Chicago Loop
Families can grab a wheelbarrow and head out to the U-pick pumpkin patch to pick their own pumpkins, gourds, and winter squash. The orchard offers more than a dozen different varieties for decorating, carving, or making pies. Visitors can also select pre-picked pumpkins from the Harvest Barn, or purchase their own trees for growing fruits such as apples or pears. Royal Oak also has its own apple tree maze with more than 3,000 apple trees and nine varieties of apples. Masks are required in all areas of the farm on weekends and holidays and in areas where social distancing is difficult on all days.
McHenry, Ill.
3709 Miller Road
80-minute drive from Chicago Loop
Families can ride out to the pumpkin patch on the farm's tractor to pick pumpkins for just $8 each—regardless of size or shape. Pumpkins in the patch range from 1 to 200 pounds and come in colors such as orange, white, blue, green, pink, and yellow. Besides the many pumpkins for carving, the farm also offers pumpkin varieties specifically grown for seed roasting or pie making. After picking pumpkins, families can find a variety of other fruits and veggies to pick. The farm's "Farmtractions" theme area is closed for 2020. Masks are required on the wagon, inside buildings, and in other areas where social distancing is difficult.
Pumpkin Patches West of Chicago
Aurora, Ill.
2855 Hart Road
80-minute drive from Chicago Loop
​This 40-acre pumpkin farm owned by the monks of Marmion Abbey celebrates Pumpkin Daze from September 19 through November 1. Families can pick pumpkins and enjoy Kane County's largest corn maze, a petting zoo, log balance beam course, bouncing cow train, zip line, potato sack races, a jumping pillow, tractor and hayride wagon, lasso challenge, and antique tractors. Adults can get a craft beer to go with the family meal from Tumbleweed Grill on site. In 2020, Abbey Farm has an online ticketing systems to reduce the number of visitors in the orchard.
Malta, Ill.
19412 Shabbona Road
75-minute drive from Chicago Loop
Along with its reputation for offering a wide variety of apples, this orchard boasts a 12-acre pumpkin patch where families can pick any pumpkin for $10 or three for $20. Jonamac's pumpkin patch offers special activities during Harvest Days in September and October. The orchard also has a bounty of activities in its barnyard area and offers an after-dark special for its corn maze and other activities for bigger kids. Masks are required inside buildings and a limited number of visitors are allowed each day.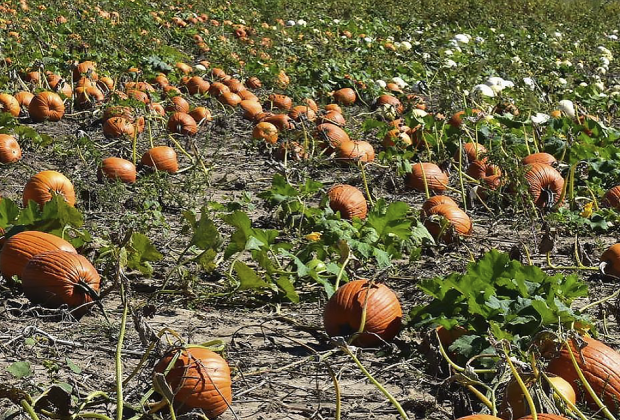 Pick the largest pumpkin you can carry at Keller's Farmstand.

Oswego, Ill.
2500 Johnson Road
50-minute drive from Chicago Loop
​The Keller family has been growing pumpkins since the 1800s, and does not charge admission to enter its pumpkin patch. Keller's experts can help select the best large pumpkins for jack-o'-lanterns or small pumpkins for making pies at their Oswego farm stand. Pre-picked pumpkins are also available, along with a number of fall-themed attractions such as hayrides, apple picking, farm animal visits, pedal tractors, and corn play bins. Keller's require all visitors older than 2 to wear a face mask.
Maple Park, Ill.
1N318 Watson Road
65-minute drive from Chicago Loop
A pumpkin is included in the price of each admission at Kuiper's Family Farm. Kids and grown-ups can select one from the massive 71-acre pumpkin patch. The $17.99 weekday or $19.99 weekend admission also includes a corn maze, gourd arbor, hay wagon ride, jumping pillow, petting zoo, pig races, and a tractor train ride. Masks are required in the Orchard Market and in the admission area.
West Chicago, Ill.
29W310 North Avenue
50-minute drive from Chicago Loop
For a small, family-owned farm atmosphere, kids can take a trip to Sonny Acres Farm. Pumpkins from the patch are sold by weight, and kids can enjoy a number of other attractions, including a petting zoo, hayride, pumpkin patch spin ride, photo booth, camel ride, and fun house. Its fall festival begins in the second half of September.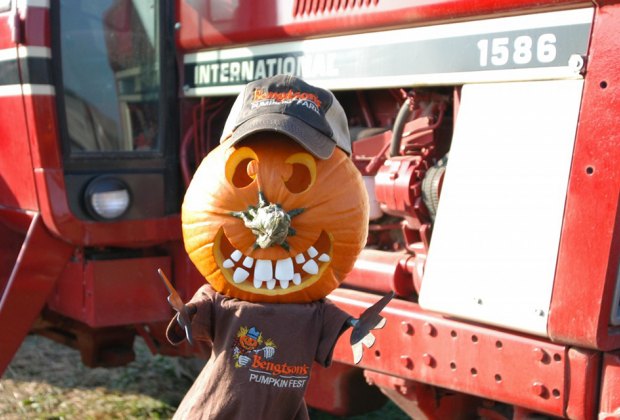 Bengtson's Pumpkin Fest is stroller and wagon friendly.
Pumpkin Patches Southwest of Chicago
Homer Glen, Ill.
13341 W. 151st Street
45-minute drive from Chicago Loop
​Bengtson's 40-year-old southwest suburban pumpkin patch offers a stroller- and wagon-friendly environment for little kids and their families. Jack-o'-lantern pumpkins straight from the vine are priced by the pound, or pie pumpkins can be picked for $2.50 each. Wheelbarrows are available to rent for families who are looking for big loads of pumpkins. After picking their pumpkins, kids can enjoy hayrides, a tractor town, mega slides, a gemstone and arrowhead mining sluice, pony rides, and a petting zoo. COVID-19 safety regulations are posted to the farm's Facebook page on September 18.
Channahon, Ill.
7420 E. Hansel Road
90-minute drive from Chicago Loop
Whether your family is looking for a pumpkin to carve, decorate, or bake in a pie, you can find it at Dollinger. The farm prices pumpkins from 75 cents to $25 depending on size, and offers a variety of colors, sizes and textures. Families can also enjoy refreshments from Grandpa John's Donuts or Grandma Dollinger's Fudge, work their way through the corn maze, play on the farm-themed playground and visit with farm animals.
RELATED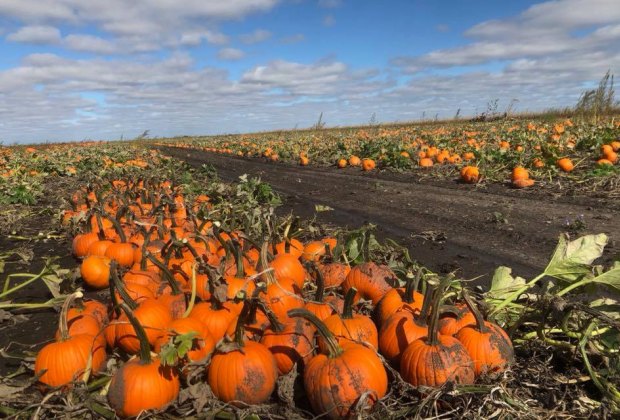 As the name implies, Heap's Giant Pumpkin Farm is home to some giants.
Minooka, Ill.
4853 US Highway 52
50-minute drive from Chicago Loop
​The "giant" in this farm's name describes the pumpkins, one of which grow to more than 730 pounds. The farm boasts 90 varieties in different textures and colors. Admission to the farm is FREE, and for a fee, families can enjoy a fun barn, home cooking, a corn maze, and fall decorations for purchase.
Bolingbrook, Ill.
710 W. Boughton Road
40-minute drive from Chicago Loop
​More than 25,000 pumpkins are available for the picking at Johansen Farms and Children's Zoo. For a single admission fee, families can see animals, ride ponies, enjoy a hayride, slide down huge slides, play mini-golf and more. Pie and donuts are also available for purchase. COVID-19 rules are posted on the farm's website.
Tinley Park, Ill.
18900 Oak Park Avenue
60-minute drive from Chicago Loop
​Families can select the perfect pumpkin from thousands in Odyssey Fun Farm's pumpkin patch. The farm rents families a wagon to haul especially large pumpkins to the car. A pumpkin house makes a perfect backdrop for fall family pictures, and kids can enjoy hayrides, a corn maze, corn cannons, and a kids zone with inflatables and a carousel. Masks are required for some attractions.
Lemont, Ill.
13332 Bell Road
40-minute drive from Chicago Loop
The Homerding family or its ancestors have owned the 180-acre Puckerville Farm since 1875. In 2011, the family began running a small festival at the farm to help families enjoy fall activities such as a largest pumpkin contest, hayrides and face painting. After pumpkin picking season is over, families can return to the farm for the Christmas tree harvest.
Lockport, Ill.
17250 Weber Road
90-minute drive from Chicago Loop
Dozens of attractions accompany the U-Pick pumpkin patch at Siegel's Cottonwood Farm. After selecting a pumpkin off the vine for 49 cents per pound, kids can enjoy visits with pumpkin princesses, play in a corn crib, take pony and camel rides, play pumpkin checkers or tic-tac-toe, climb aboard a grain train, visit an authentic Native American tipi, and play in kid-sized bird houses. The farm offers FREE admission for grandparents on weekdays and $5 readmission passes for kids who want to come back for a second day of fun.
Pumpkin Patches East of Chicago
Hobart, Ind.
200 S. County Line Road
55-minute drive from Chicago Loop
Families can cross the state line into Indiana for U-Pick pumpkins for 40 cents a pound at County Line Orchard. A pumpkin house in the middle of the patch offers a great opportunity for pictures. The orchard also has apples, bee yurts, sunflowers, a corn maze, and barnyard jams on the weekend. Families can book a campfire for s'mores near the apples and pumpkins on the weekends. Masks are required throughout the orchard.
Unless noted, photos courtesy of the farms