Best Farms for Family Fun and Entertainment in Chicago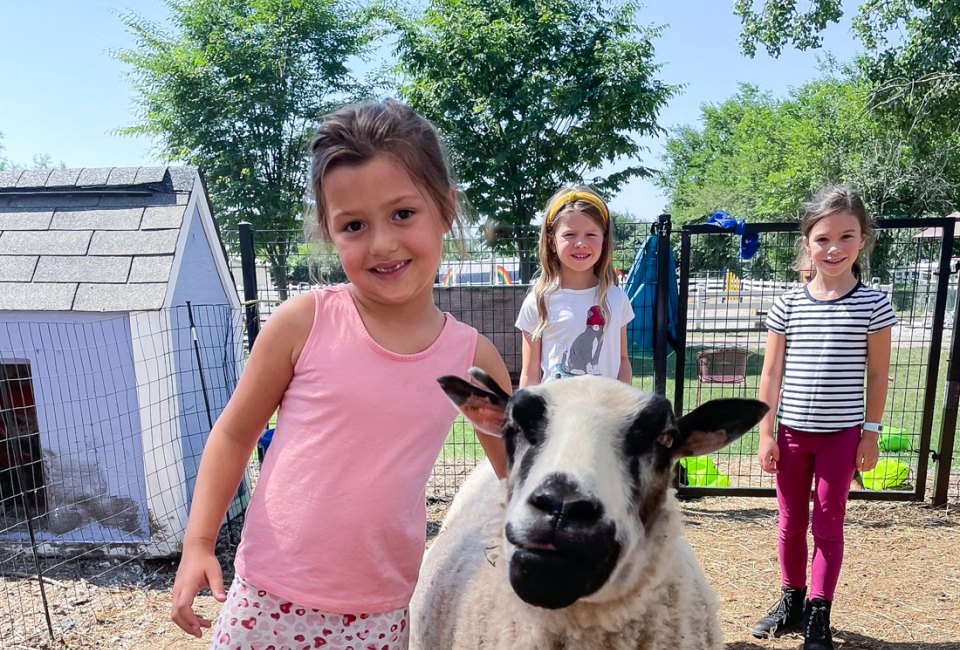 4/21/23
- By
Lauren LaRoche
There are plenty of farms with family entertainment near Chicago, whether that means a petting zoo, pony rides, or pick-your-own berries and other seasonal fare. If you're looking for the best Chicago family farms for kids, we've got you covered. From hand-picking flowers to milking a goat to hayrides, these local farms have something for everyone in the family.
Fresh air and time spent in nature are so important for kids of all ages. As urban dwellers, it can be hard to give kids a farm-to-table experience without spending hours in the car. Whether it's picking apples, taking a train ride, or learning how to care for (and cuddle) adorable baby animals, we know the best spots for your family to get their farm fill, right here in (or very near) Chicagoland. Check out our list of the best Chicago family farms to visit with your little ones.
The Best Farms in Chicago: Northern Suburbs

Angelic Organics offers hands-on farming experience. Photo courtesy of Angelic Organics Farm
1. Angelic Organics Farm and Leaning Center—Caledonia, IL
If you want a hands-on experience, Angelic Organics Farm is a great weekend adventure. You can eat directly from the fields, learn about milking a goat, build a compost pile, and even make your own soap. This farm isn't just a petting zoo. Your children will actually be able to get their hands dirty caring for and milking animals. Kids can see farmers in action and try some of the food they pick themselves. There is also a store to take home some farm-fresh goodies. Save room for a freshly prepared farm lunch.
2. Historic Wagner Farms—Glenview, IL
Wagner Farms is an adorable park-district-run farm located in Glenview, IL. This farm is free to the public and open all year round. It's also one of the oldest working dairy farms in Illinois. You'll find horses, cows, and goats roaming the grounds outside. Inside, you'll find an awesome hands-on play barn filled with a pioneer wagon, a general store, and corn silo that kids can climb on. Your little ones can pretend they are shopping in the small town or selling produce out of a covered wagon. You'll find art classes, year-round events, farmhouse tours, live music, pumpkins, and more. There is a gift shop on site but no formal restaurant or dining area. Families are allowed to picnic with their own food and drinks.

Hold baby animals this spring at Enjoy Pioneer Farm. Photo courtesy of Pioneer Farm
Favorite Family Farms in the Northwestern Suburbs of Chicago
3. Enjoy Pioneer Farm—Hampshire, IL
At Enjoy Pioneer Farm, your little ones can learn the inner workings of a real farm. Not only can they hold goats, ducks, and baby lambs, but they can also learn about how hens make eggs and how a real farm produces food for the community. You can buy fresh farm eggs and meats raised on the farm. Brave parents can also rent baby animals to take home! During the fall months, explore a corn maze and even pick your own corn. There is also a pumpkin patch as well as straw and haystacks available to take home for your own (Pinterest-worthy) fall display.

Peek-a-boo! Photo by the author
4. Goebbert's Farm—South Barrington, IL
Goebbert's Farm is the go-to place for farm fun on the northwest side. This action-packed farm boasts miles of parks, bounce houses, rides, corn mazes, pig races, interactive exhibits, games, and more. You can buy flowers, produce, pumpkins, and trees all grown on the farm. In the fall you can pick your own pumpkins, and apples, or run through the sprawling corn maze. In the summer months, the farmers market is open daily. During the busy season (late summer and fall), make sure to leave some time to wait in line for rides and food. Attractions vary by season, so be sure to check the website for which activities are available when you plan your visit.
Best Farms To Visit with Kids in the Western Suburbs of Chicago

Blackberry Farms has a carousel, rides, and animals! Photo courtesy of Blackberry Farms
5. Blackberry Farms—Aurora, IL
Blackberry Farms is like a farm amusement park. Admission includes unlimited rides on pedal tractors, paddle boats, the train, carousel, hay wagon, and most importantly—the ponies. Little ones can experience all sorts of farming equipment and vehicles on land and water. Whether kids prefer a train or a pony, they can ride as often as they like for the whole day. This is an awesome deal if you plan on riding anything more than once; we all know how easy it is to burn through ride tickets! Kiddos can also learn about baby animals, pigs, goats, and chickens in the Discovery Barn. While you can bring your own snacks, there are a ton of dining options here ranging from healthy, fresh-picked fruits to (unhealthy but delicious) baked goods and carnival-like treats.
6. Double J Riding Club—Countryside, IL
Double J Riding Club is great for little animal lovers. With outdoor adventure classes and Tiny Animal Adventure sessions, children get hands-on experience with horses and other animals. Little ones can experience feeding animals and taking care of them. Kids learn about proper animal diets, habitats, and more. Budding farmers will learn how to groom and care for a variety of animals on the farm. Babies as young as 12 months old can join in on the fun but there are also camps available for older kids. There are even mud kitchens to cook meals and learn about cleaning and hygiene for the animals. For young equestrians, there are riding courses, lessons, and even a show team. Check the website for upcoming festivals and events. There's something special here all year: join Santa on a horse, learn gardening basics in the spring, carve pumpkins in the fall, and more.
Favorite Family Farms in the South Suburbs
7. Odyssey Fun Farm—Tinley Park, IL
The Odyssey Fun Farm boasts 110 acres of fun. You'll find a bounce house, barnyard zoo, duck races, hayrides, and pony rides. In addition to picking fresh vegetables and pumpkins grown on the farm, kids can ride the adorable cow train, fly on a zip line, or jump through the pillowy jumpy in the summer. In the fall, there's a corn box to play in as well as a pumpkin house and hay pyramid. The inflatable kid's zone features a carousel, bounce houses, and basketball toss. There are different zones and activities separated nicely by age group here. Bring big appetites for some delicious homemade treats from the farm.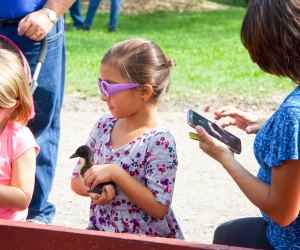 This farm near Chicago has an egg incubation program. Photo courtesy of The Children's Farm
8. The Children's Farm—Palos Park, IL
The Children's Farm in Palos Park is open Friday-Sunday year-round. Here kids can learn about life on a real working farm, sustainable agriculture, caring for animals, and more. With the farm's egg incubation program, you can even bring the farm home with your own egg to hatch (just remember these are real live eggs you're signing up for!). See tractors in action, take a hayride, visit the new horse barn, or pet a live animal. You can pick your own pumpkin or vegetables, experience one of their seasonal festivals (check the website for upcoming events), or take a horse ride.
Farms That Are Worth the Drive from Chicago
9. Apple Holler—Sturtevant, WI
Just over the Illinois border are the delicious orchards of Apple Holler. In addition to apples, pick peaches, pears, and pumpkins on the farm. You'll also find rides, adorable animals, live entertainment, and interactive kid's zones. No matter the season there are events and family-friendly activities to do all year round. From sleigh rides to blossom fests, there is always something to do (or eat) at Apple Holler. Is there anything better than a piping hot apple cider donut? Lines and wait times are longer during the late summer and fall. Check their website for the most up-to-date harvesting calendars so you're sure to get the fruit or veggie you're looking for. Make a weekend out of it by staying in nearby Kenosha or Milwaukee, Wisconsin.

This farm has rides, games, animals, and more! Photo courtesy of Harvest Tyme Farm
10. Harvest Tyme Farm Park—Lowell, IN
Harvest Tyme Farm Park is just as the name says. It's a working farm and interactive park, all rolled into one. Located in Northwest Indiana, visitors will find rides, games, animals, a petting zoo, and a lot of outdoor fun. For little farmers, there are pumpkins available in the fall and hand-picked flowers available in the summer. The farm goes all out on attractions for festivals and summer entertainment. There's even a holiday light show in the winter. Favorite activities include taking older kids on the tilt-a-whirl and bringing home spring flowers or sunflowers fresh from the farm.