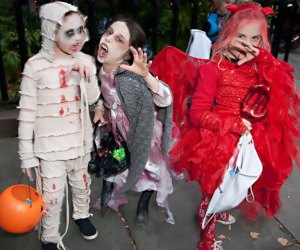 The Best Trick or Treat Neighborhoods in Chicago
Halloween is your annual excuse to get the family dressed up, sugared up, and out for a spooky adventure. You've got the perfect Halloween costume and trick-or-treat bag (plus an extra bag for when that one gets full). Now, you just need to find that extra-special Chicago neighbor giving out the full-size candy bars.
Whether you're looking for haunted mansions, festive parades, live entertainment, or over-the-top decor, we have the best neighborhoods in Chicago for trick-or-treating and Halloween fun for families. If you strategize, you can even hit up multiple events for maximum returns on that costume.
Southport
The Southport neighborhood in Lakeview goes all out for Halloween. Trick-or-treating takes place on Monday, October 28 on Southport Avenue between Roscoe and Grace Street. The whole family can enjoy games, activities, snacks from local food vendors, craft beer for grownups, music, and trick-or-treating at local businesses. Whole Foods hosts a pop-up pumpkin patch, Jeni's is giving out free ice cream, and there is even a pet parade and costume contest!
RELATED: Best Pumpkin Patches Near Chicago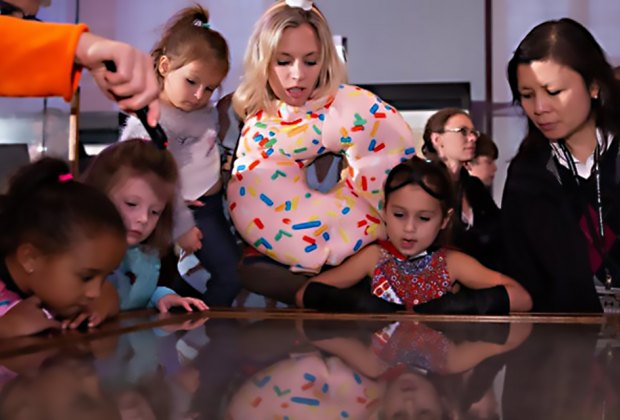 If you're ready for a scary good time then head to Mummies Night at the Oriental Institute. Photo courtesy of the institute
Hyde Park and Kenwood
With its historic mansions and tree-lined streets, Hyde Park is a storybook setting any time of year. Add a touch of ghostly decor, and you will feel transported into scary-good tale. The Oriental Institute hosts Mummies Night on Saturday, October 26, where kids can learn all about mummies and take part in crafts and activities. On Halloween night, locals flock to Harper Avenue between 57th and 59th Streets. Word on the street is that it can get crowded with long lines, so little ones should go early. Families looking for a more relaxed experience can check out nearby Kenwood on Dorchester between 48th and 50th Streets. For thrillseekers, Kenwood also hosts a FREE haunted house at Kennicott Park on Saturday, October 26.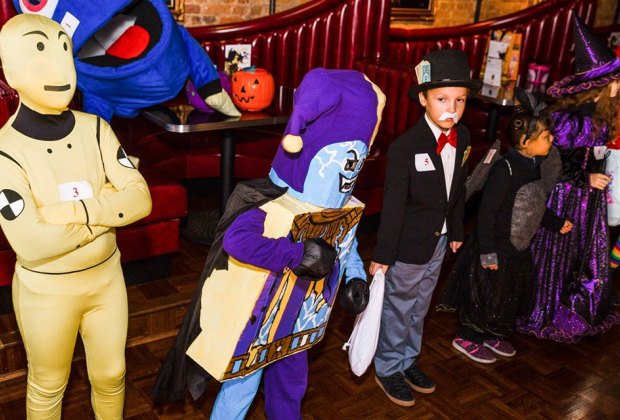 Dress your best for the Clark Street Spooktacular. Photo courtesy of the Lincoln Park Chamber of Commerce
Lincoln Park
As one of Chicago's most family-friendly neighborhoods, it's no surprise that Lincoln Park makes our list for best trick-or-treating neighborhoods. Head to the Spooky Zoo on Saturday, October 26 for a fun, free, safe trick-or-treating experience surrounded by your favorite animals. Come back to the 'hood on Sunday, October 27 for the Clark Street Spooktacular, when local businesses up and down Clark Street hand out free candy, and jugglers, stilt walkers, and magicians will keep your squad entertained.
RELATED: Free Things to Do With Chicago Kids This Fall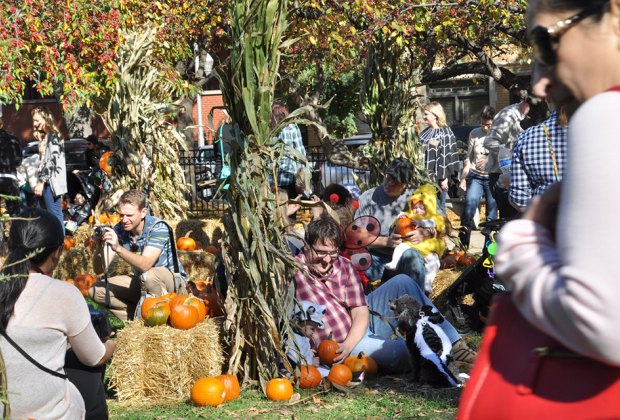 Boo-Palooza is a costume parade for kids and dogs. Photo courtesy of the Wicker Park Advisory Council
Bucktown and Wicker Park
Bucktown and Wicker Park are favorites of Chicago parents for trick-or-treating, and it's not hard to see why. There are plenty of activities, entertainment, and free candy for the whole family. Take the kids to Boo-Palooza on Saturday, October 26 for a costume parade and contest for kids and dogs, plus live entertainment and pumpkin decorating. Enjoy another costume parade in Bucktown, usually held the Sunday before Halloween, followed by games, snacks, and a costume contest. On the 31st, head over to the Wicked West Trick-or-Treat, where local businesses will be handing out free candy.
South Loop
The Prairie District Neighborhood Alliance hosts a Children's Halloween Party on Sunday, October 27 at the Glessner House Museum, complete with candy, games, and pumpkin decorating. On Halloween proper, locals like to trick-or-treat door to door around 18th Street and Prairie Avenue.
Logan Square
With all the hip, young families that live in Logan Square, it is no surprise that this Chicago neighborhood is one of the best places to go trick-or-treating. The annual Logan Square Halloween Parade takes place on Sunday, October 27. On Halloween, kids can trick-or-treat up and down Logan Boulevard or head over to Trick or Treat on the 606.
Lincoln Square
Lincoln Square or Lincoln SCARED? Bad jokes aside, Lincoln Square is a top choice for Halloween activities. The Lincoln Square business district transforms into Lincoln Scared on Saturday, October 26, when businesses hand out free candy to costumed kids. Come back on the 27th for Pup-O-Ween on Damen Ave between Leland Avenue and Argyle Street, where your favorite furry family member can trick-or-treat doggie bones and biscuits.