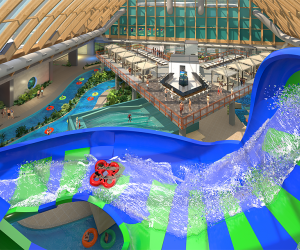 What's New for 2019 at Luna Park, Six Flags, Sesame Place, Hershey, and Theme Parks Near NYC
Spring may have just begun, but a summer of fun is right around the corner, and NYC's favorite nearby theme parks are starting the 2019 season with thrilling new rides, stunning expansions, and stellar upgrades. Luna Park at Coney Island opens this weekend on Saturday, April 6 with new attractions, and New York State's biggest indoor water park at brand-new Catskills resort The Kartrite is set to open on Friday, April 19.
Keep this post close when planning your next theme park destination getaway. Whether you're planning a day trip or an extended stay, these theme parks are all under 2 hours from NYC. Read on for a sneak peek at what's new and exciting this year at amusement parks close to NYC, from Coney to Hershey.
New York Theme Parks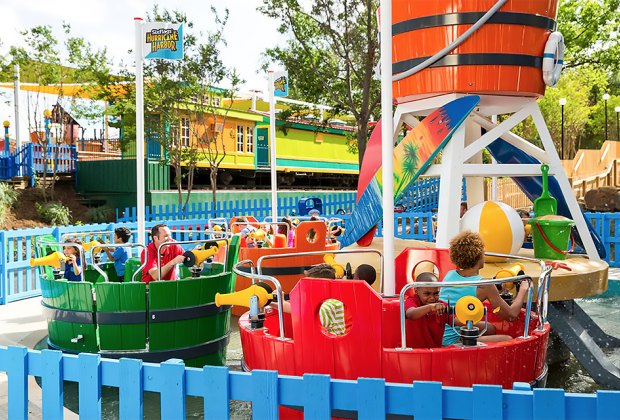 Get ready for a splashy showdown with the new Bucket Blasters attraction at Hurricane Harbor, Lake George. Photo courtesy of The Great Escape & Splashwater Kingdom, Six Flags
Hurricane Harbor — Lake George
The Great Escape & Splashwater Kingdom, a Six Flags theme park in Lake George, is undergoing a major transformation and expansion into an all-new Hurricane Harbor. Featuring two brand new rides and themed renovations throughout the park, this outdoor water park will be bigger and better than ever. Get ready for a splashy showdown with the new Bucket Blasters attraction, featuring swiveling water barrels equipped with water guns. The new Shipwreck Cove is a huge activity pool with sprays, geysers, and fountains.
The Kartrite Hotel & Indoor Waterpark — Sullivan Catskills
How about a brand new indoor water park and resort to get your summer started? Slated to open in April, the Kartrite offers a whole new getaway experience in the Sullivan Catskills. Enjoy 84-degree perfection all year long and fun water rides for all ages and thrill thresholds. When you've had enough water fun for the day, hit the ropes course or try your hand at rock climbing—all on-site. Other on-site activities include daily arts and crafts, an arcade, a spa (if you can sneak away), and much more.
Luna Park — Coney Island
Adding to the recent ropes course and zip line craze (see the Bronx Zoo's Treetop Adventure and Governors Island's Flywire Zip Line and the Climbing Challenge), the newest attraction to grace Luna Park on Coney Island for 2019 is an all-new ropes course and zip line adventure. The circus-themed spot includes four different rope routes based on age and thrill-factor. Lower levels are kid-friendly and the higher levels include two zip lines for an added thrill. Sweeping views of the boardwalk and ocean may be all the incentive you need to aim high!
Victorian Gardens — Central Park
If you're not familiar with Victorian Gardens, this sweet outdoor amusement park—the only one in Manhattan—caters to the preschool and elementary school set with whimsical, not-too-scary rides in a smaller space that's harder to get lost in. Conveniently located at Wollman Rink in Central Park, it's an easy day of fun all summer long. This year, Victorian Gardens adds to its fleet of rides with the Rainbowheel, a hexagon-shaped Ferris wheel with six four-seater buckets, or gondolas, outfitted with multicolor hot air balloons.
Theme Parks in New Jersey
Casino Pier & Breakwater Beach — Seaside Heights
If you visited this summer destination before Hurricane Sandy, you may remember Centrifuge. Unfortunately, this fan favorite was damaged during the superstorm, but we are happy to report that 2019 brings the return of the beloved indoor scrambler. Strobe lights and other lighting effects, plus smoke and music up the thrill factor, making Centrifuge an unforgettable ride. If that's too much excitement for your family, check out Crazy Cabs, a brand new spinning ride that's fun for the whole family. Casino Piers also has two new rides just for kids: Elephant Express, a "flying" ride with a liftoff lever that lets kids control how high they want to ride, and Mermaid Parade, a log flume ride with a small drop at the end, perfect for not-so-scary thrills.
RELATED: Awesome Theme Parks You Can Get to from NYC Without a Car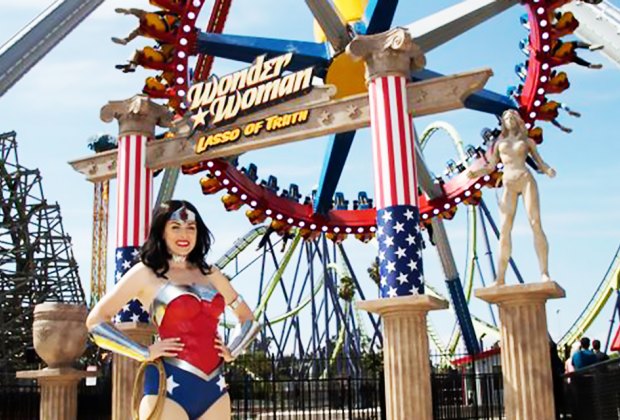 The Wonder Woman Lasso of Truth ride at Six Flags Discovery Kingdom in Vallejo, California. A taller version of the ride comes to Six Flags Great Adventure in New Jersey next year. Photo courtesy of Six Flags Great Adventure

Six Flags Great Adventure & Safari — Jackson
Get ready for what's being billed as the world's tallest pendulum ride: Wonder Woman Lasso of Truth stands a staggering 17 stories tall and reaches speeds up to 75 mph. If that's not exciting enough, add floor-less seats that leave your feet dangling and ride heights of 172 feet in the air. Gulp.
RELATED: Best Amusement Parks for NYC Preschoolers

The new Calypso Springs features a large deck with hundreds of chairs for lounging and umbrellas for shade, plus a new dining location. Rendering courtesy of Six Flags

Six Flags Hurricane Harbor — Jackson
The largest expansion to hit this destination water park is Calypso Springs. Enjoy 100,000 cool, refreshing gallons of fun with a zero-entry (beach-style) pool featuring an Obelisk-style fountain with geysers. The new attraction also features a large deck with hundreds of chairs for lounging and umbrellas for shade, plus a new dining location. Get your thrills at neighboring rides, then cool off and relax at this new oasis.
Theme Parks in Pennsylvania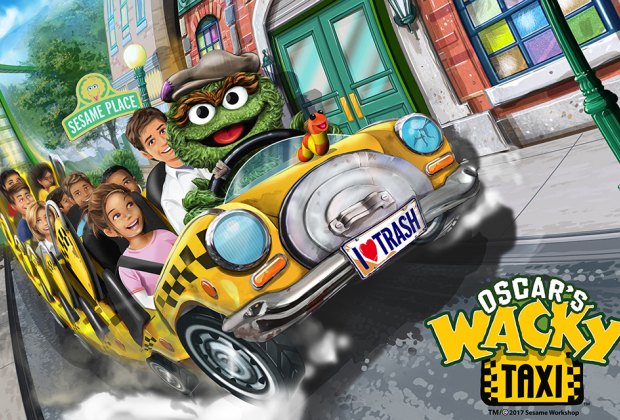 The family-friendly roller coaster, Oscar's Wacky Taxi, opens at Sesame Place. Photo courtesy of Sesame Place
Sesame Place — Langhorne
Introduce younger kids to the excitement of roller coasters with Oscar's Wacky Taxi, the park's first family-friendly wooden roller coaster. With just enough dips and high enough heights, kids will feel the thrill of a coaster that isn't too scary. Also new this season, Sesame Place unveils its all-new Sesame Street Neighborhood, redesigned to reflect the beloved show's updated neighborhood. There's also a new show featuring popular characters from Sesame Street, including Abby Cadabby, Elmo, and Big Bird.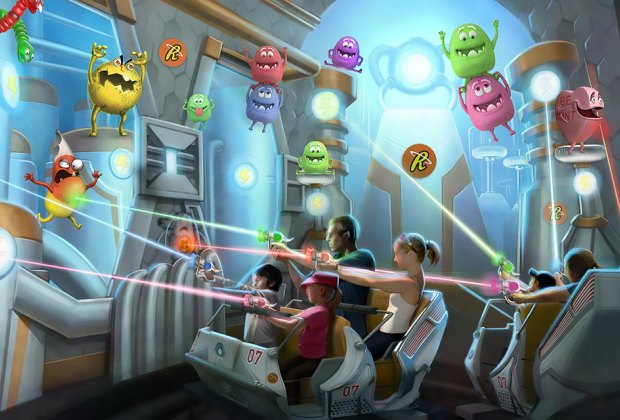 Channel your love of peanut butter and chocolate at Hersheypark's brand new interactive gaming ride, Reese's Cupfusion. Rendering courtesy of Hersheypark

Hersheypark — Hershey
Channel your love of peanut butter and chocolate at Hersheypark's brand new interactive gaming ride, Reese's Cupfusion. This full-sensory experience engages sight, touch, sound, and even smell to create an exciting adventure for families. Join Commander Cup, the park's newest character, in her mission to protect the Crystal Cup and keep the Reese's factory safe.