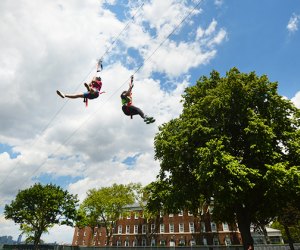 Adventures at Governors Island: Zip, Climb, and Get Lost (for Fun!)
Every summer, the activity-packed Governors Island seems to become even more of a family fun zone. Its latest kid-centric destination is Adventures at Governors Island, a trio of thrilling outdoor attractions that debuted over the Memorial Day holiday. My tween and her friends were so excited to check out the 300-foot zip line, the 25-foot climbing tower, and the 3,600-square-foot maze that we decided to brave opening weekend. Overall we had an awesome experience (yes, even the parents), but we have some important tips to help your family get the most out of your Adventures.
Raring to ready, set...summer? Make the most of these sunny, warm days with our Summer Fun Guide and Parks & Playgrounds Guide!
Run by Ride Entertainment, the company behind mini-amusement park Fantasy Forest in Queens and the Battery's SeaGlass Carousel, Adventures at Governors Island is already a hot ticket. Despite arriving before noon on its second day of operation, we had to wait in considerable lines for both the Flywire Zip Line and the Climbing Challenge. The location is smart as it's across from the Liggett Terrace food court, and just a few steps away from some other family favorites such as the play fountains (which are already on for the season), the swings and wooden climbing structures, and a set of real bathrooms (not Porta-Potties!).
Since there are so few zip lines in NYC (Queens' Alley Pond Park Adventure Course and the soon-to-open Bronx Zoo Treetop Adventure are the only others), Flywire is by far the most popular attraction, with kids and grown-ups waiting up to two hours for a 20-second ride. Arriving early is key: We waited maybe 30 minutes, but the line grew quickly behind us. There are two zip lines side-by-side, so family and friends can ride simultaneously. But since everyone needs to be strapped securely into a safety harness and climb the stairs to the starting point 35 feet above the ground, the process takes a while, even once you've made it to the front of the line.
Riders must be at least 40 inches tall, and weigh between 45 and 240 pounds—the staff makes any kids who look on the small side stand on a scale. We spied children as young as 6 or so riding, but it's definitely meant for school-age kids and up. There is a long list of rules posted at the entrance, mostly about not messing with the harness, or attempting to spin or turn upside down during flight. The ride doesn't last long, but my daughter, her friends, and their mom had an absolute blast as you can see from the video. They particularly enjoyed the very bouncy ending. (I stayed on the ground as the designated reporter.)
RELATED: Tween GoList: Best Destinations for NYC Adolescents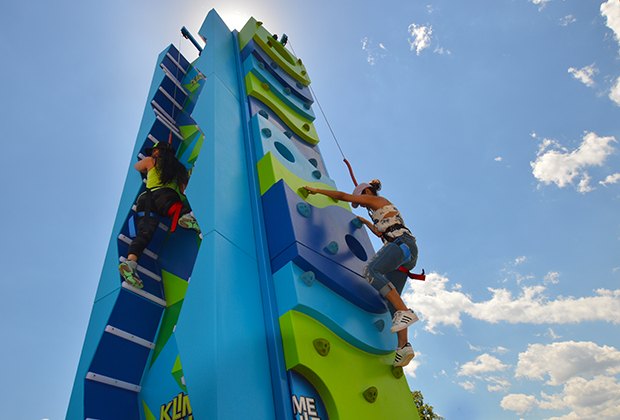 Choose from three climbing paths on this 25-foot tower, which requires safety gear.
The Climbing Challenge is one of those towers you might see at a county fair. There are three paths to choose from with different kinds of footholds on the 25-foot structure: squares, rocks, or zigzagging slats. This really is aimed at kids (we didn't see any adults try it,) so the line moves more quickly than for the zip line. Climbers must weigh between 40 and 250 pounds, and you only get to scale one path, not all three. However, the staff said if a child is having difficulty finishing, she can repel down and try a different one.
RELATED: Rock Climbing Walls for NYC Kids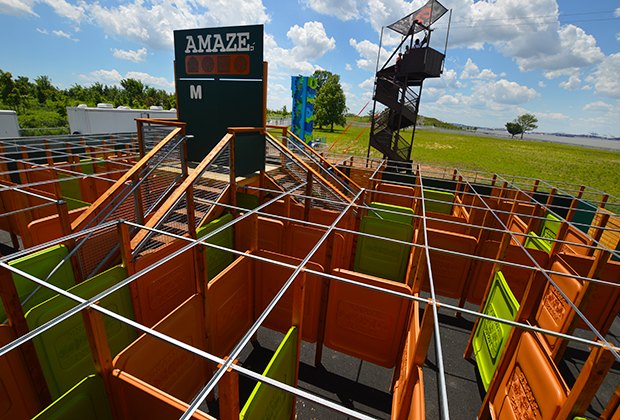 The Amazen' Maze is modest but challenging enough to keep kids engaged.
I was actually surprised at how much fun the Amazen' Maze turned out to be. Similar to a corn maze though more modest in size and difficulty, this 3,600-square-foot labyrinth challenges you to not only find your way out, but to stamp your paper "passport" at four different checkpoints, spelling out M-A-Z-E. I won't lie; if my 11-year-old daughter (who completed the maze long before I did) hadn't shouted directions to me from the observation deck, I might still be stuck wandering around in there! Most kids seemed to finish in about 10 to 15 minutes. It can get a bit chaotic—since the experience is timed, children were dashing around like crazy and I saw a couple of minor collisions. Also, you can easily lose track of your kids here, so if you've got a preschooler you'll want to hold her hand. (I actually helped "rescue" a toddler who got separated from her family.) If you're really stumped and can't get out, there are well-marked emergency exits.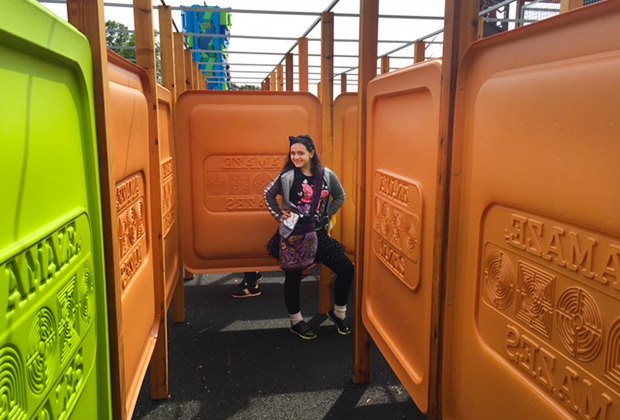 Our tween tester had an easier time finding her way out of the maze than mom! Photo by the author.
Good to Know Before You Go
Save money by purchasing tickets for all three attractions. The Climbing Challenge is $6; the Amazen' Maze is $8 or $14 for two; and the Flywire Zip Line is $12 or $20 for two rides. But you save the most if you buy all three for $22.
Tickets are good for the entire season. That means you can spread out your adventures over the day, or even on multiple visits.
Arrive as early as possible to try to avoid the lines. Generally things are much quieter before noon, especially on weekends. We suspect weekdays will be pretty empty, too.
Do the Flywire Zip Line first. Its lines are the longest, so it makes sense to start there, then move on to the Climbing Challenge. The Amazen' Maze can accommodate a lot of people so the staff doesn't anticipate that there will ever be a wait for it.
Wear closed-toe shoes. The entire area is covered in wood chips, and you're not allowed on the Climbing Challenge in open-toed shoes.
Attractions close during heavy rain. But they will try to run them if it's just drizzling.
There is limited observational seating. Just a set of bleachers next to the Climbing Challenge, and another outside of the entrance. So be prepared to stand, even if you're not participating.
Though you'll likely spend more time waiting in line than playing, Adventures at Governors Island is a welcome addition to all the isle already has to offer families. And considering most of the other attractions like Slide Hill, play:groundNYC, and mini-golf are FREE, it might be worth splurging on these uncommon activities.
Adventures at Governors Island is located across from the Liggett Terrace food court area. It's open daily, weather permitting, through Sunday, October 1. Weekday hours are 10am-5pm; weekends are 10am-6pm.
Top photo: Zip-lining on Governors Island. Video by the author. All photos courtesy of The Trust for Governors Island except where noted.
Adventures at Governors Island
Governors Island Across from the Ligget Terrace food court
New York,