Explore Ice Castles Across America with Kids this Winter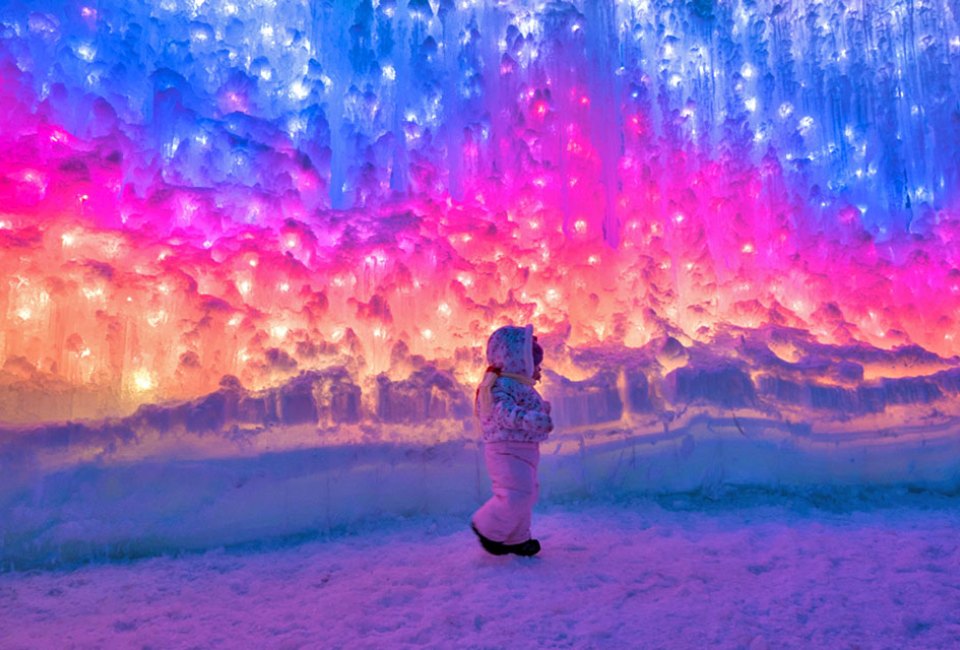 11/19/22
- By
Lauren LaRoche
If you're looking for some great winter fun for your family, consider visiting Ice Castles. These amazing structures, made up of over 20 million pounds of ice, are a sparkly, magical experience for both grown-ups and kids. And with Ice Castles in New Hampshire, Minnesota, New York, and Utah—as well as the famous Lake Geneva Ice Castles in Wisconsin—there just may be one near your home or within a short drive for a quick getaway.
From what to wear to what to expect, we have all the details about visiting these magical Ice Castles with kids. For more ideas on what do this winter, check out our favorite outdoor winter activities for kids and our Skiing, Snowboarding, and Snow Sports Guide.

LED lights give Ice Castles a truly magical glow.
What to Know About Ice Castles
Ice Castles are built by professional ice artists using hundreds of thousands of icicles. They are truly magical places to walk through, climb, slide on, and wonder over. Ice Castles feature LED-lit sculptures, arches, rooms, bridges, slides for both kids and adults, tunnels, and more. There are also colored light shows, cozy fires, visits from characters, and a lot of whimsy. And, most of the castles have ice mazes for families to wind their way through.
RELATED: The Best Ski Resorts in the US for Family Vacations

Kids will love exploring all of the icy surprises. Photo by Ally Noel
What to Bring to Ice Castles
When visiting Ice Castles, it's important to bundle up. Hats, gloves, and boots with good grip are key, as you will be walking on snow and ice. Most of the castles feature smooth, snowy paths that can accommodate strollers and wagons, but you'll likely want to park them in certain places while little ones walk through tunnels or climb.
Food and snacks are permitted at the castles. There are also food and drinks available for purchase, though menus and options will vary by location. Restrooms are available at all of the locations.
RELATED: How to Make Frozen Bubbles with Kids

You never know what you'll find around the next icy corner.
Tickets and Parking
Tickets for all Ice Castles locations for the 2023 season go on sale November 28, 2022. Tickets are sold by time slots to make sure every group has enough space to explore. They may be purchased on-site if available, but it's better to buy them online in advance so they don't sell out. Online tickets go on sale in December. You can also book private experiences in an Arctic alcove for special occasions.
Parking is free at some of the locations, while others offer paid or metered parking. Depending on the location, there are also shuttle busses to take you to and from alternate parking lots.
RELATED: Snow Games for Kids Beyond Sledding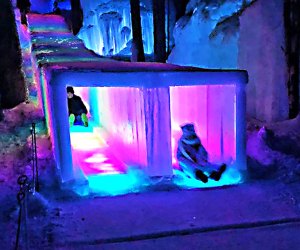 Slide down colorful ice slides at the New Hampshire Ice Castles location. Photo by Ally Noel
More Information About Ice Castles
Extras: Once they've explored the castles, families can go snow tubing, enjoy a sleigh ride along an illuminated trail, or walk the gorgeous quarter-mile trail through the trees. Families can also explore the Winter Fairy Forest, a short loop that immerses guests in a fairy tale world. Note: Ice Castles in NH is the only location that does not offer an ice maze.
Extras: Ice Castles in Lake George is located in Charles R. Wood Park. It includes gorgeous caverns dripping with icicles that families can explore. Guests can also walk through a village made of snow igloos.
Extras: A winter fairy and a snow queen greet guests at the Lake Geneva Ice Castles. After exploring the castles, families can take a winter sleigh ride along a scenic, illuminated trail.
Extras: Families can explore archways and caverns with sparkling icicles overhead, find ice sculptures tucked away throughout the castle, and see thousands of lights along the Illumination Trail. Grown-ups can order winter-themed alcoholic beverages at the Ice Bar.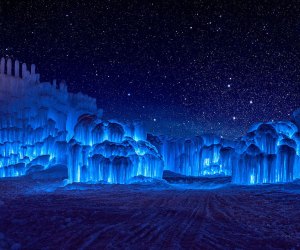 Ice Castles are especially breathtaking at night.
Extras: Families can meet real reindeer inside the Winter Reindeer Room and take an illuminated sleigh ride through a wooded winter trail.
Unless noted, photos courtesy of Ice Castles
t Click Here to Sign Up!