The Best Ski Resorts in the US for Family Vacations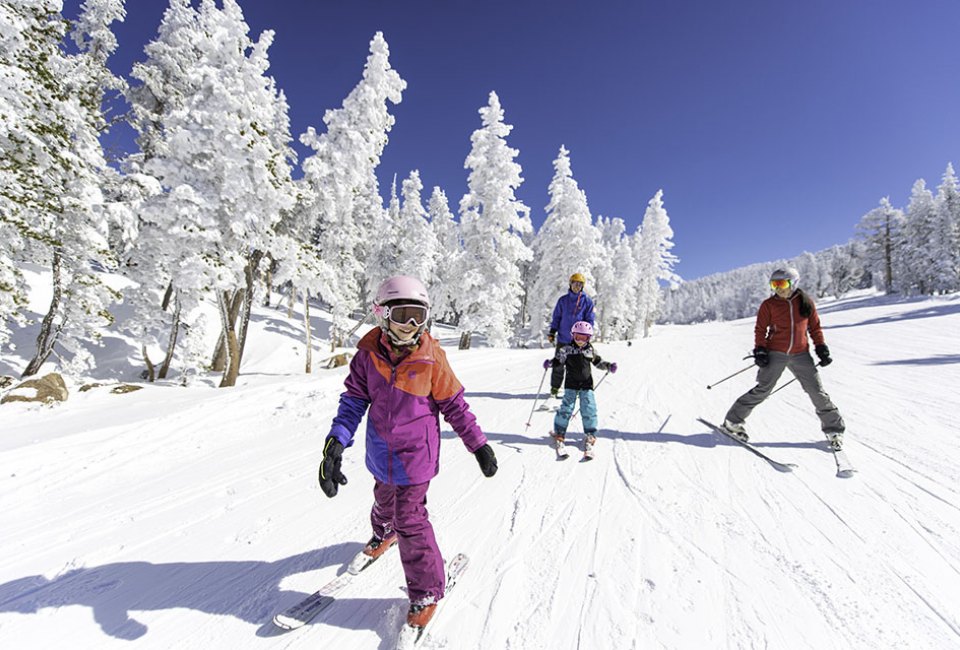 1/22/22
- By
James Smith
Skiers get it—winters are long and occasionally treacherous. But where some see calamity, we see opportunity. And not just for ourselves, but for our families, too. With that in mind, we've got the skinny on the best kid-friendly ski resorts in the United States.
Whether you prefer ski resorts in the powdery West or the slippery Northeast, skiing is one winter activity sure to bond parents with kids for a lifetime. So wax down the skis, load up the roof rack, and make for one of these ski resorts sure to delight experts and first-timers alike.
For more fabulous ski resorts for families, be sure to check out our list of New England Ski Resorts that Cater to Families or our favorite Family-Friendly Ski Areas Near NYC. However, if all this talk of snow is too chilling, you might prefer to peruse the best Warm and Sunny Family Vacation Ideas!

Want to ski in the sunshine? Big Bear in California is perfect!
Best California Ski Resorts for Families
Big Bear calls itself "Southern California's mountain lake escape" and is a mere two hours west of Los Angeles. The resort boasts two mountains—Snow Summit and Bear Mountain—with interchangeable lift tickets and a connecting shuttle. Bear Mountain is more wide open at the base and might be preferable for parents who like to keep an eye on their young skiers. Off the mountain, families can enjoy bowling, shopping, a nearby park, and the Minecraft Coaster thrill ride that debuted in 2021. Family restaurants populate the area, so kids won't go hungry.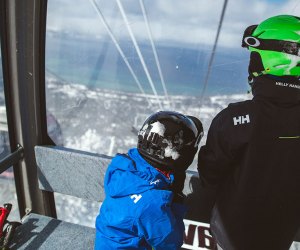 Heavenly Ski Resort has perfect snow, a tubing park, a mountain coaster, ice skating, and more.
With ski and snowboard instruction for kids beginning at age 3, Heavenly Ski Resort is sure to ignite your child's love of mountain fun. The snow is light and powdery, and the scenic views of Lake Tahoe are, well, heavenly. There is also a tubing park, a mountain coaster, ice skating, a bungee trampoline, and a host of other attractions. Heavenly Ski Resort also offers one of the best apres skis scenes in the West, so parents might want to enlist a sitter for at least one night. Those other nights can be spent at any number of family-friendly bistros in Heavenly Village.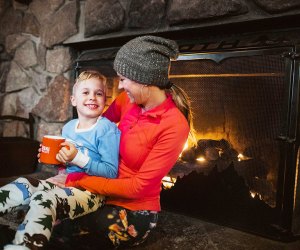 Mammoth Mountain Ski is one of our favorite places to teach kids to ski.
Located in the Sierra Nevada mountains five hours from Los Angeles and six from San Francisco, Mammoth is aptly named. It's a massive facility with dozens of trails for skiers and snowboarders of all abilities. Lessons begin at age 3, and there is also an adaptive ski school for kids and adults. Whether you're skiing or boarding, chances are you'll meet Woolly, Mammoth's charming mascot. There's a mountain playground, an adventure zone, a tube park, and cross-country and snowshoeing trails. Kids 4 and younger ski free all season long.

Keystone Family Resort allows all kids under 13 to ski for free, making it fantastic for families.
Best Colorado Ski Resorts for Families
Keystone is so family engaging it's worked the name into its brand. It's properly Keystone Family Resort, a mere 75 miles from Denver's airport and easily accessible from even the East Coast. In addition to three mountains and a seemingly endless sea of trails, Keystone dedicates a section of terrain exclusively for young learners. Families can enjoy night skiing, snow tubing, and even the world's largest snow fort, not to be missed. And here's a bonus for budget-conscious travelers: Kids 12 and younger ski free when families book two nights of accommodations.

Steamboat Springs Ski Resort will warm you up after skiing with hot springs.
Steamboat, located 160 miles from Denver, requires more of a travel commitment for East Coasters. But those who make the trip are rewarded with a site full of family entertainment, including sleigh rides, ice skating, the longest mountain coaster in the U.S., and even a water slide and a hot spring, hence the name. And then there's the mountain: nearly 3,000 acres of skiable terrain with an average snowfall of 314 inches annually. Did we mention kids 12 and younger ski free with the purchase of a five-day adult lift ticket?
At about 90 minutes from Denver, Winter Park is popular with city residents looking to escape the concrete for silky powder. Winter Park offers a host of family bargains, including discounts on first-time equipment and lesson packages, as well as season passes for less than $50 for kids 4 and younger. Away from the mountain, enjoy snowshoe and snowcat tours, a village playground, and even Kids Night Out at Camp Idlewild, where young ones can enjoy a night of supervised fun away from their parents. More than one-quarter of the trails are targeted for beginners, making Winter Park an ideal place to learn.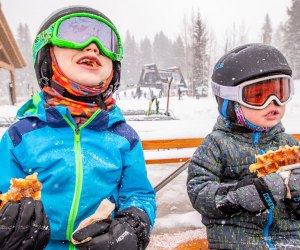 Solitude Mountain Resort is off the beaten path and makes for a great getaway.
Best Utah Ski Resort for Families
At a mere 40 minutes from Salt Lake City's airport, a Delta hub, Solitude is surprisingly accessible from just about anywhere in the country. And the resort lives up to its name: Solitude puts forth a peaceful, easy, and rustic vibe. Off the beaten path, it's rarely crowded and boasts some great intro-to-skiing opportunities. Kids 6 and younger ski free, making Solitude a nice option for families on a budget.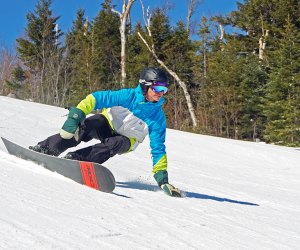 Omni Mount Washington Resort at Bretton Woods is our favorite resort in New Hampshire.
Best New Hampshire Ski Resort for Families
The state's largest ski resort at 450 acres is also one of our favorites in the East. Its diversity of terrain ensures a memorable time for skiers of all abilities. And it's a mere 2½ hours from downtown Boston. Expect crowds; it's a popular place that boasts one of the top kids' learn-to-ski programs in the East. Off the slopes, enjoy sleigh riding, snowmobile tours, cross-country skiing, snowshoeing, and outdoor ice skating. There's even a year-round zip line for those who can't get their daredevil fix from the mountain's 63 trails and 35 glades.

Whiteface Mountain offers cross-country skiing, too.
Best New York Ski Resorts for Families
We've written about the beauty of Whiteface and the Adirondacks before. Whiteface, near Lake Placid, hosted the Alpine skiing events of the 1980 Olympics and is one of the highest peaks in New York State, with terrain suiting skiers of all abilities. Of course, another draw is the delightful community of Lake Placid itself, with its quaint shops, Olympic museum, pond skating, snowshoeing and cross-country trails, toboggans, and coaster areas.

Windham Mountain has the best ski school around for kids just learning to ski.
Windham, in the Catskills, wins our gold medal for the best ski school out of all the ski resorts in New York State. The children's learning center begins lessons at age 3, and kids ages 2-6 can be dropped off at the center for half- or full-day supervision while the grown-ups explore the mountain's 54 trails. Other amenities include an adventure park, multiple dining facilities, and nearby lodging. Windham's proximity to Manhattan—less than 150 miles—makes it a welcoming choice for a weekend getaway.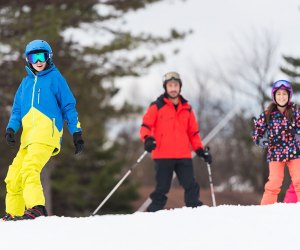 Camelback Resort is an easy getaway from New York!
Best Pennsylvania Ski Resort for Families
Camelback Resort — Jackson Township
At 92 miles, Camelback Resort is actually closer for Manhattanites than Windham. In the heart of the Poconos, it offers 40 trails, snowboarding and tubing parks, and a ski school that accommodates family lessons. In fact, its tubing park is one of the few destinations in the region that allows kids to share a tube with Mom or Dad. The fun doesn't end when the lifts shut down, either. Camelback's Aquatopia indoor water park operates year-round for apres ski relaxation.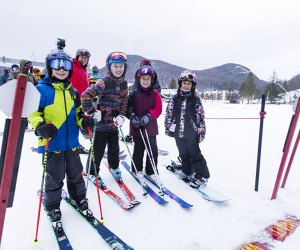 Pico Mountain Ski Resort is a super family-friendly ski resort.
Best Vermont Ski Resorts for Families
Killington's little cousin offers a small-mountain experience with only 468 skiable acres. But before you head over to the larger "Best of the East," as Killington is known, know that Pico is a wonderful place to introduce kids to skiing and boarding at a reasonable cost. It's rarely crowded and one of the most overlooked mountains in Vermont. Pico's vibe is so family-friendly you're likely to see a mom or two breastfeeding in the lower lodge. Tickets start at $59 for kids, and a lesson package that includes rental gear and a lift ticket can be had for $175.

Stowe Mountain Resort is a parent favorite for the charming village and fabulous beer.
We're big fans of Stowe and have told you why more than once. The complex consists of two mountains, Spruce Peak and Mount Mansfield, so there is plenty of terrain and rarely a long wait at the lift. The Alpine environment at Stowe is unlike anything in the region, with ice rinks, sleigh rides, snowshoeing and tubing, cross-country trails, and a village atmosphere that will take you back to Bavaria. It can be pricey at peak times, but for an upscale family getaway that won't be forgotten, it's worth it. Parents take note: The world-famous Alchemist Brewery, among the leaders in Vermont's craft-beer revolution, is just down the road from the mountain.
Stratton, in Southern Vermont, makes our list of best ski resorts because of its proximity to New York (5 hours) and Boston (3½), as well as its self-contained village at the base of the mountain, where kids can almost entertain themselves. Its ski-school staff is among the best in the East, and the mountain is rarely short of snow. The abundance of easy trails makes it an ideal place to learn, but Stratton has enough challenging terrain to keep experts entertained as well.
Photos courtesy of the resorts
Click Here to Sign Up!
i