Long Island Destinations for Delicious Hot Chocolate
When the snow starts to fly during a Long Island winter, a tasty hot chocolate can help to take the chill away.
Adults and kids across Long Island enjoy hot chocolate, especially when it's topped with marshmallows, whipped cream, or both. And while you can make it at home, isn't it nice to get out of the house with the kids? It squashes cabin fever, and there's no cleanup for you. With that in mind. here are 18 places across Long Island that serve up delicious hot chocolate and other tasty treats.
If hot chocolate isn't your thing, why not try one of these spots for afternoon tea with the kids? See our guide to family-friendly restaurants for even more dining ideas on Long Island. And for more seasonal possibilities, check out our Winter Fun Guide and Long Island events calendar.
Nassau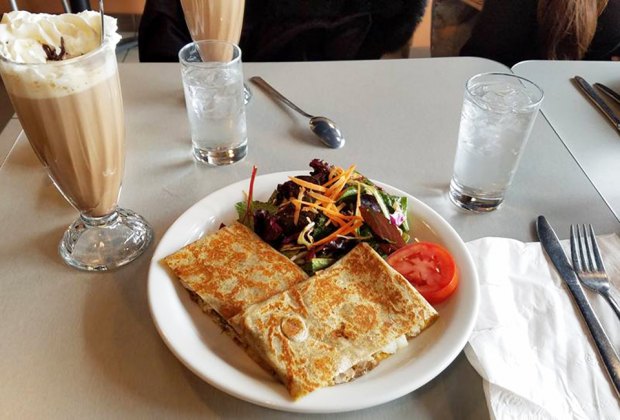 Fresco's classic hot chocolate pairs delightfully with a savory crepe on a winter day. Photo courtesy of Fresco Creperie
Fresco Creperie — Long Beach, Williston Park
150A East Park Avenue, Long Beach
72 Hillside Avenue, Williston Park
Fresco features hot chocolate created with Belgian chocolate, as well as other coffee drinks that pair well with its selection of sweet and savory crepes.
Garden City Hotel — Garden City
45 Seventh Street
If you're looking to splurge, try the hotel's afternoon tea. The Chocolate Tea features Callebaut hot chocolate, an assortment of tea sandwiches, oven-fresh scones, assorted tea breads, miniature pastries, chocolate-dipped strawberries, and assorted chocolates and truffles.
Kookaburra Coffee — Malverne, Rockville Centre
324A Hempstead Avenue, Malverne
69 North Village Avenue, Rockville Centre
These hip cafés offers yummy hot chocolate along with a variety of other hot drinks, cookies, pastries, crumb bars, and more.
RELATED: Long Island destinations for decadent desserts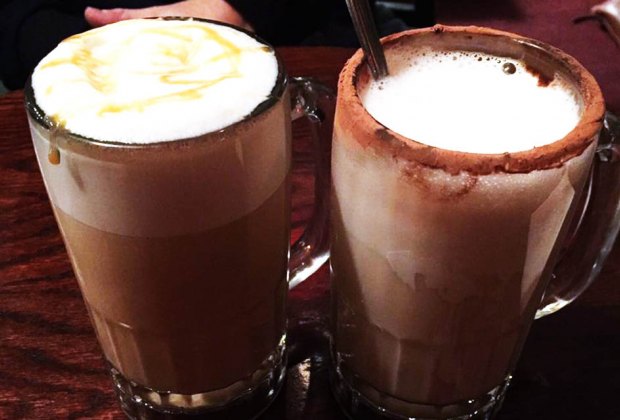 Prefer your hot chocolate cold? Enjoy the frozen hot chocolate at The Cup Coffeehouse. Photo courtesy of The Cup
The Cup Coffeehouse — Wantagh
3268 Railroad Avenue
Located across from the Wantagh LIRR station, The Cup is often compared to a 1970s Brooklyn-style coffee shop. It serves a variety of hot beverages, including mocha cocoa, gingerbread lattes, specialty teas, and hot chocolate in flavors such as toasted marshmallow, chocolate mint, and raspberry. If you prefer your drinks cold, try the frozen hot chocolate.
The Witches Brew — West Hempstead
311 Hempstead Turnpike
This family-friendly spot carries 85 organic, loose-leaf tea varieties, most of which are organic or fair trade-certified. There are several types of homemade hot chocolate, including a vegan version. Kids will probably love the hot chocolate float, made with ice cream and topped with whipped cream.
Suffolk
Caffé Portofino — Northport
249 Main Street
This spot serves breakfast and lunch, along with delicious hot chocolates. Its Bonfire Mocha features espresso, steamed milk, mocha, cinnamon, and toasted marshmallow syrup. The current seasonal cocoa special is a peppermint white chocolate, and its Campfire Cocoa, an occasional special, is made with milk chocolate and toasted marshmallow syrup, and topped with marshmallow cream and graham cracker crumbs.
Herrell's Ice Cream — Huntington
46L Gerard Street
Known for frozen treats and hot fudge sauce, Herrell's also serves up some tasty hot chocolate. Choose from a variety of flavors, including original (Mexican with a hint of cinnamon), malted, peppermint, and more. You can also pick up some hot chocolate mix to take home and enjoy later.
RELATED: Old-fashioned ice cream parlors LI kids will love

Put a smile on your little one's face with a s'mores hot chocolate from Toast Coffeehouse. Photo by Thien August
Toast Coffeehouse — Bay Shore, Patchogue, Port Jefferson
9 South Park Avenue, Bay Shore
46 East Main Street, Patchogue
242 East Main Street, Port Jefferson
Serving up one of Long Island's best brunches, Toast Coffeehouse is also a favorite spot for delectable coffee drinks and hot chocolate. With creative flavors such as peppermint mocha, toasted coconut, dark chocolate raspberry, salted caramel, and s'mores, you can try a different flavor each time. Drinks are served in fun mugs, and you never know which one you'll get.
Urban Coffee — Greenlawn
101 Broadway
Drop by Urban Coffee if you're looking for a hot chocolate or coffee drink you can personalize. Choose from more than 20 flavors that can be added to any drink, and non-dairy options are available. Kids will also like playing with the board games that are available to customers, or reading a book from the shop's lending library.
Yottabyte — Smithtown
9 Singer Lane
This craft chocolate and candy shop sources socially responsible chocolate for its confections. Hot chocolate is made using ethically produced cocoa and can be served with a scoop of ice cream for a special treat. Be sure to check out the fun and nostalgic candies, too.
East End
Aldo's — Greenport
103-105 Front Street
Kids will delight in Aldo's original hot chocolate made from chocolate bars melted as you wait. Come for the coffee and chocolate, but don't leave without treating the kids to a fresh scone or biscotti.
North Fork Roasting Company — Southold
55795 Main Road
One of the latest artisanal shops on the North Fork, the Roasting Company delivers delicious pastries and a hot chocolate with homemade marshmallows kids will flip for. While you're there, save time for Sinatra, the house's playful Labrador retriever.
Sagtown — Sag Harbor, Montauk
78 Main Street, Sag Harbor
696 Montauk Highway, Montauk
Despite its obscure alleyway location, Sagtown in Sag Harbor remains a go-to destination for coffee and hot chocolate. Sagtown boasts of its "Coffee Table," where books, DVDs, paintings and more, including children's materials, are shared. It's much the same atmosphere in its Montauk location.
This article was originally posted in 2017. It was updated by writer Lisa Mancuso in January 2019.