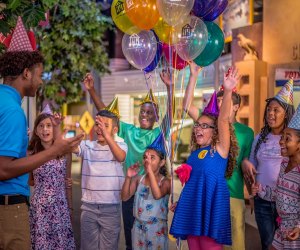 Best Spots to Host a Kid's Indoor Birthday Party in Houston
Planning a birthday party in Houston is no small feat - there are so many options with what you can do! Outdoor parties can be like playing roulette hoping the weather complies; our city is known for going from blazing sun to pouring rain in the blink of an eye and it's often hard to know what to expect.
For parents wanting to take the safer, climate-controlled, route, Houston offers many indoor venues that are great for throwing a unique party. We've rounded up a variety of exciting options in a range of prices for celebrating kids of all ages! An additional bonus is that many of these locations offer all-inclusive packages that make hosting stress-free for parents.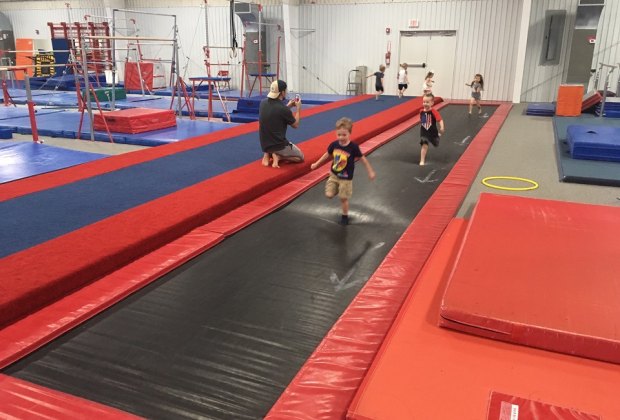 Run, jump and flip your way into your next birthday with a gym-themed party./Photo courtesy of Rachael Cherry.
Gyms
Little Gym of Houston
Multiple locations
The Little Gym is known for fun gymnastics classes and has 11 locations spread out across the greater Houston area. When you book, your birthday boy or girl and his or her friends will get to take over the facility for an hour and a half (one hour of in-gym activities and 30 minutes in the party room). Parties can be booked online and you have the option to choose a playful theme, such as a pirate, princess, superhero, or a favorite cartoon character-themed party. Parties include instructor-led games, music, and LEGO-building activities, as well as a juice box for each child, paper goods, invitations, and a Little Gym t-shirt for the birthday child.
Gymboree Play & Music
Multiple locations
Gymboree Play & Music specializes in birthday parties for kids ages 1-5 and has six Houston-area locations. They offer customized parties with themes such as princess playhouse, dinosaur adventure, sports, arts, and music. Your party-goers will have exclusive use of the facility for an hour and a half or more with a trained, enthusiastic instructor leading the group in fun activities. Set up and clean up are included as well as party supplies, Gymboree party invitations, a gift for the birthday child, and a gift bag for all his or her friends.
​Iron Sports
6982 FM 1960 W.,Ste F
281-580-4642
For a very special day for an energetic kid (ages 6 and up), throw him or her a birthday party at Iron Sports, where guests will get the opportunity to try American Ninja Warrior obstacles appropriate for the age and skill level of the participants. The first hour and a half of the party held on the gym floor, where coaches lead the kids through challenges and fun group activities. The last 30 minutes of the party is time for pizza and juice, utensils and plates are provided and additional pizza can be ordered.
Westwood Gymnastics & Dance
23333 Taswell Drive
281-347-2000
Jump and flip your way through your birthday party at Westwood. Guests get 1.5 hours of party time, with the first hour being on the gym floor completing a variety of gymnastics related obstacles and fun and the last 30 minutes being at your party area where you can eat and have cake. The birthday child receives a birthday medal and each guest gets a coupon for a free trial class. Parents are asked to provide refreshments, decorations, and paper goods and utensils. The staff will help set up and break down the party. Party slots are available from noon to 6:30 p.m. on Saturdays and Sundays. Slots fill up fast, so advance booking is recommended.
Indoor Play Spaces
Wonderwild
767 N Shepherd Drive, Ste. 400
713-864-4242
Wonderwild is a three-story indoor play space for little ones where they can explore their creativity and physical abilities. Birthday parties here include 45 minutes of play in Wonderwild (ages 8 and under) or Wonderwild(er) (ages 5-11), and 45 minutes in a private party room for the birthday kid and up to 30 friends and their parents. The basic package includes 20 complimentary invitations and paper party supplies. For additional costs, there are many ways to customize and upgrade your parties, such as additional playtime for all the guests, utilization of both play spaces, decoration set up, and even a sweet treats candy bar. There are also theme party options including a Nerf Battle party, a superhero party, or a princess party.
Majestkids
14031 Southwest Fwy, Suite #620
281-201-8058
For a birthday for your littlest little one, Majestkids Playland could be the perfect venue as it specializes in playtime for infants, toddlers, and preschoolers. This indoor playground has a variety of entertaining indoor play structures and activities that encourage motor development and social skills. All parties include a party host, three hours of playtime and two hours in a private party room. Balloons, flatware, napkins, and set-up and clean-up are also included. Meal options, theme parties, decorations, face painting, and more guests can be added for an additional cost. To play, guests must be under 47 inches tall.
Giggles and Fun
20117 Park Row
281-492-2000
At Giggles and Fun, both active and imaginative play are encouraged through age-appropriate toys, activity tables, dress up, and climbers. Birthday parties include one hour of playtime and 45 minutes in a private party room with a staff member to help set up and clean up. Invitations, paper goods, napkins, and flatware are included. Add-ons of extra guests, extra time, and food options, as well as upgrades to themed parties and private play time, are available at an additional cost.
Houston's First Baptist Church
7401 Katy Freeway
713-681-8000
Houston First Baptist Church offers a unique party experience for kids. Your reservation gets you exclusive access to the church's six-lane bowling alley and party area and access to the games area - which has ping pong, air hockey, foosball and pool - and the indoor play lands. Depending on reservation type, you can either have shared access or exclusive access to both the games area and play lands. If you choose a party during regular hours you have a 50 person cap and if it's after hours you can have up to 70 people.
Inflatable Fun

There's plenty of monkeying around and inflatable fun at a Monkey Joe's birthday party./Photo courtesy of Monkey Joe's.
Monkey Joes
Multiple locations
Monkey Joe's has three Houston-area locations filled with wall-to-wall inflatables, lots of arcade games, and a dedicated party room. Their party packages cover set up and clean up, invitations for your guests, a Monkey Joe's party host, drinks in souvenir cups, paper plates, tablecloths, utensils, and a gift for the birthday child. Add-on options include pizza, balloons, and goodie bags. You bring the cake.
Pump It Up
Multiple locations
Pump It Up offers many options for you to customize a bouncy birthday at their indoor inflatable play land, and there are three locations in the greater Houston area. You can add on bubbles, glow activities, and even a character visit. Food options include pizza, wings, and trays of spaghetti or lasagna.
Jump On In
21155 State Highway 249
832-559-8138
Book a party at Jump On In for lots of bouncing, sliding, climbing, and tumbling for kids and kids at heart. Party packages are either one and a half or two hours and include supervised time in both gyms and time in a private party room. A party host takes care of set-up and clean-up, and plates, cups, napkins, and utensils are included. You can order food from Jump On In ahead of time and bring in your own cake and ice cream.
Inflatable Katy
2482 South Mason Road
281-574-3033
Jump and play for your birthday at Inflatable Katy, where your party grants you access to four different inflatables in your party room, a free air hockey table, music, and paper goods and utensils. Your party package includes 1 hour and 20 minutes of jumping time and 40 minutes for dining and birthday cake. Parties can be booked online and allow for add-ons like pizza, balloons, laser tag, arcade cards, and more.
Specialized Sports & Active Fun
Texas Rock Gym
1526 Campbell Road
713-973-7625
For an exciting day that guests won't forget, throw a birthday party for your child at Texas Rock Gym. There are two party options; both include a large party room for up to 2 hours and a Climb Safe course and basic skill instruction. The Pinnacle Party includes everything; from food (even the cake or cupcakes), decorations, and paper goods, and party bags, to climbing gear and staff assistance with climbing, and all the cleanup. Texas Rock Gym will customize the birthday party with contests and challenges based around a theme of your choice. The other option is a BYOP (bring your own party) package, which is a more affordable option. You bring your own decorations, food, and cake and your adult guests will need to belay for the younger climbers.
Hunter Dance Center
747 N. Shepherd, Suite 100 Houston, TX 77007
832-962-8982
Hunter Dance Center will work with you to plan the perfect aerial, hip-hop, or ballet dance birthday for your little one. Birthday parties, which require the kids to be at least 3-years-old, include one hour of instruction, followed by 30 minutes of celebration and cake time, basic party supplies and decorations are also included. You can choose your own theme or select one of the themes they offer such as Circus Arts, Hip Hop Hero, Under the Sea, or Princess Parties. Parties can be held Saturday afternoons or all day Sundays.
Pengu Swim School
984 Wakefield Dr. Houston, TX 77018
713-688-2400
A party at Pengu Swim School will make any child feel special and takes pressure off parents as the staff will make sure everything goes smoothly. Packages include balloons, paper goods, and two hours of exclusive use of the facility (one hour and 20 minutes in the pool and 40 minutes in the party area) with three certified lifeguards on duty. Pizza can also be served for an additional fee. The staff will lead the children in water games and races or your guests can have free rein in the pool and a chance to play with the many aquatic toys.
Art & Science
Art Mix
3701 W. Alabama, Ste. 250
713-552-9028
Give your young artist a birthday bash at Art Mix, where an instructor will guide kids in creating their own artwork. Art Mix staff will work with you to plan a unique art project for your party based on a master artist or a theme, such as Outer Space or Dinosaurs on the Prowl. Art Mix provides staff, set up, clean up, and art supplies, you bring decorations, food, beverages, and cake. Art Mix can also travel to your home or other location.
Mad Science of Houston
6300 Westpark Drive, Ste. 500
713-663-7623
For a creative and imaginative event, throw your little scientist a birthday party at Mad Science, where your child and his or her guests get to see a live 45-minute science show. The awe-inspiring experiments seem like magic until the science behind them is explained to the audience. The birthday child also gets to wear and keep a Jr. Mad Scientist lab coat. They offer a special party geared to preschoolers and for parties for children over 5, each child receives a cup of gooey slime. The two-hour parties can be held any day of the week. The party includes printable invitations, a fully decorated Lab, drinks, paper goods and candles. Exciting finales and treat bags can also be added for additional fees.
The Mad Potter
Multiple locations
Whether your creating footprints for your child's first birthday or painting pottery for your 10-year-old, there's something creative and fun for everyone at The Mad Potter. Each child is able to pick their own pottery piece (pricing of each piece is not included) for a unique, memorable party with the party favor built right in!
IdeaLab
Multiple locations
At IdeaLabs you have over 40 different party themes to choose from, ranging from movie production parties to LEGO and robotics parties and everything in between. Parties are interactive, educational, and entirely unique to your child, guaranteeing that he or she has a party that exemplifies who they are as an individual. Parties are two hours long with a half hour for food and cake, and you can choose a variety of add-ons like candy stations, karaoke, photo booths, and more.
Museums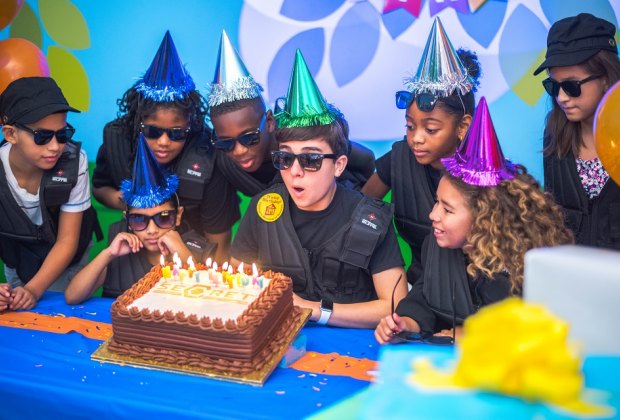 Have a top S.E.C.R.E.T. birthday party./Photo courtesy of the Children's Museum of Houston.
Houston Museum of Natural Science
5555 Hermann Park Dr.
713-639-4629
Mini scientists can have the party of their dreams at HMNS with a Party Smarty birthday. For the basic package, you choose the theme, picking from options like Butterfly, Energy, Astronomy, and more, then enjoy 30 minutes of crafts, a 30-45 minute exhibit tour or Planetarium show, and 45 minutes for a birthday celebration. Deluxe party options are also available for an extra fee.
Children's Museum of Houston
1500 Binz Street
713-535-7212
Let your mind run free when you have your party at the Children's Museum of Houston. Each party has a dedicated Museum Discovery Guide who will lead party-goers on a special tour of the Museum and the exhibits, then head to your Party Room for refreshments and more birthday fun. Choose from the Simply Wonderful Birthday Party (ages 1+), the "Anything I Want to Be" party (ages 6+), or the S.E.C.R.E.T. birthday party (ages 8 and up).
Houston Fire Museum
2403 Milam St.
713-524-2526
Jr. Firefighters will love having their party at the Houston Fire Museum in the special Jr. Firefighter Station. You'll get 1.5 hours of exclusive access to the play area, get to try on bunker gear, slide down kid-sized fire poles, and play in a working cab of a fire engine. Parties are recommended for no more than 16 guests and hosts are asked to bring their own decorations, food and drinks to the event.
The Woodlands Children's Museum
4775 West Panther Creek Drive #280
281-465-0955
Take advantage of all the Museum has to offer plus get your own private room for your party when you book at The Woodlands Children's Museum. Children get full access to the Museum's exhibits for an educational and unique party experience. You can also add on a special activity for even more party fun. Parties are designed for children ages 1-7.
Foodie Fun
The Chocolate Bar
1835 W Alabama St., 713-520-8599
2521 University Blvd., 713-520-8888
For a super sweet birthday party, consider The Chocolate Bar, where guests will get to indulge in delicious homemade chocolate, ice cream, and other desserts. You can bring your own decorations and beverages but no outside food.
urbanCHEF
3651 Weslayan, Suite 204
713-504-1700
Budding culinary aficionados will love bringing their friends to urbanCHEF for a hands-on cooking experience at their birthday party. You can bring up to 24 little chefs for a two-hour cooking class (including time for food and presents) and choose from foodie favorites like pizza parties, tea time, sushi making, and more.
Looking to have a special indoor birthday party within the comfort of your own home? Toddler Towns will help you take your birthday party to the next level by providing mobile soft play rental equipment like ball pits, crawl tubes, tunnel mazes, and more. Packages start at $365 and all equipment is treated with PureGreen 24, the first EPA registered disinfectant that's green, so you can rest assured that your kids are having good, clean fun.