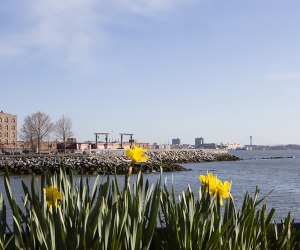 Red Hook with Kids: Parks, Play Spaces, Restaurants, Mini Golf
Flanked by family-friendly Carroll Gardens and Park Slope, Red Hook has long been considered "the next big thing" in Brooklyn. Fairway, Ikea, and local shops and eateries brought new life to the neighborhood, but the lack of easy public transportation means this waterfront gem maintains its refreshingly quiet vibe.
This awesome neighborhood is teeming with historic buildings and stellar seafood and is home to waterside parks, an Olympic-size outdoor pool, two mini-golf courses, FREE kayaking and movies in the summer, fun family restaurants, and an indoor play space for children of all abilities. Though it's not easily accessible by subway, visitors can arrive via ferry, bus or Citi Bike via the Brooklyn Greenway—follow the path from Brooklyn Bridge Park if you're feeling adventurous!
Red Hook earned its name in the 17th century due to its crooked shape and ruddy landscape. The neighborhood has come a long way since its days as a hangout for infamous gangster Al Capone. It is bordered by the Brooklyn-Queens Expressway to the east, and water to the west, north, and south. The neighborhood boasts an eclectic mix of art, small businesses, and great local fare. The food is unforgettable—from legendary street vendors to southern style BBQ, you'll find something for everyone. Play inside or outside, take a dip in the pool, or hit the (mini) links for a game of golf. Don't forget to take in the views of Lady Liberty in this historic Brooklyn destination.
Learn & Play
Red Hook Recreation Area
Court to Columbia Streets between Bush Street and the water
In addition to a standard playground, this nearly 60-acre green space boasts handball courts, a running track, picnic tables, and ball fields that are often completely empty on weekdays (but teeming with leagues on weekends). There's also an indoor rec center that's open to members.
RELATED: Top Things to Do in Brooklyn with Preschoolers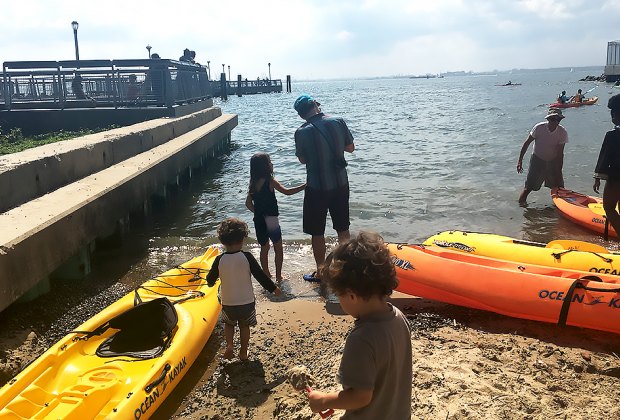 Everything you need to kayak off Valentino Pier in New York Harbor is provided Red Hook Boaters. Photo by Sara Marentette
Red Hook Boaters
Louis Valentino Park and Pier
Take a FREE paddle with the whole family! Minors need a parent/guardian, and everyone needs a Coast Guard approved life jacket to explore the waterways around Red Hook. Check its website for dates and opportunities to explore the neighborhood from the water.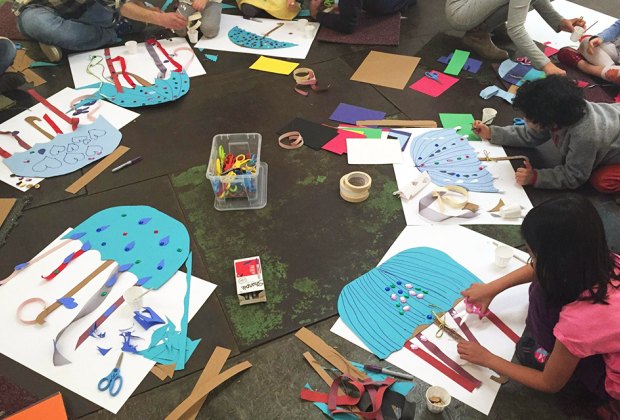 Kentler International Drawing Space has a host of classes and activities. Photo courtesy of the space
Kentler International Drawing Space
353 Van Brunt Street
With an impressive roster of events, as well as youth and family programs, Kentler International Drawing Space makes for a great art-centric afternoon with the kids. Sign up for an after-school program, or bring the children (4 and up) to a family drawing workshop on the weekends.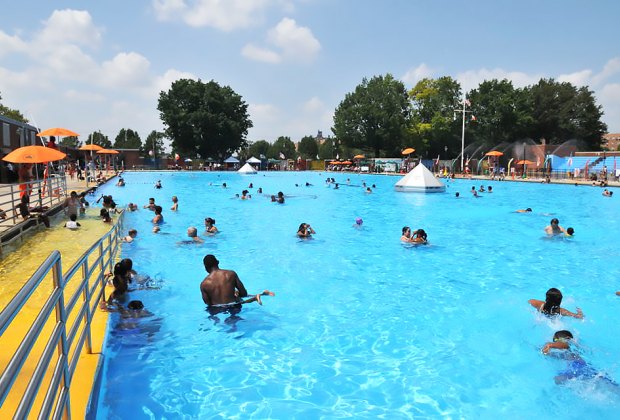 The Olympic-size FREE outdoor pool is always a hit in the summer. Photo courtesy of NYC Parks
Red Hook Pool
Bay and Henry Streets
One of our favorite public pools, this Olympic-size treasure is a lifesaver on scorching summer days. Open daily from late June through Labor Day, this massive WPA-era beauty brings the diverse community together for hours of splashing good fun. The separate toddler sprinkler area is a spacious tot spot.
Erie Basin Park
Beard Street to the water
Ikea made and maintained, this waterfront green space is a nice place to stroll, relax on the plentiful benches, or marvel at the view. Keep an eye out for artsy structures or picnic on the modest lawn. Ikea sponsors various family events here in summer.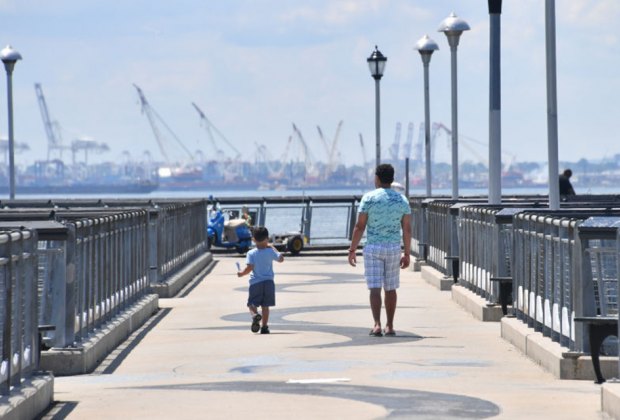 Bring a picnic and your fishing pole to Valentino Pier for a day of nature in the city. Photo courtesy of NYC Parks

Louis Valentino Junior Park & Pier
Ferris Street between Coffey and Van Dyke Streets
Though there's no playground here, this sweet green patch on the water is a favorite for pups and crawlers. Have a picnic, go fishing, or just relax and enjoy the view. In summer, hit the pier for the annual alfresco film series Red Hook Flicks and free kayaking with the Red Hook Boaters.
Coffey Park
Richards to Dwight Streets between Verona and King Streets
Enjoy the semi-recent multimillion-dollar renovations at this local green space. This park remains a great spot for birthday parties with plenty of room for games, picnic tables, and trees for piñatas. Kids will like the playful crocodile shaped benches, and parents will enjoy the safety surfacing that was added to the playground during renovations.
Brooklyn Greenway
Hit this bike path for an adventurous and scenic day out. Bring your own wheels or get a cheap all-day bike rental from Dog Day Cyclery. While the neighborhood's old railroad tracks and Belgian-block streets make for a bit of bumpy ride, the Brooklyn Waterfront Greenway offers lovely paths along the East River from Dumbo, Brooklyn Heights, or even Williamsburg.
Ikea Småland Play Area
1 Beard Street near Otsego Street
Got some home shopping to do? Drop-off your littles (37 to 54 inches; must be potty-trained) at Ikea's in-store play space. Customers' kids can enjoy up to an hour of FREE supervised romping time in a "Swedish Forest." Afterward, hit the restaurant for the chain's famous Swedish meatballs.
RELATED: Exploring Gowanus, Brooklyn with Kids

The local Red Hook library recently got a makeover and is a little gem! Photo courtesy of the library
Red Hook Library
7 Wolcott Street at Dwight Street
This small Brooklyn Public Library branch hosts reading and playtime for tots, plus chess and computer lessons for school-age kids.

Extreme Kids & Crew
71 Sullivan Street between Richards and Van Brunt Streets
This free-form sensory gym is a fantastic place geared toward kids with disabilities and their families, including siblings. Drop-in for open play sessions on Saturdays.

The lush Urban Meadow Community Garden is open to the public Thursday-Sunday. Photo by Sara Marentette
Urban Meadow Community Garden
39 President Street
This awesome outdoor space is actually in the Columbia Waterfront neighborhood, just north of Red Hook, but we couldn't resist including it as it's right on your way to the nabe. Organizers host events throughout the year, like the unmissable Jazz Festival in the summer and the Halloween parade in the fall. No need for a membership to explore this community green space from April through October, 10am-8pm. Supervised kids can explore, play in the sprinklers (seasonally), hunt for snails, and learn about the different varieties of plants and flowers. Check the events calendar for local happenings throughout the year.
Pioneer Works
159 Pioneer Street (between Conover Street and Van Brunt Street)
There is so much to see and do at this local cultural center. Immerse your family in art with one of its inspiring exhibitions. Spend a few minutes studying the calendar to find the best day to bring your kids. The center aspires to bring art to all, and that includes little ones.
Brooklyn Artists Waterfront Coalition
481 Van Brunt Street
This waterfront gallery offers support and exposure to artists working to advance their careers. The sprawling Civil War-era warehouse is chock-full of interesting art, with Statue of Liberty views as a bonus backdrop.

Peruse the art at the floating Brooklyn Waterfront Museum or join a kid-friendly program. Photo by Joe Buglewicz for NYCgo
Brooklyn Waterfront Museum
Conover Street on the waterfront
Get even closer to the water with a floating gallery! The Brooklyn Waterfront Museum is a family-focused outpost that is floating on the 1914 Lehigh Valley Barge #79. It has open hours several days a week, or you can schedule a tour. They also offer a full roster of fun, kid-friendly events throughout the year.
Shipwrecked Mini Golf
621 Court Street between Bay Street and Halleck Street
Rainy day? School vacation? The newish indoor Shipwrecked mini golf spot is the place to go to keep the kids busy, fed, and happily working on their putting game. In addition to the playful NYC theme (the last hole is in a faux subway car) and decor, Shipwrecked offers a kid-centric menu, plus alcoholic beverages for the grown-ups. There are a handful of old-school video games in the waiting area, too, including Pac-Man. Kids as young as 3 will likely enjoy a round of golf here. Tip: Want to save money? Go as an observer, so you just have to pay for the kids. Of course, we think it's more fun to join in!

Grab a bite and if the kids finish before you, they can keep themselves entertained with all the games. Photo courtesy of Brooklyn Crab
Eats & Treats
Brooklyn Crab
24 Reed Street between Conover and Van Brunt Streets
In addition to delicious dishes, many featuring its namesake crustacean, Brooklyn Crab is home to a big backyard featuring an eight-hole miniature golf course, bean bag toss, and shuffleboard. The spot fills up quickly in the late afternoons and becomes a grown-ups-only hang out after dark.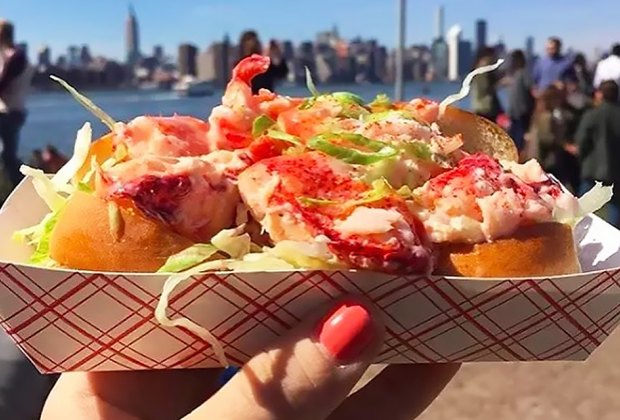 Grab it to go or eat family style at one of the picnic tables at the Red Hook Lobster Pound. Photo courtesy of the restaurant
Red Hook Lobster Pound
Van Brunt Street (between Verona Street and Visitation Place)
Seafood can be a tough one for kids. Luckily, Red Hook Lobster Pound makes a lobster roll that is impossible to turn down. This NYC destination is known for its fresh seafood and hip ambiance. Bring the kids for one of their special events (perhaps a Mother's Day Brunch?) and savor a buttery lobster roll surrounded by playful nautical decor and stellar service.
Steve's Authentic Key Lime Pies
185 Van Dyke Street
Grab a swingle (chocolate-dipped pie on a stick!!!!) at Steve's in Red Hook. This neighborhood mainstay is the place to go for pie enthusiasts and appreciators alike. They take their mission seriously, which means fresh ingredients, stellar service, and a great place to dig into a slice of key lime pie. Stop by after a stroll along the adjacent Louis Valentino Junior Park & Pier.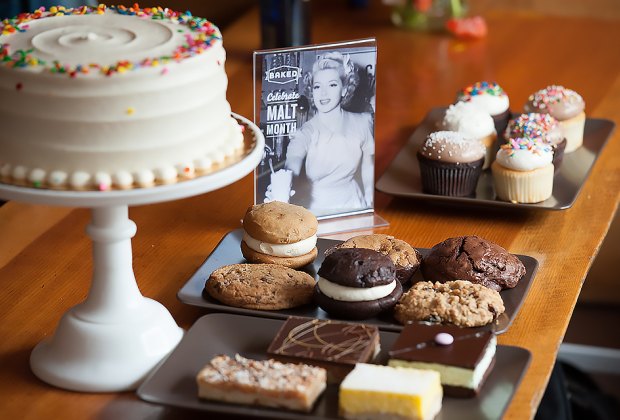 Sweet and savory baked goods are on the menu at Baked. Photo by Julienne Schaer for NYCgo
Baked
359 Van Brunt Street
If pie isn't your thing, Baked will have what you need. Whoopie pies, brownies, and cookies are all on the menu at this Brooklyn favorite. They also offer enticing limited edition sweet treats. Lemon sprinkle white chocolate blondie? Yes, please!
Red Hook Food Vendors Marketplace
160 Bay Street near the ballfields and the corner of Clinton Street
This outdoor culinary destination of top-notch food trucks has been around for 43 years, and for good reason! This is the place to go if you have kids with many different food preferences. Tacos? No problem! BBQ? Sure! It does in general specialize in Latin American foods. Be warned, this is a definite bucket list item for many New Yorkers, so lines can get long. To avoid wrangling hungry children, try to go on the earlier side. It's seasonal only; opening in late April through October on weekends, from 10am-8pm. Get updates via its Facebook page.
Hometown BBQ
454 Van Brunt Street
Pit-smoked BBQ, live music, and a family-friendly vibe are all readily available at this awesome Red Hook establishment. Sandwiched between Fairway and Brooklyn Crab, Hometown BBQ holds its own. True to southern BBQ tradition, they offer walk-up service at the counter. Let your kids pick their favorites from the menu and grab a table for some finger-lickin' family fun.
A version of this article was first published in 2014, but it has since been revised and updated.