Where To Enjoy High Tea in New Jersey with Kids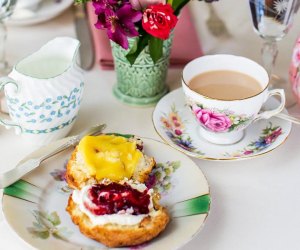 If your little sweetie loves the finer things in life—and has the patience to make it through a sit-down meal—he or she may be ready to enjoy an afternoon at one of NJ's many local tea houses. From the fine china and finger sandwiches to the tempting sweets, your little one will be enchanted during this special one-on-one mommy time. Many host sweet birthday parties, and several offer special holiday events.
High tea typically includes several courses (such as soup, salad, scones, quiche, tea sandwiches, and dessert) served alongside your own pot of tea. Each course is usually pretty small, but the entire meal can be quite filling. It's generally a good idea to call ahead for reservations, as most tea houses are fairly small, and some have strict seating times and/or limited hours and days of operation. Another tip for newbies: don't pass up the clotted (or Devonshire) cream. This butter-like accompaniment to scones is heavenly when paired with homemade jam.
Here are a few tea houses that may be fun to try with your little one:
Tea Houses in North Jersey
The Cosy Cupboard – Convent Station
With specialty teas that change with the season, Cosy Cupboard is a lovely place to sit down and unwind. From homemade scones to freshly made tea sandwiches, there are plenty of goodies to keep you busy for a while. There's also a small gift shop that tea aficionados will love.
Harmony Tea Room – Westwood
"Relax, reconnect, and rejuvenate" is the well-suited motto of Harmony Tea Room, which serves 23 varieties of loose tea. The perfect option for young ladies and gentlemen is Juvinili-tea service, with kid-friendly finger sandwiches, scones, sweets, and a pot of tea. Harmony also hosts Princess Dress-up and Paint-Your-Own Teapot Parties for birthdays.
High SocieTea – Wayne
This tea house features more than 50 loose-leaf options, as well as tea education classes, cultural events, and private parties. Savor the traditional fare, including the delicious scones, quiche, and sweet breads, or choose the special package for young diners ages 10 and under. "Girls come in all dressed up, and [they] love the tea and treats. It's all about the experience for them," explains owner Barbara Healey. This Wayne location is listed with the Historical Society as the first official post office dating back to 1895. Special 2019 holiday events include Cookies with Santa on Tuesday and Wednesday, December 3-4; as well as holiday brunches and teas with carolers on select dates throughout December.
RELATED: Themed Restaurants and Family-Friendly Interactive Dining Experiences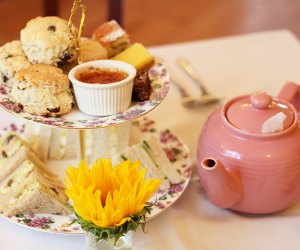 Mulberry House offers a menu that's just right for kids. Photo courtesy of Mulberry House.
Mulberry House – Westfield
Mulberry House offers a farm-to-table dining experience, and the tea menu has a kid-friendly package that includes a scone, two finger sandwiches (including grilled cheese, PB&J, and Nutella), and a sweet. The tea menu is served Tuesdays through Fridays, 11am – 4pm, and during brunch hours on weekends. Looking for an unusual kids' party destination? Check out the Young Ladies Tea Party package.
Parteaz – East Hanover
While not a tea house per se, it's worth mentioning Parteaz, which offers creative tea parties for children. The third Friday of every month is a Mommy & Me High Tea Luncheon with a Princess, featuring tea sandwiches, scones, desserts, and a special keepsake. There are also lots of private tea party options with themes like Dolls, Princess, Glam, and more.
RELATED: NJ Play Cafes with Fun for Kids and Perks for Parents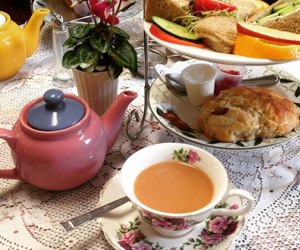 Have a perfectly lovely get-together with your little one at Sally Lunn's Tea Room & Restaurant. Photo by ccynthialynn via Instagram
Sally Lunn's Tea Room & Restaurant – Chester
With one of the area's most sizable tea selections, everyone's bound to find something they love here. As a complement to all these wonderful teas, Sally Lunn's tasty menu features fresh soup, sandwiches, "hot from the oven" delicacies, scones, and desserts. Complete your visit to the 30-year-old shop with a stopover at the Victorian Parlor, which boasts an eclectic array of tea-related knick-knacks.
Tea Houses in Central Jersey and Jersey Shore
The Lillagaard – Ocean Grove
When you're down the shore, enjoy "tea by the sea" at the Victorian style Lillagaard Bed & Breakfast. The elegant tea menu features sandwiches, scones, soups, salads, fruit, quiche, and more, including a vast selection of teas. Young guests can enjoy the Teddy Bear Tea package, which includes teddy bear tea sandwiches, fruit, cookies, candy, juice, and a favor, served on Teddy Bear China. Tea service is offered on Tuesday, Friday and Sunday by reservation only.
The New Leaf Tea Room & Gift Shoppe – Riverton
Put on your finest vintage hat (and if you don't have one, feel free to borrow from the shop's collection), and savor high tea at The New Leaf Tea Room & Gift Shoppe. Afternoon tea is served Wednesday through Saturday with packages that include finger sandwiches, scones, chocolate-covered strawberries, salads, and, of course, Royal Tea. Or coffee. Or hot chocolate. The 6-and-under crowd will like the Celebri-Tea package, with heart-shaped tea sandwiches, rosebud cupcakes, chocolate-dipped strawberries, and tea, lemonade, or cocoa. Host your child's next birthday tea party in The Secret Tea Party Tea Room, where guests will dress-up and games, dine on delicious eats, and learn tea party etiquette. Celebrate the 2019 holidays with Tea with Santa on Saturdays, December 7 and 14, and Sunday, December 22; or with a Charles Dickens Holiday Tea on Sunday, December 8 and Saturday, December 21.
One Steep at a Thyme – Jamesburg
This lovely two-room, 20-seat Victorian tearoom welcomes visitors for two afternoon tea seatings on Thursday, Friday, Saturday and Sunday. The owners treat patrons to an amazing spread from start to finish, even including a palate-cleansing sorbet at the end of high tea. Tea tastings, Tarot readings, and sip-and-paint nights are offered regularly. Celebrate the holidays with a Dickens Christmas Tea, which takes place on multiple dates throughout December 2019.
A Sweet Memory Cake Shoppe – Forked River
This scrumptious bakery has a room for high tea. Get decked out in fancy boas, hats, and beads from the shop's stash, and choose from an extensive menu of tea sandwiches, scones, and desserts. Young guests can order from a special Children's Tea Room menu or wait to attend one of the restaurant's special Princess Tea events. Throw an elegant tea party birthday celebration in a private room with costumes, glitter tattoos, food, and activities. 2019 holiday events include an Ice Princess Tea Party on Sunday, December 15.
RELATED: New Jersey Restaurants Where Kids Eat Free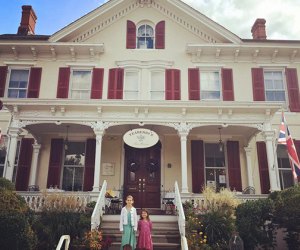 Ladies and gentlemen under 12 can choose the Princess or Prince option at Teaberry's Tea Room. Photo by thejenny0193 via Instagram
Teaberry's Tea Room – Flemington
Nestled inside a restored Victorian house, Teaberry's Tea Room hosts lunch and afternoon tea Wednesday through Sunday, including a Princess and Prince option for ladies and gentlemen under 12. You can also throw a sophisticated high tea birthday party for young tea connoisseurs with themes such as American Girl, Pinkalicious, and Fancy Nancy. Many of Teaberry's visitors wear their fancy dresses. Management also accommodates the littlest guests—by providing high chairs for dolls. Holiday events for 2019 include Cocoa with the Grinch on Sunday, December 15, and a Candlelit Christmas Carol Tea on Friday, December 13, and Friday, December 20.
Tea Houses in South Jersey
The Nutty Duchess Tea Room – Collingswood
This reservation-only tea room serves up dainty sandwiches, scones, and petits fours aplenty, and its children's menu offers a selection of kid-friendly options like peanut butter and jelly and nutterfluffer, as well as cupcakes and caffeine-free tea. Kids (and grown-ups) can make it a fancy affair by dressing up with the restaurant's stash of hats, pearls, and gloves. Upcoming holiday events include a storytime with Mrs. Claus on Saturday, December 14, 2019.
This post was originally published in 2012 and has been updated since.