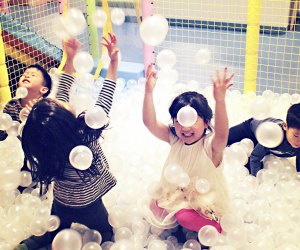 12 NJ Play Cafes with Fun for Kids and Perks for Parents
Once you become a parent, it's all about the kids. That's what "they" always say, right? Well, for the most part, that's absolutely true—but, every once in a while, parents get a pass for fun (or at the very least, some time to fuel up for the rest of the day), too. The founders of some of our most-loved New Jersey indoor play spaces certainly seem to think so, and we couldn't be more appreciative of the parental perks they've been brewing up!
From free Wi-Fi to seating that's both comfortable and functional; and coffee that rivals cups from your favorite java joint to snacks and sips that go way beyond basic vending machine munchies; these premiere places put in the work to earn their stripes in the play cafe category—and have even become day trip–worthy in their own right.
Read on for 11 of the best spots catering to kids and their caretakers. At the end of the day, if the little ones love it, it's well worth the cost of admission; if mom and dad get something out of it, too, then that's grounds for repeat returns.

Genius Gems has a light and bright area for grabbing a snack and watching the action.
Northern New Jersey
Genius Gems – Millburn
For any parents who've braved the bounce house circuit and/or romped around in some of the loudest, most hectic play gyms, heading to Genius Gems for the day literally feels like a vacation (and one that you come back from feeling relaxed and re-energized). Not only do kids ages 4–12—and their baby or teenaged siblings—enjoy a hands-on museum/learning-type center in Genius Gems, their parents can get in on the fun or choose to hang back on the sidelines and let their STEM-obsessed kiddos have a blast on their own. The cafe area looks directly into the main space, so parents can keep an eye on their mini Magna-Tile mavens. Moms and dads can cue up their laptops (with complimentary Wi-Fi), grab a freshly-brewed cup of coffee (prepared vegan-style, if you prefer), and nosh on a heavenly hummus cup while the kids tap their creative sides. When the weather's nice, there's outdoor seating outside that overlooks the main play space through large glass windows.
Lily & Liam Kids' Indoor Playground and Cafe – Englewood
This sweet indoor playground and cafe is the perfect place for your kids, 12 and under, to climb, build, pretend, and explore. While they're climbing, floating around in the bubble ball pools, sifting through the sand pit, and playing pretend, you can pull up a chair nearby and get a front row seat to their adventures. For moms and dads who worry about bringing their tinies to play spaces because of the germs, you can find comfort in the fact that Lily & Liam closes every first and third Monday of the month for sanitizing sessions. Sure does make the free Wi-Fi and brewed coffee go down a whole lot more smoothly! As do the delicious and totally nut-free range of food offerings. From corn dogs and chicken nuggets to rice balls and ham and cheese paninis, the fare is great for full-on mommy/daddy-and-me lunch dates!
Play City – Weekhawken
This metro-themed fun zone for children ages 0-11 is the perfect pit stop for kids and parents. The 2,000-square-foot space offers kids lots of fun options for climbing, sliding, and playing, as well as a cafe that serves non-GMO verified, USDA organic food, snacks, and drinks with ample gluten-free, dairy-free and nut-free options, as well as vegan and kosher items. There's a $5 fee to bring your own food—and, if you feel like imbibing just a bit while your little ones romp, you can also BYO beer or wine (also for a $5 fee). There's also coffee and tea, as well as free Wi-Fi and a TV.
The Village Play Cafe – Chatham
It "takes a village" to get through each day as a parent, but with fun places like The Village Play Cafe to keep kids occupied and nourished, it can be done (and well, at that!). Intended for ages 5 and under, this bright and open, fully-padded play space features a need-to-visit village (complete with a supermarket, vet clinic, fire station, and play house), castle, book nook, climbers of every kind, and an amazing infant area that parents with the youngest squad members on the spectrum can spend a latte of time in. While the little ones toddle around, parents can sit back, enjoy a cup of joe (all gourmet; anything can be made in decaf, so nursing or pregnant mamas can get their faux fix), and nibble on noms from morning to afternoon and beyond. Fresh baked doughnuts, muffins, and danishes for breakfast; fresh salads, sandwiches, and wraps for lunch. All made daily by the neighboring Chatham Sandwich Shop!
Woodland – Cedar Grove
Not sure why, but walking into Woodland is like wandering into a Where the Wild Things Are dreamscape. In the best way possible! The two Montclair mamas who came up with this incredibly-imaginative play space definitely did it for the kids, but never forget about the mothers and fathers who'd be coming along for the ride. All of the toys and materials are eco-friendly and non-toxic, the floors are covered with cork flooring (which is leagues more antimicrobial), and a portion of each entry fee supports the Community Food Bank of New Jersey. Not to mention, the music that provides a soundtrack to your son's or daughter's play isn't exclusively Disney and KidzBop—rather, it's a smooth blend of indie "chill" tracks that goes nicely with mommy and daddy's cold brew, fresh-baked treats, and nut-free offerings from Joyist and Piece of Love Pastries (think scones, gluten-free energy bites, dried fruits, chia puddings, kale chips). Throw in free Wi-Fi and a complete view of the play area, and you might not call Max home for supper (kidding)!
RELATED: Free Indoor Play Spots for New Jersey Kids

The menu of classes and drinks is a work of art at Coco Beans Cafe.
Central Jersey
Coco Beans Cafe – Tinton Falls
With a tagline like "Kids Play. You Relax," you know this place has to be rife with advantages for the adults. And it is! Coco and Mimi, the dynamic duo behind this creative play and caffeine cove, have carefully curated all details of their space to be as great for the grown-ups as it is for their giddy little gremlins. You'll find free Wi-Fi and comfy and abundant seating throughout the entire play area, so you can sit close to your child, wherever he or she is playing. On top of that, the cafe also offers healthy toddler snacks and drinks, as well as a bevy of specialty drinks, from French Toast lattes to keto coffee and herbal teas. The best defense against a bonkers afternoon with the boys or girls is a good offense (that energizing, focus-boosting effect of the keto coffee is no joke!). And if you happen to forget your socks, you can swipe a pair for $2 at the cafe. All kids and adults need to keep their footsies covered!

Tables and couches are set up in Lil Giggles' cheery space for kids and caregivers to relax.
Lil Giggles Play Cafe – Sea Girt
This colorful and cheery space is open seven days a week for open play. There's no shortage of pretend play options, including a play kitchen, dress-up area, and train table. Grown-ups will get a kick out of the giant Connect 4 grid (loved this game once upon a time ago!). A cozy reading nook offers tots a quiet place to read, or they can get messy in the art studio with finger painting. Older kids tagging along will find a basketball game, foosball table, and musical instruments to tinker with. While the little ones play and explore, parents can enjoy a mocha-chino or any artisanal coffee drink (hot/iced, flavored or not) and a snack in the 5G-Wi-Fi-enabled cafe. Besides a large variety of healthy packaged snacks, drinks, and ice cream, Lil Giggles also makes personal pizzas, quesadillas, grilled cheese sandwiches, waffles, and hot dogs—and the owners are always looking to add new things to the menu.
Magic Sky Play – Morganville
Magic Sky has been named one of our Bestie Awards winners, and for good reason, too. Its bright, open layout and creative activities are perfectly suited to a young child's imagination. There are eight large play structures, including a huge tree house with a twisting slide, climbing cargo net, and lookout points. A "sandbox" filled with plastic pellets lets tiny construction workers dig in. There's even a separate toddler area with its own mini-gym. There are two tables and several high chairs in the lounge where families can come together to share a packed lunch or snack. If you're more inclined to "bring in" than buy, then you can prepare ahead of time and avoid having to leave the venue (how many times has that happened?). Just remember to go nut-free!
Mama Bear's Play Cafe – Holmdel
Neither you or your child will want to leave the welcoming confines of this cozy play cafe. A tree house–inspired climbing structure is the centerpiece, and large picture windows bathe the clean and modern space with tons of natural sunlight. A special nook with soft play mats for crawlers and cruisers sits right next to the gourmet coffee bar serving lattes, cappuccino, espresso, pour-over coffee, and matcha tea. And yes! All beverages can be enjoyed in the play area. The open floor plan allows you to watch your kids from the cafe or bring your drink into the play area, because Mama Bear's was designed for the older crew, too! Note, Mama Bear's is NOT a nut-free facility, so if you or your little have any allergies or intolerances, just an FYI, make sure to BYO [food & bev]. Your kids can become a barista, too, in the pretend play cafe, a baker in the play kitchen, or even a Hollywood stylist in the adorable salon boutique.
RELATED: Play Spaces with Drop-In Hours for Central NJ Kids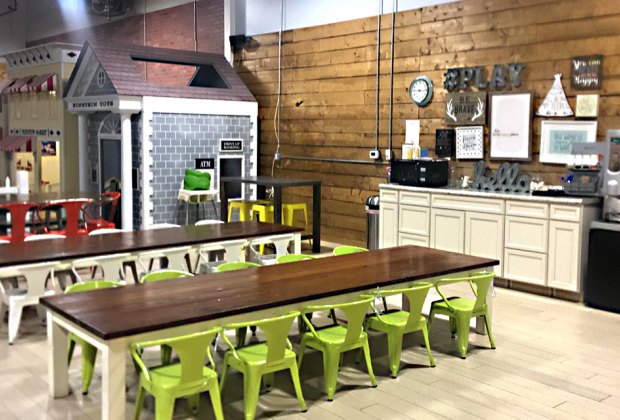 Get a little work done or listen to a podcast in the workspace while the kids play.
Princeton Playspace – Princeton
Imagine an impressive play space for your peanuts (ages 0-10) and a clean, crisp, city-esque co-working space for you and your partner or colleagues; you'll get them both at this trendy and blissfully play-focused facility, where children are free to play, learn, imagine, socialize, and explore as much as possible. Parents are welcome to sit, mingle, do work (plug in password "playmatters" and you're all set with free Wi-Fi), and you can view your children from anywhere you sit. There are also magazines and newspapers nearby if you need some reading material to peruse while you nurse your cup of Starbucks coffee ($2.50 per cup, from PP's professional machine—Keurig, eat your heart out!).
Jersey Shore
Little Dreamers Play Cafe – Sea Girt
This safe and clean environment where parents can relax while their children play is everything that an indoor play facility needs to be. In addition to free play hours, LDPC offers educational classes for both parents and children (the family that learns together, stays together!) and birthday parties. The play area is gated in and constantly being cleaned throughout the day with nontoxic cleaning products. There is seating both inside the play area and outside in the café area, so the main play arena is highly visible. Parents can feel free to bring coffee into the play area—and why wouldn't you when the caffeine choices are from one of Wall Township's most touted turnstiles for the hot stuff, Turnstile. Lattes and delicious drip coffee, plus packaged goods and incredible cookies made by one of Little Dreamers' regular mamas abound—nothing is sweeter!
Southern Jersey
Moozie's Play Cafe – Turnersville
Moozie's HMIC (head mama in charge) had a dream for her play place to be where people from the community could come together to relax, learn, socialize and play. And as a #boymom to three beautiful, active sons, she realized that having a space where everyone felt comfortable and safe was just as important as a place where parents could recoup a bit of their sanity, too! In addition to offering free Wi-Fi, Moozie's has a healthful and locally sourced selection of snackables that includes fresh fruit everyday, cheese sticks, yogurt pouches, and deliciously roasted coffee courtesy of Lacas. The cafe is right up front, too, so parents/caregivers can grab a seat at the handcrafted farmhouse table, sip on their sweet nectar, and add to their ever-growing grocery list while being able to watch their children play.
Photos courtesy of the cafes/play spaces.