New NJ Play Space Genius Gems Sparkles with STEM Fun for Kids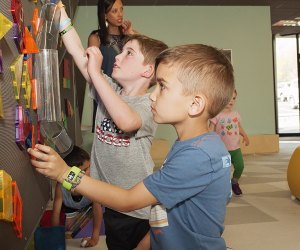 5/10/18
- By
Michelle Vames
"Goodness, have you ever seen so many Magna-Tiles?!" a mom exclaimed to her toddler on a recent day at Genius Gems, the brand-new STEM-based play space that opened in Millburn on May 3. It was an incredible sight: thousands of brightly colored magnetic tiles lay strewn about—in kaleidoscopic piles on the floor, in towering formations created by little builders, in geometric patterns on a giant magnetic wall—and the sunlight that poured in through the floor-to-ceiling windows set everything aglow.
My first thought was that this was an amazing place; my second was, "I'm so glad I don't have to clean up all these tiles."
Happily, my only job was to hang out in the bright, beautiful space and watch my 3-year-old play, occasionally jumping in to build alongside him. My son was engaged and entertained for a solid two hours, and I was impressed—not only with the clean, modern aesthetic of the place, but with the simple yet ingenius offerings on hand. Between Genius Gems and The Busy Bee, which opened in Millburn in March, Essex County parents now have two great indoor play space options, without having to schlep to Routes 10 or 22.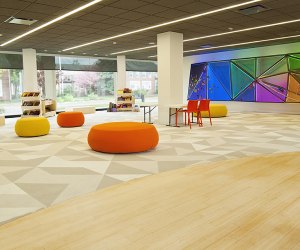 Genius Gems is a modern, beautiful space that's flooded with light from floor-to-ceiling windows.
The 5,000-square-foot space, founded by educator Jennifer Romanoff of West Orange and designed by architect Joshua Uhl of South Orange, is decorated in cool grays and white, with a few oversized orange and yellow ottomans providing pops of color. The main area includes an open play space with shelves full of magnetic tiles, as well as soft foam building blocks and wooden train sets. There's also a snack bar where you can buy everything from sandwiches and cut veggies to yogurt smoothies and coffee, and a lounge with tables and chairs where you can relax, have a bite, and still keep an eye on all the action.
RELATED: New STEM-based Play Space Will Offer Magnetic Fun for NJ Kids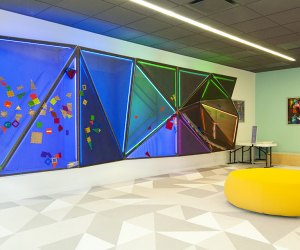 The magnetic interactive light wall is a highlight of the space.
The main action, for my son at least, was the magnetic interactive light wall—at 20 feet long and six feet high, this sculptural structure is definitely a stand-out. Made of perforated, powder-coated metal and back-lit with colored lights, the wall itself looks like it's made of giant magnetic tiles.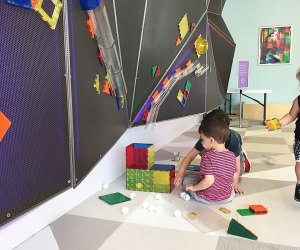 My son had a blast making magnetic ball mazes. Photo by Michelle Vames.
On the wall were pieces of clear plastic tubing that had been affixed to magnets, and my little guy spent a good 40 minutes arranging these into zig-zagging mazes and dropping ping pong balls through. One of the staff members—who are on hand to demonstrate and facilitate activities—helped him use magnetic tiles to build a box that would catch the balls, and he squealed with delight when the balls dropped in.
Off the main space is the project room, where kids can take part in design challenges, competitions, and games. On the day we visited, kids were gathered around a couple of tables playing with Ozobots—tiny round robots that can be programmed to make certain movements by following colored lines drawn with special markers. My 3-year-old couldn't quite get the gist, but the older kids were very into them (so was I).
Also in this room was a large table with two wooden ramps and a heavy ball. The idea was to build a magnetic-tile structure and then roll the ball down the ramp and see if your structure could withstand the ball's impact. "They're learning the concept of 'force equals mass times acceleration,'" said Romanoff's husband, Marc, who came up with the idea for the activity.
Hopefully the physics will sink in at some point; at that moment, all my little guy comprehended was the pure joy of making the magnetic structures collapse and clatter to the ground.
"Everyone's got a creative force in them, and everyone has some destructive force," Romanoff added with a laugh.
RELATED: 20 STEM Summer Camps for NJ Kids

These little Ozobots will follow patterns drawn with special markers.
In another room off the other side of the main area was a long table where kids worked with "mystery boxes." Each child got a box, and each box was filled with materials like pipe cleaners, popsicle sticks, and pom poms, which the kids could use to create whatever they wanted.
It's this kind of open-ended, child-driven play and exploration that Jennifer Romanoff wants to foster, using everything from basic building blocks and magnets to more complex tools like robots. In addition to her background as an educator, Romanoff said she drew some inspiration for Genius Gems from hands-on exhibits at museums she's visited with her own children, like the Boston Museum of Science and the Children's Creativity Museum in San Francisco.
It's true that Genius Gems feels more like a hands-on museum / learning center than your typical play space. It's sophisticated but not stuffy—a nice alternative to the louder, more hectic play gyms and bounce houses that are awesome for kids, but sometimes not so much fun for parents.
That said, parents do have to pay for the experience: admission is $15 for everyone over the age of 2. That adds up, especially if you bring more than one kid. To me, though, it's worth it. It's educational, it's beautiful, and most of all it's FUN—the sort of fun that inspires creativity, curiosity, and a sense of accomplishment. (I had to bribe my kid with a juice box to get him to leave.)
In short, it isn't "just" a play space. I had a blast playing with the Ozobots and knocking down buildings; I also loved relaxing in the lounge while my son explored on his own. Genius Gems makes it enjoyable to do both.
Know Before You Go
Age range
The recommended range listed on Genius Gems' website is 4–12, but the space welcomes everyone from babies through teens (and beyond). Genius Gems is open until 9pm on Fridays and Saturdays for teen nights, plus special events for adults.
Hours
Sunday–Thursday, 9am–6pm; Friday–Saturday, 9am–9pm
Admission
$15 per person, including parents/caregivers (kids under 2 are free). Open play is offered in two-hour timeslots, and online reservations are recommended. There is free parking in the lot behind the building.
Classes and Camps
Classes are offered for ages 2–12, and summer camp is recommended for ages 4–12.
Special Events and Parties
Genius Gems will host Sensory Friendly Sundays starting on June 10. Other upcoming events include a Dad Build-A-Thon on Sunday, June 24, and a holiday train show in December. Birthday party packages are also available.
Unless otherwise noted, all photos by Melissa Spector Photography.