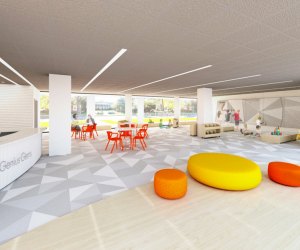 New STEM-based Play Space Will Offer Magnetic Fun for NJ Kids
Calling all Rosie Reveres, Ada Twists, and Iggy Pecks! A new play space is coming to Millburn this spring, and it's sure to capture the imaginations of young engineers, inventors, and creators of all kinds.
Genius Gems, the brainchild of educator and founder Jennifer Romanoff, is a STEM-focused play space where kids can build and design with a collection of more than 24,000 magnetic tiles—and that's not all. The facility will also offer a variety of classes and camps focusing on art, architecture, engineering, chemistry, coding, robotics, and circuitry. A soft opening is scheduled for May 3.
Romanoff, a mom of two and resident of West Orange, says that the idea for Genius Gems was born when she was watching her husband and young sons build with magnetic tiles, back when they lived in a cramped apartment in Manhattan. She joked with her husband that he'd better stop playing and get to work—unless he wanted to quit his job and play with magnetic tiles instead.
The thought stuck. Five years later, the idea is about to become a reality in a bright, modern, 5,000-square-foot space designed by architect and South Orange resident Joshua Uhl.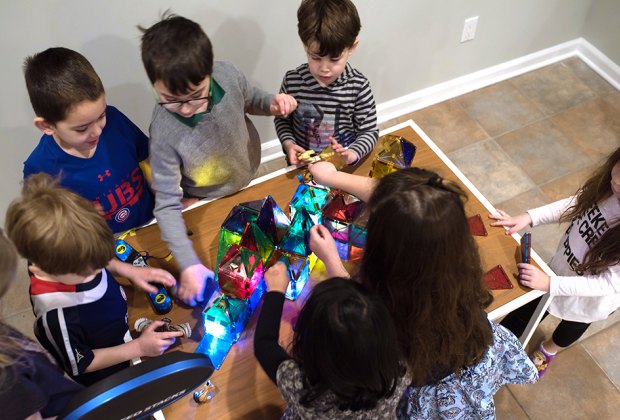 Genius Gems aims to foster teamwork, problem solving, and play.
Genius Gems' goal is to spark learning through play—and if you've ever watched your child build with magnetic tiles, you've witnessed their capacity to inspire complete and total absorption. Not only that, says Romanoff, but these "genius gems" appeal to kids and adults alike—as she saw firsthand.
"Above all, we love that that everyone, from dads and daughters, to brothers and sisters, can all enjoy magnetic tiles together," Romanoff writes on Genius Gems' website. "Celebrating that togetherness, and embracing that diversity, is in the very nature of what we do."
Genius Gems will offer open-play hours seven days a week, with later hours on Friday and Saturday nights (until 9pm!) for middle and high school students. Reservations are recommended and can be made online. Admission is $15 per person, including parents/caretakers, and kids under 2 are free.
When you're not building bridges and skyscrapers with the kiddos, you can retreat to the parent's lounge to grab an espresso or a healthy snack and keep an eye on the action.
RELATED: 20 STEM Summer Camps for NJ Kids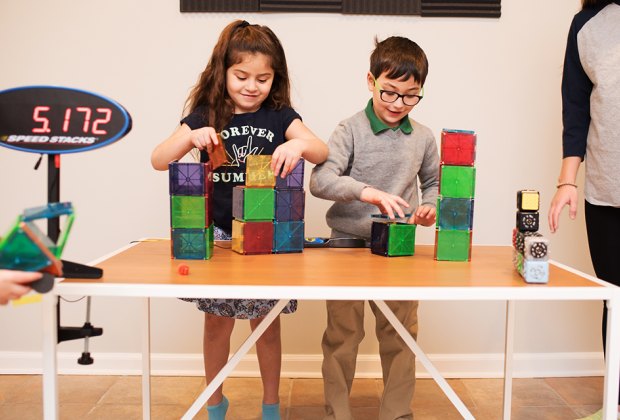 Kids can participate in design challenges and competitions.
Classes start the week of May 7, with options for kids ages 2-3, 4-5, 6-8, and 9-12; and summer camp will be offered by the week, from June 25 to August 24. Want to throw your child's next birthday party there? You can do that, too, with three packages starting at $375.
In addition to open play, classes, and camps, Genius Gems will host a variety of special events, including Sensory-Friendly Sundays, for kids with sensory sensitivities; Dad Build-A-Thons, to give dads a chance to shine (and to give moms a break); and a Holiday Train Show, featuring electric trains and thousands of magnetic tiles.
Admission on May 3 is FREE with registration—spots are limited, so sign up soon—and the day's events will include STEM activities and tours of the facility. If you miss out on the soft opening, check out the launch party on June 3, when admission will again be free with registration, and festivities will include STEM fun and light refreshments. Sign up here for both events.
Visit the website for more.
All photos/rendering courtesy of Genius Gems