New NJ Play Space The Busy Bee Is Buzzing with Fun for Little Ones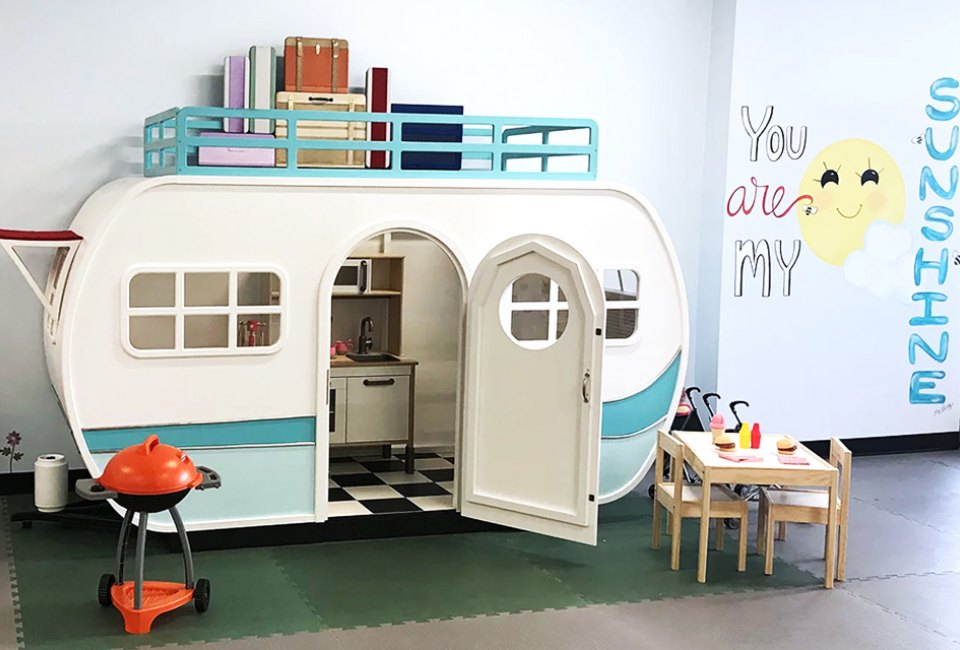 3/29/18
- By
Margaret Hargrove
Yes, New Jersey, it's still cold out there—and it seems like the playgrounds will be covered in snow until, oh, about June. Lucky for us, there's a new indoor play space that just opened in Millburn, so staying indoors doesn't have to mean staying home. Head on over to The Busy Bee, where your tykes can roll, jump, hop, climb, slide, and burn off the crazies every day of the week. The best part? There's no membership required and you don't need tons of cash, so you can drop in and play anytime you want.
Maplewood resident Laura Thompson is the Queen Bee behind this new play space. After feeling trapped inside with a newborn—and then two years later, a newborn and a toddler—Thompson dreamed of a local play space where she could drop in at any time of the day, any day of the week, for low-key indoor play.
"I wanted a clean, fun, accepting space for kids 0-6 to come with their parents and caregivers to be themselves," says Thompson. Located on the ground floor of a brand-new building on Millburn Avenue right next to the post office, The Busy Bee is her dream come true.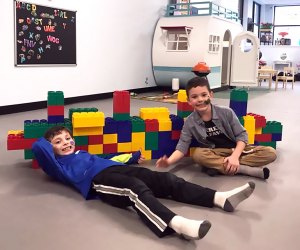 There is plenty of space to build, stretch and play!
Bright, clean, and colorful, the 3,000-square-foot open play space includes a large climbing structure, three slides, a grocery store, construction area, bus-shaped playhouse, diner, beauty salon, and more. A sunny mural on the wall welcomes visitors to come in and stay a while. It's packed with fun, but the space is still small enough to keep an eye on your little ones at all times.
The Busy Bee has been open for less than a month, but on the day we visited, the place was buzzing with activity. A large mom-group had just left with their tuckered-out tots in tow, and a half-dozen more kids were still climbing, sliding, bouncing, and playing away.
RELATED: Top Birthday Party Places for Preschoolers in New Jersey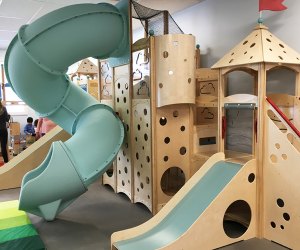 Little daredevils will love the challenge of this climbing structure.
Socks are required for both kids and parents. Once you check your shoes at the door, you're buzzed into the main play area. Your little adventurer will be immediately drawn to the large climbing structure, with its multiple climbing levels, a bridge, two small slides, and a bigger, twisty one.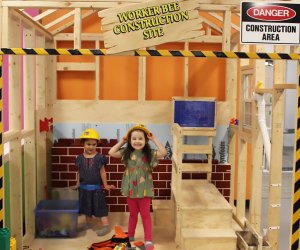 Don a hard hat and build in the construction zone.
An enclosed soft toddler zone, with push toys and blocks, offers smaller thrills for cruisers and crawlers. Kids can don a hard hat and reflective vest and get to work building with giant Lego bricks in the pretend construction zone. The grocery store and beauty salon provide more opportunities for imaginative play.
Situated next to the kid-sized, '60s style diner is a custom playhouse designed in the shape of a retro VW bus. The cute and cozy space is home to The Busy Bee's play kitchen. There's even a pretend play grill set up outside, where kids can dish up hot dogs and hamburgers.
Speaking of food, you'll find a Keurig machine—a thoughtful addition for sleep-deprived 'rents—along with water and small snacks in the reception area for $1-2 each. There are also racks of Melissa & Doug books, craft kits, and puzzles right next to the front desk, saving you a trip to Target when you need a birthday gift or special surprise.
RELATED: 30+ Indoor Play Spaces for Kids in Northern New Jersey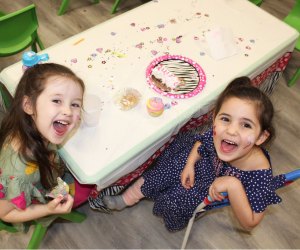 The Busy Bee hosts birthday parties, too!
If you're thinking The Busy Bee sounds like the perfect place to throw your tot's next bash, you're absolutely right. There's a spacious party room that can comfortably accommodate both partygoers and their parents. Non-private parties enjoy use of the whole facility during open play, with pizza and celebration in the party room, starting at $350 for 10 guests. Or you can opt for private use of the entire play space and party room for two hours for $550.
Know Before You Go
The Busy Bee is open seven days a week for open play. Unlike other indoor play spaces that close on the weekends exclusively for parties, open play is guaranteed here every Saturday and Sunday from 9am to noon. Open play may be extended if there are no private events. Like them on Facebook or follow them on Instagram, where hours are always posted.
The $15 + tax admission ($10 per sibling) includes all-day play, so you can leave for lunch or a nap, and return in the afternoon to play some more. Babies under a year old are free with a paid sibling. Monday–Thursday's "Happy Hour" deal is $10 for all kids between 3:30pm and closing at 5pm. Get seven holes on your punch card, and your next visit is free!
Storytime is held several times a month at 10:30am, with crafts on Wednesdays at 11:30am. Upcoming workshops on slime making and colored shaving cream will be held in the large party room. Thompson is also working to partner with neighborhood organizations like The Little Moving Artist and Ellifun Events to offer classes and special events in the coming months.
Photos courtesy of the venue.
Places featured in this article:
Sign up for the Mommy Poppins Newsletter today!