New NJ Play Space Is Filled with Imaginative Fun for Little Ones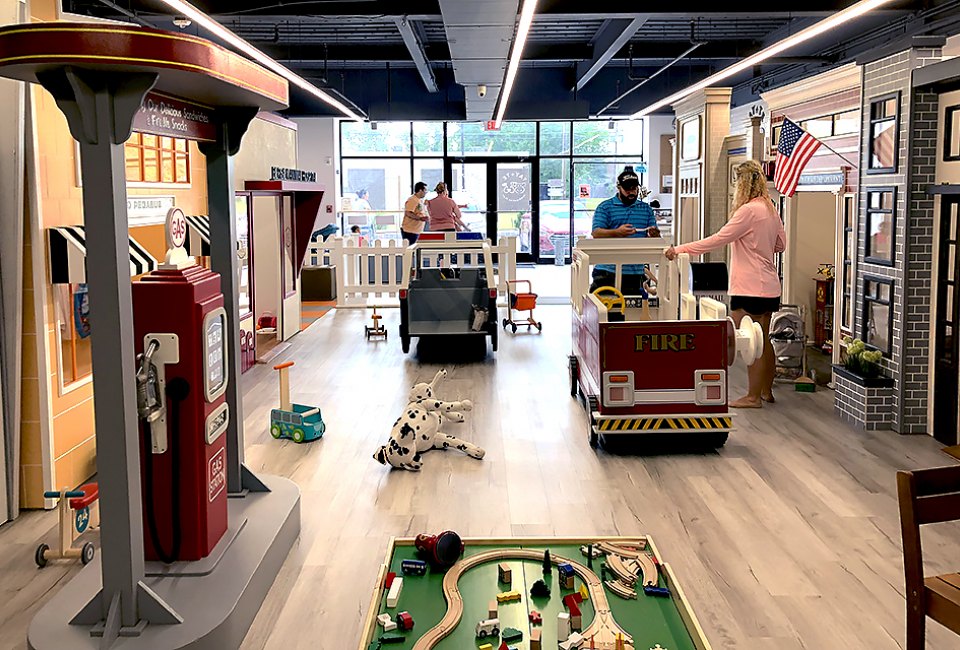 7/17/19
- By
Danielle Halibey
As 90-degree temps have become the new New Jersey norm, it's easy to see how moms, dads, and their active adventurers might need an inside alternative—and we found it in Northvale's newest spot for the 0-7 set: Tay + Te Imaginative Play. Since opening in May, this super clean, creative, and modern indoor play space in Bergen County has been bringing smiles + then some to local families, and even those from afar (we saw many New York license plates when we visited).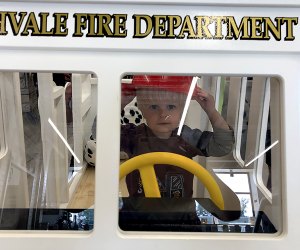 Drive a firetruck!
We went on a Sunday afternoon and had a terrific time. My little guy couldn't wait to bust through the white picket fence/gate that separated the play area from the lobby, so I took care of signing us in and completing his waiver, while my husband handled our hyped-up tyke. I wanted to take a few minutes to switch out my flip flops for some socks and enjoy the sweet little lounge area, but before I knew it, my son was screaming, "Mommy, come help, there's an emergency at the fire station!!"
And so, I was off…
Not going to lie, my red hot rescue-obsessed cutie would have spent his entire 60-minute session putting out fires in and around the fire station if he could, but once he let his eyes wander from the red coats and fire hose to the rest of the pretend play scene, he realized he had so much more to soak in. From the organic grocery store to the animal hospital, pizza parlor to the full-service repair and gas station, the vignettes that make up Tay + Te's kid-envisioned municipality are engaging, enriching, and altogether our family's collective cup of te(a). I loved how so many of the facades paid tribute to Northvale (like the Northvale Fire Department), too!
RELATED: 35+ Indoor Play Spaces for Kids in Northern NJ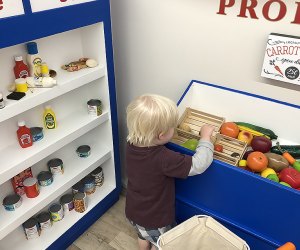 Load up a cart at the supermarket.
One of our favorite parts of the play-sphere was the market, because my son never says no to accompanying either one of us to the "sukermarket." He got a kick out of the cashier's station, checking all of the contents of my cart out and lighting up when he saw the scanner turn colors as each good was swiped across it. There were even gift cards at the register, with vouchers to "Tegan's," the popular pizza parlor down the street (genius!)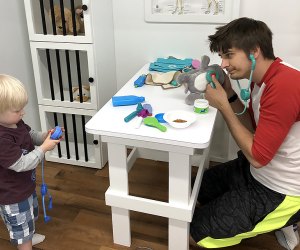 Take care of your stuffies.
Since it was obviously a town "fave," we just had to try out Tegan's, and let's just say, it didn't disappoint. From the adorable umbrella-tented seating to the wood-fired pizza oven, parmesan cheese shakers to the fun Melissa & Doug pizza slices and tempting toppings, this place definitely entranced parents as much as their kids. Not only did my husband and I want to stop for pizza on our way home, I also overheard another father telling his son that "this definitely makes me want pizza for dinner tonight!" Imaginative play sure does provoke the senses—particularly for a 6.5-month pregnant mama who doesn't need much to start craving salty, saucy pies!
RELATED: 12 NJ Play Cafes with Fun for Kids and Perks for Parents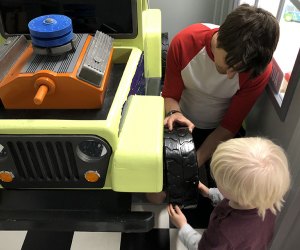 Learn how to change a tire.
At home, my son is never far away from a Hot Wheels or Matchbox car, so he was thrilled when he could see a blown-up version in the auto shop AND be the one in charge of its tune-up. He helped his daddy rotate the tires and thought it was "so cool" to put air in them. I stood outside LOL-ing at the price of gas in this magical town. And when I was too wiped to keep up, my little man and hubby kept going, with the STEM convention center and vet hospital on their horizon.
There are many wonderful, thoughtful things to play and interact with, especially for aspiring astronauts or animal doctors. I couldn't help but giggle when I saw a little boy, not much older than mine, running around with a space helmet and a firefighter jacket on.
After checking out the infant area, rife with age-appropriate playthings, soft climbing areas, and shelves of books, we did a few more rounds of the space and had to promise my baby boy a trip back with grandma ASAP to ensure the tears wouldn't start streaming upon our exit. He tinkered with the wooden toy train setup and, finally caving to my requests, gently pushed a baby doll around for a few minutes. The practice for his soon-to-come baby sister is in full effect!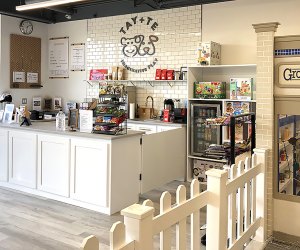 Grab a snack or a coffee and the coffee bar.
Something we weren't expecting was the aromatic coffee bar. If you don't have time to swing by the drive-thru Dunkin' Donuts OR Starbucks (both within walking distance), not to worry! Tay + Te serves Intelligentsia coffee and a sampling of healthy snacks for the squirts after they've worked up their appetites. I made the mistake of uttering the words "Pirate Booty," and narrowly avoided a meltdown from my cheese puff–adoring mini.
Next to the register, there's also a cute little collection of books and toys for purchase. So, if your munchkins can't be peeled away from the play space—and/or suddenly will not be parted with wooden pull toys— you can bring one home, or make a promise to pick one up for the next special occasion. If it's an upcoming birthday, you might even want to go one step further and book a party package. Tay + Te has a variety of all-inclusive and a la carte party options to please every birthday girl or boy and their best friends. Check them out here!
Know Before You Go
Tay + Te Imaginative Play is located at 240 Pegasus Avenue in Northvale, New Jersey.
Open play is offered seven days a week, Mon-Wed-Fri from 9:30am – 6:30pm; Tue-Thu from 9:30am – 6pm, and Sat-Sun from 9:30am - 6pm; pending special schedules for private events (definitely check the website before going for a heads-up on any scheduling changes).
$15 + tax per child for one hour of play; $18 + tax per child for two hours of play; $5 for every extra hour; $12 + tax for children over 12 months (with a paid sibling); $10 + tax for children under 12 months (or free with a paid sibling); Free admittance for parents and caretakers.
Socks are required for adults and children while on the playground floor. Adult and kids socks are available for purchase, if you forget!
A bathroom is located right in the play space, so trips to the potty don't take too long and littles can get back to the action ASAP.
Classes and workshops are also offered on a periodic basis and promoted on Tay + Te's social media channels. You can

register online and save spots for your squad

on the website.
Photos by the author
Places featured in this article:
---
Tay + Te Imaginative Play
Sign up for the Mommy Poppins Newsletter today!