Best Things To Do & See in Martin County, Florida with Kids
11/18/23
- By
Jackie Jones
Just north of West Palm Beach on the picturesque southeastern side of Florida lies Martin County, nicknamed the Treasure Coast. And what a treasure it is, with clean public beaches, a children's museum, parks, restaurants, and fabulous resorts.
Communities like Stuart, Jensen Beach, and Hobe Sound have plenty of family fun going on, just at a quieter pace than their neighbors to the south, like Boca Raton and Miami. My family lives in the Palm Beach area, and we are frequently hopping in the car to visit Martin County's many attractions.
Here are 18 of our favorite things to do and see in Martin County, Florida, including great places to eat and stay. For more ideas on vacationing in the Sunshine State, check out our Florida Family Vacation Guide.

Splash around at the fountain just off the shore at Indian Riverside Park in Jensen Beach.
Best Things To Do with Kids in Martin County, Florida
1. Public Beaches
Beach season starts early and ends late in this part of Florida. Locals love to swim and sunbathe at Stuart Beach, which has a lifeguard on duty and is within walking distance to some of the city's museums. Meanwhile, Ross Witham Beach boasts a real-life shipwreck that snorkelers and scuba divers can explore. It's also home to the Georges Valentine Underwater Archaeological Preserve, located about 100 yards off shore.
My kids' favorite Martin County beach is Indian Riverside Park in Jensen Beach. The water is calm in the lagoon, and the mangrove trees make for a beautiful landscape. Bonus: Just off the sand is an interactive fountain where kids can splash their hearts out.
Kids with a fondness for pretend play will go wild for this museum next to Indian Riverside Park. It has a mini fire station, bank, grocery store, and vet clinic, as well as a giant pirate ship with plenty of interactive features. Outside is a sweet children's garden with musical instruments and small play structures. The museum will especially appeal to the 8 and under crowd, though my older daughter enjoys coming with her little sister. Check the website for special events, sensory-friendly days, and discounts.
RELATED: Best Florida Beach Vacations for Families

Take a boat tour at Jonathan Dickinson State Park to catch a glimpse of the turtles and other animals.
Biking, hiking, and kayaking are just a few of the amenities offered at this stunning state park on the Loxahatchee River. In addition to being my family's go-to local campsite, the park offers unique boat tours that I love, like a guided tour of Trapper Nelson's homestead. Known as the "wildman of the Loxahatchee," Nelson lived off the land by trapping and selling furs and keeping his own zoo of exotic animals. FYI: Parking at the park is $6 per vehicle.
More than 90 cars and trucks, as well as boats and an airplane, are on display at this museum located just across the street from the Florida Oceanographic Coastal Center. Baseball lovers will enjoy the Elliott's collection of autographed cards, bats, and other artifacts. The museum also hosts rotating exhibits featuring local photographers and artists.
RELATED: St. Augustine with Kids: 30 Best Things To Do in St. Augustine, Florida

Blowing Rock Preserve's Indian River Lagoon shoreline was once infested with invasive Australian pines and is now restored to native mangrove habitat. © Ralph Pace
Observe a natural spectacle at the Blowing Rocks nature preserve on Jupiter Island. Owned by the Nature Conservancy, this beach contains the largest Anastasia limestone outcropping on the state's east coast. That means that when breaking waves hit these rocks, plumes of salt water can shoot up to 50 feet in the sky. The beach is also an excellent place for collecting colorful seashells.
This rugged park, the largest in Martin County, really showcases the wilder side of Florida. Outdoor enthusiasts love the miles of hiking and mountain bike trails, as well as renting a kayak or canoe to explore the South Fork of the St. Lucie River. If you're hoping to spot a Florida gator, this park may be your lucky spot—alligators are often seen here, along with turtles and birds of prey.
RELATED: Naples, Florida with Kids: 30 Best Things To Do in Naples, FL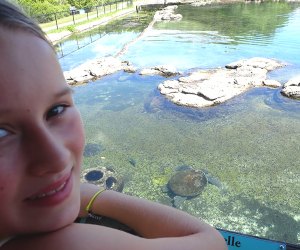 You never know what you'll see at the Florida Oceanographic Coastal Center.
Learn about Florida's amazing wildlife and coastal ecosystems at this 57-acre nature center. There are plenty of opportunities for kids to interact with the animals, including an invertebrate touch tank with hermit crabs, sea cucumbers, and urchins. Another highlight is the enormous outdoor lagoon where visitors can view sea turtles and sharks. Even more fish are on display in the center's indoor museum, which also features hands-on puzzles and games.
Visit with snakes, baby alligators, birds of prey, and more at this small nature center that offers free admission to all (parking is also free). Outside the museum is an expansive trail network where you're likely to spot even more wildlife like lizards and turtles. Plus, you can access a beautiful and quiet beach from the center's parking lot, so definitely pack some swimsuits and sunscreen.
RELATED: Destin with Kids: 30 Awesome Things To Do in Destin, Florida

The Pontiki family tour allows guests to get off the boat to swim or snorkel.
Embrace those island vibes on a cruise up the Intracoastal Waterway. The Pontiki family tour leaves from the Hutchinson Island Marriott Resort on Saturday mornings and select weekdays. The boat parks at a sandbar where cruisers can get off to swim, snorkel, toss a Frisbee around, and enjoy the stunning scenery. The experience lasts about two-and-a-half hours. FYI: Pontiki also cruises out of Jupiter, Florida and is available for private charters.
On those gorgeous Florida weather days (and there are plenty of them), head to one of Martin County's top outdoor playgrounds, Kiwanis Park. This accessible park is known for its unique structures like mini houses, roller tunnels, seesaws, and dinosaur riders. There's also a variety of swings and plenty of sand for those kids who like to dig. A covered pavilion with picnic tables makes for a great lunch spot, too.
RELATED: 100 Best Things To Do in Orlando with Kids Before They Grow Up (Other Than Theme Parks)

If you're looking for a great place to cool off this summer, look no further than Sailfish Splash Waterpark.
My family adores this water park that has great all-age attractions, yet feels contained enough that you can easily keep an eye on your kids. Along with two water slides that are four stories tall, the park has a 1,000-foot lazy river, a kids' obstacle course, and a giant splash playground with sprays, slides, and that perennial favorite, the big dump bucket. There are lots of shaded lounge chairs and picnic tables, as well as a snack bar that sells hot dogs, snacks, and pizza. The water park is closed during the fall and winter, so check the calendar before visiting.
Restaurants for Families in Martin County, Florida
Open since 1941, this casual joint is known for its live music and tropical vibes. The menu features American favorites like burgers and wraps, sandwiches, and BBQ ribs. For the kids, choices include PB&J, chicken tenders, and mac and cheese. Harry and the Natives is also a popular breakfast spot.
This new restaurant and marketplace is quickly becoming a favorite among foodies because of its use of local produce and meats. Most of its offerings are made in-house or nearby, yet the space is bright and not at all pretentious. Families especially love Colab Kitchen's large outdoor patio.
Talk about a cheeseburger in paradise! This waterfront bar and grill, located at the county line in Tequesta, has gorgeous views of the Intracoastal Waterway, nightly live music, and a casual menu (which does indeed include burgers). My kids' favorite feature, though, is the restaurant's outdoor pool, where they can take a dip while we wait for the appetizers to arrive.
Serving up Southern food with lots of hospitality, this dinner spot gets local love because of its fresh seafood, great salads, and decadent desserts. There is a kids' menu, too, with choices like pasta and fried chicken. Bonus: Children eat free every Tuesday.
Best Hotels and Resorts for Families in Martin County, Florida
Stay on the sand at this beachfront property that has several pools, an 18-hole golf course, and plenty of water-sports options, including rental paddleboards, kayaks, and Jet Skis. For the kids, there are daily activities like lawn games and crafts.
This recently renovated boutique hotel in the heart of Stuart is full of color and charm. Visitors can stay in a studio or suite inside the hotel's two main buildings, or rent a cottage or guest house a few doors down. Downtown restaurants are within walking distance, as is a scenic path along the St. Lucie River. Rates are very reasonable, too.
Crisp white linens, private beach access, and ocean views are some of the amenities offered at this seaside hotel. The on-site restaurant serves up great seafood and Italian dishes, too. Families love the two outdoor pools (both heated) and complimentary cookies served every afternoon.
Unless noted, photos by the author
Disclosure: We may earn a small commission if you click through our links and make a purchase. This revenue helps us maintain this site, so thank you for supporting us.