Visiting the Steel Pier with Kids: Guide to this Jersey Shore Amusement Park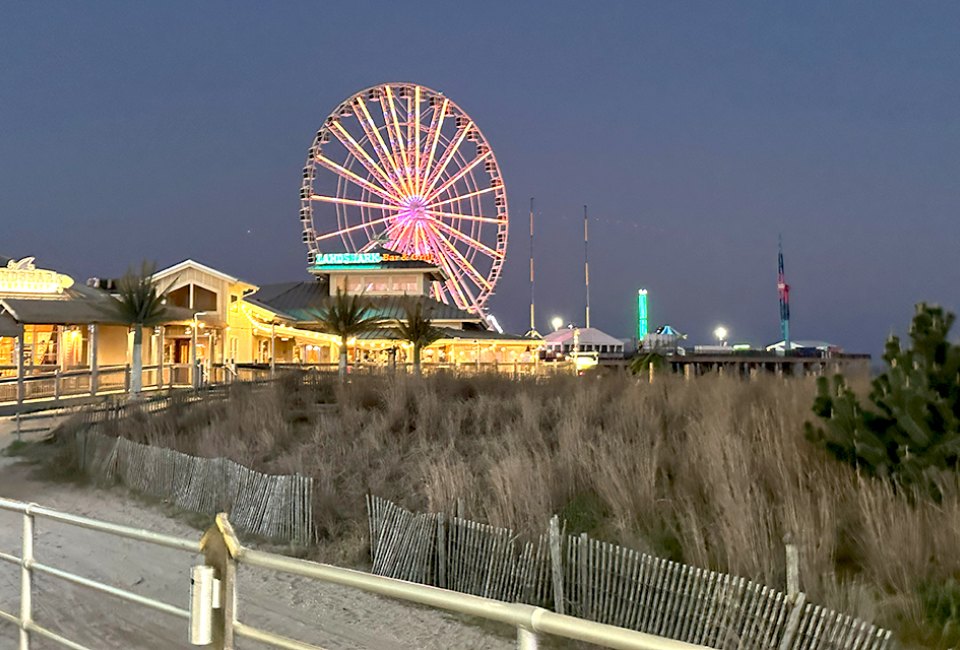 5/16/23
- By
Catherine Kennedy
Atlantic City is known for its casinos and fun for adults, but the city has plenty of children's entertainment, including the Steel Pier amusement park. The 1,000-foot-long Steel Pier extends from the Atlantic City boardwalk and sits right across from the Hard Rock Hotel & Casino, which is where my family stayed during spring break. My husband, two kids, and I were able to easily walk from our hotel to the pier.
With more than 20 rides for families to enjoy plus boardwalk games and snacks, Steel Pier is a fun way to spend an afternoon in Atlantic City. My 6-year-old was tall enough to get on many of the rides by himself, which was a relief to me and my husband, who only had to squeeze onto a few kiddie rides that required adult accompaniment.
Read on for tips for parents to know before they go. For even more fun in the area, check out our guide to Atlantic City with kids and the best spots on the Jersey Shore.
RELATED: New Jersey Amusement Parks and Water Parks Guide

Kids have lots of boardwalk games to choose from on the Steel Pier.
A Trip to the Steel Pier Amusement Park in Atlantic City: Tips for Family Fun
Steel Pier: What to Know Before You Go
Steel Pier is a long concrete walkway with a lot of pay-to-play boardwalk games on the way to the rides. Before arriving, I took advantage of an online Easter sale and purchased 160 credits for the price of 80 credits. This was a mistake. I did not realize those credits cannot be used for any of the games, and boy, did my kids want to play all those carnival games! We ended up shelling out money for the cash-only balloon pop, basketball throw, and water squirting games. We didn't end up using all 160 ride credits, so that was not a great financial choice for us.
If you are planning to visit Steel Pier with a larger group of kids, then an online deal would be worthwhile. If you are heading to the pier with only two or three kids, then I would wait and buy your tickets once you arrive. Get a feel for which rides your children are interested in, and then buy only the corresponding number of credits because you are going to be begged to spend extra money on the games and cool prizes.
RELATED: NJ Amusement Park Discount Tickets: How to Find Price Breaks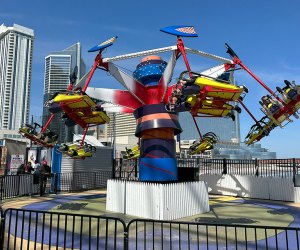 Little ones will enjoy the Kite Flyer ride at Steel Pier.
My children's favorite ride was the Locomotion roller coaster because it's fun but not too scary. They also enjoyed the bumper cars and the Kite Flyer ride, where they got to lay down on their stomachs like a flying superhero. The 227-foot-tall Ferris wheel on the pier is the third largest in the United States! It costs $9.99 per person, and you cannot use ride tickets for this attraction. You may want to wait until evening to ride, because The Wheel lights up in fun rotating colors at night. For a full list of rides on the pier and their height requirements, click here.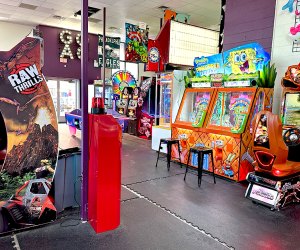 Steel Pier has a small arcade with classic games.
There are bathrooms on the pier and space for strollers, so parents of little ones don't need to worry. Steel Pier is also steps from the beach, so you can add time on the sand to your visit if the weather is nice. My kids were happily digging on the beach in the middle of April. There is also a small arcade at the entrance to the pier. North Beach Arcade has classic games like Down the Clown, skee-ball, and a claw machine as well as a Jurassic Park game and Fast and Furious car racing, to name a few. We got a $10 arcade card as part of the Easter deal I purchased, but that amount of money goes fast in this particular arcade.
RELATED: Great Theme Parks and Amusement Parks Near New Jersey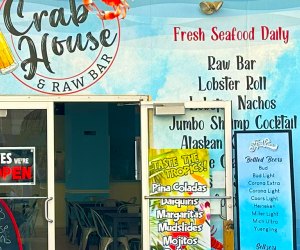 Indulge in seafood at the Crab House and Raw Bar near the pier entrance.
Eating at Steel Pier
Steel Pier includes several food stands for guests, including pizza, cheesesteaks, hamburgers, hot dogs, popcorn, funnel cakes, and more. Look for these blue food booths scattered throughout the pier. For a sit-down option, there is a Crab House at the pier entrance with fresh seafood daily and alcoholic drinks for moms and dads.
The Hard Rock Hotel is steps away if you are looking for more than boardwalk food. The Hard Rock Cafe and Sugar Factory are both inside the hotel and offer kid-friendly food and dessert options. There is also a Margaritaville restaurant just a 2-minute walk south of the pier. For something quicker, go north on the boardwalk, and you will find Brickers Burgers in the Showboat Hotel. Walk up to the window located right on the boardwalk and place your takeout order.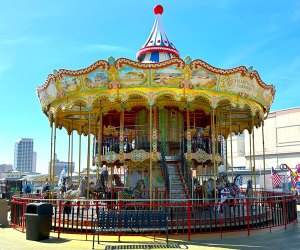 Take a ride on the stunning carousel and take in the amazing views from the Atlantic City boardwalk.
Visiting Steel Pier
Ride ticket prices are $2 for a single ticket, $65 for a book of 50 tickets, and $85 for a book of 80 tickets.
Starting June 20th, 2023, on Two Ticket Tuesday, all rides cost only two tickets
Starting June 23rd, 2023, on Family Fun Fridays, you can purchase a $45 unlimited ride wristband
Steel Pier offers a 10% military discount
Steel Pier switches to a daily operating schedule on June 19th
Weekend hours are 12pm-12am ET
Weekday hours during the summer season are 1pm-12am ET
Please note this information is accurate at the time of writing in April 2023. Check the Steel Pier website for updates to hours and admission before you visit! Unless noted, all photos courtesy of Catherine Kennedy.
Photos by the author
Places featured in this article: