Mamaroneck's Marine Education Center: STEM Fun on the Long Island Sound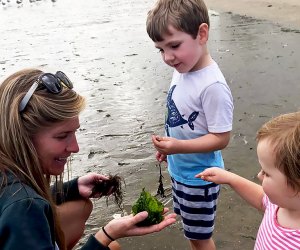 Mamaroneck's Marine Education Center is an under-the-radar destination for families. Situated on the Long Island Sound in Harbor Island Park, the small size of the building and staff belies the extensive offerings of this STEM treasure. What's more, visiting is FREE! Whether you've got curious kids or aspiring marine biologists, read on to learn more about this Westchester gem.
When you've had your fun inside, explore the rest of the attractions in the park, including one of our favorite playgrounds and a top-notch seasonal splash pad.
The small building it occupies houses multiple aquariums where visitors might spot sea stars, toadfish, spider crabs, eels, moon snails, and more. For hands-on fun, kids can roll up their sleeves to handle inhabitants of the touch tank or study microorganisms under the microscope.
RELATED: Canoe, Kayak, and Paddleboat Rentals in Westchester and the Hudson Valley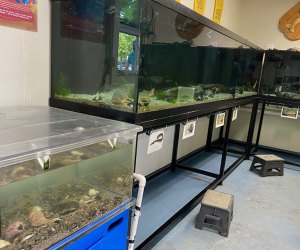 Check out the marine life in the aquariums at the Marine Education Center.
Beyond offering free drop-in visits to explore the indoor exhibits and learn about the Long Island Sound ecosystem, the center offers scheduled programs that are free and open to the public. These provide more hands-on, in-depth STEM discovery. The schedule is posted weekly for signup via email. Options might include crabbing or seining, allowing children as young as 4 the chance to collect living creatures from the shore or harbor as a marine biologist would. Now imagine your child collecting critters on a seining or crabbing expedition and then returning to the center to visit them in the aquarium. Currently, free virtual educational programs are also offered on Mondays and Thursdays.
RELATED: Visit the Dinosaur Garden and More at Lasdon Park & Arboretum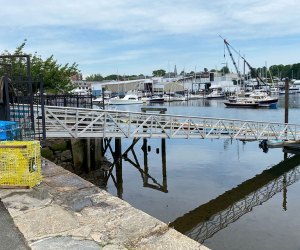 Explore the grounds of the center.
Along with habitat study comes a commitment to protecting the habitat. Coastal cleanup events are offered frequently with volunteers setting out on stand-up paddleboards or walking along the shore to collect debris. Since these cleanups began three years ago, 3,000 pounds of waste have been collected.
Follow your visit with a walk across Boston Post Road to Mamaroneck Avenue, the bustling town artery that's loaded with shops and eateries.
Know Before You Go to the Marine Education Center
Birthday parties and other private events are also offered, including Scout visits. Programs are customizable and can cover marine ecology, animal adaptions, water cycles, climate change, wetland ecology, invertebrate animals, and more. Rain dates are built into the plans, so availability is limited, but rates are affordable.
Dress for wetness and mess!
In the summertime, parking fees apply.
Hours are Monday-Friday, 9am-4pm. Call ahead to confirm availability before dropping in, and allow about 30 minutes for a visit that includes the touch tank.
Program attendance is limited to six people currently; however, this will increase as COVID restrictions ease.
Bathrooms are available in the back of the building.
Student internships are available for high school and college students.
Unless noted, photos by the author