Best Shark Tooth Beaches in Florida: Baby Shark Would Approve!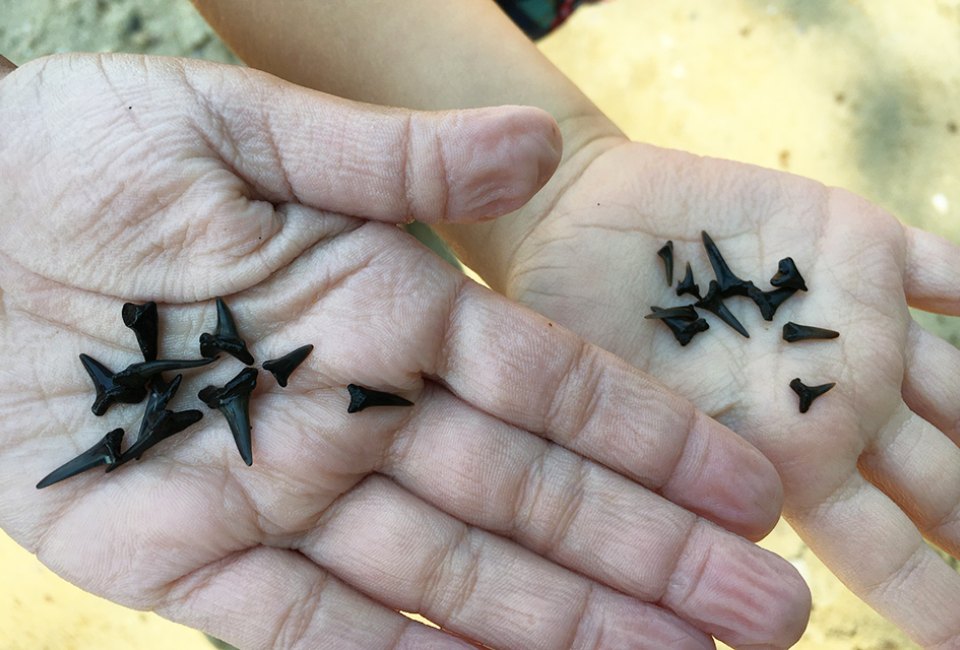 7/14/23
- By
Charlotte B
Hidden among Florida beaches are treasures for beachcombers of all ages: shark teeth! Shark tooth beaches provide the perfect conditions for discovering these ancient fossils of prehistoric marine life. From the shores of the Gulf waters to the Atlantic coastline, these sun-drenched Florida beaches invite treasure hunters on a quest to find prized shark teeth.
Sharks have multiple rows of teeth, equating to hundreds of teeth at any given time, and they constantly shed and regrow them. In fact, sharks have anywhere between 30,000 to 50,000 teeth in a lifetime! As the teeth shed, they collect in the sediments along the coast and eventually wash up along the shoreline, making for a fun family treasure hunt to enjoy lasting memories.

The best time to comb the beach for shark teeth is after a storm, when sediment shifts.
Shark Tooth Beaches Florida: Gulf Coast
Venice Beach, located on Florida's Gulf Coast, rightfully earns its reputation as the "Shark Tooth Capital of the World." Its unique geology and tide patterns make it a treasure trove for finding a variety of shark teeth.
Located within Venice is Caspersen Beach, which offers a more tranquil atmosphere than Venice Beach. Here, search for elusive shark teeth without distraction.
This hidden gem is a barrier island just south of Siesta Key. There are two public access areas at Casey Key: Nokomis Beach and Jetty Park. These can get crowded, but just a short walk north can lead you to more secluded areas of the island, perfect for a shark tooth hunt.
This island, just south of Caspersen Beach, is another amazing shark tooth beach in Florida. Stump Pass Beach State Park is located on the south side of the Key and offers a secluded beach to search.

Use a sifter to sort through sand and see if you uncovered any shark teeth! Photo via Canva
Shark Tooth Beaches Florida: Atlantic Coast
The beaches on the north side of Amelia Island are great for finding shark teeth. Fort Clinch State Park is a popular area on Florida's east coast to search for shark teeth due to the dredging of the nearby shipping channel.
Jupiter Beach's warm waters make it a popular migration route for many sharks; thus, creating great hunting grounds for shark teeth enthusiasts. While you're in the area, don't miss a trip to Blowing Rocks Preserve for amazing views of the mile-long rock formation.
Located in beautiful Ponte Vedra just south of Jacksonville, Mickler's landing is a popular spot to find shark teeth among Florida's east coast beaches. Tip: Search shell beds when tides are low.
Palm Beach may be known as the home to the rich and famous, but you don't need to be rich to find hidden treasures along Palm Beach Island's coastline! Recent dredging projects have made the sands at this barrier island a great place to search for Florida shark teeth.
Just north of St. Augustine's historic district sits Vilano Beach, on the Matanzas Inlet. To find shark teeth at this coquina beach, search near the jetty at low tide.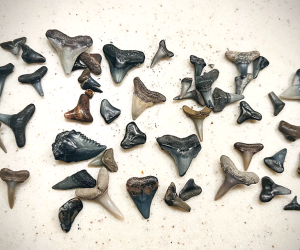 Start or add to a collection of fossilized shark teeth. Photo by the author
Tips for Shark Tooth Hunting at Florida Beaches
The best time to find shark teeth is after a storm, when waves have exposed new layers of sand.
Since most shark teeth are found below the surface of the sand, bring a shovel to dig and a sifter or strainer to filter your finds.
At Venice Beach, local store Shark Frenzy sells beachcombing equipment and provides tips for finding shark teeth.
Wear water shoes during your search as terrain can be rocky and rough.
If you find a shark tooth in one area, keep digging and sifting as there are likely more in the same area.
Use this Fossil Shark Teeth ID Guide to identify which species the shark tooth came from. Shark teeth often found in Florida are from these shark species: Bull, Tiger, Lemon, Sand, Tiger, and even Great Whites. Most of these shark teeth are fossilized (dark in color) and are at least 10,000 years old could be millions of years old)!
Happy treasure hunting!
Unless noted, photos by Jennifer Swope
Click Here to Sign Up!
i