St. Joseph with Kids: Best Things to Do in St. Joseph, MI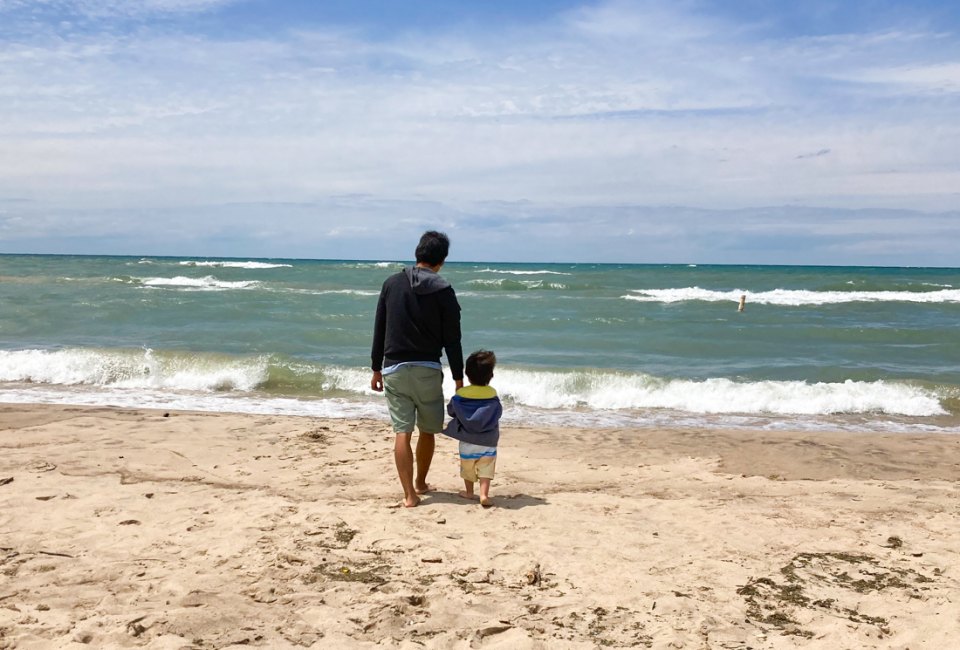 6/11/23
- By
Maureen Wilkey
Summer in the Chicago area is all about Lake Michigan. The Third Coast has lots of great beaches, but sometimes, it's fun to get out of the city and take your family somewhere more relaxing. We decide to try out St. Joseph, Michigan, and we loved it so much we ended up going back the next summer, too. The town has a beachy feel with a few less crowds than Lake Geneva. And it's less than two hours away, even from the western suburbs. Stay two nights for a quick getaway, or move up to three nights if you feel like a couple of relaxing beach days.
Here are some of our favorite things to do in St. Joseph and the surrounding areas! For beaches even closer to Chicago, try our Best Beaches in Chicago for Families article, and don't forget to plan a few more Family Day Trips and Weekend Getaways this summer as well.
Warren Dunes State Park offers both hiking and beach.
This is first on the list because it's on the way in. We recommend doing it first while your kids still have energy and excitement for the trip. If you get there early in the day, hike the dunes first while its still cool out and before your kids get distracted by the beach. As you pull into the parking lot, you can hike the dunes from right to left, starting on smaller dunes and working your way up as your kids feel ready—the tallest one is 260 feet, which is quite a climb for little ones.
The lake is pretty cold in early summer and the waves are no joke, so make sure your kids are ready before they get in the water. There's plenty of concession stands around and also decent indoor bathrooms for changing or any potty needs. Bigger kids may enjoy hiking up to six miles of trails along the beach and into the forest if you want to make a day of it.
The Curious Kids' Museum is closed due to a fire, but families can visit the Discovery Zone, originally intended for the older half of kids. Discovery Zone, in the Silver Beach building just north of the carousel, is also housing some of the exhibits from Curious Kids' and is now open six days a week. Some of our kids favorites included playing veterinarian, painting their own faces, becoming a meteorologist on the green screen, and the wind tunnels.
Silver Beach in St. Joseph has a fun playground near a convenient snack stand.
Our kids will forever refer to this as "the beach with the playground" because there is an extensive playground toward the northeast end of the beach. The beach itself is relatively large, so there's plenty of space to spread out. The south end has several beach volleyball courts, while the north end has the playground and concession stand. The water itself does have some substantial waves, and you can find seashells (or lake shells?) among the sand.
Parking is available for a fee, or you can find free parking in downtown St. Joseph, about a quarter to half mile away. You'll have to walk down the bluff to get to the beach and up to get out, so budget for kid tiredness when you leave.
An array of water jets set into the ground as well as in overhead fixtures sprays water at intervals, creating a nice clean alternative or complement to the nearby beach. The water can be cold or high pressure at times, but at least you'll know what you're in for, unlike the waves from the lake. Benches nearby give kids a chance to take a break, plus, they can wash off any sand from the beach before heading to the car or the...
Make sure your visit falls on a weekend so you can get on one of the 48 unique carousel figures beneath 1,000 twinkling lights. The current carousel was completed in 2010, but the tradition of the carousel dates back to 1910, when the original carousel was built as part of the Silver Beach Amusement Park. Today, kids can ride lots of fun animals, like otters and pandas, along with the traditional horse and chariots.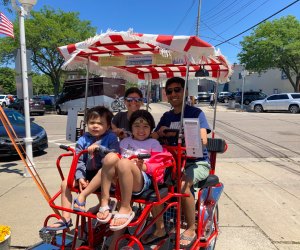 Rent a 4-6 seat bike from Scooter Joe's
Another highlight of our St. Joe's trips has been renting a 4-6 seat bicycle from Scooter Joe's. Even the littlest of riders can enjoy this experience from bucket seats in the front of the bike while the grown-ups pedal. Scooter Joe's owners encourage you to take a route through the downtown area, down the less steep side of the bluff around the beach, back up the bluff (which means you'll be getting out and pushing the bike), and through a bit of neighborhood before returning to the shop. We always take two laps! It's a great way to get to see what's in the downtown area before you go shopping, and the trip down the bluff is a thrilling ride.
If you want a break from outdoor activities, you can check out the artwork at Krasl Art Center. Many of the exhibits are rotating, featuring paintings, photography, sculpture and more. There's also an outdoor sculpture garden if you want to see some art while the museum is closed.
The kitschy downtown area has lots of fun shops, including two toy stores, a bookstore complete with a resident small dog, a surf shop, a general store with sundries and souvenirs, and a Pure Michigan souvenir shop where my kids can find endless things to entertain themselves and/or convince their grandparents to buy.
Another fun element of this: St. Joseph has a Social District, which means you can get a cup of wine from one of the wineries in town and walk around with it while you shop (within the designated area). Also look for fun sculptures along the lakefront and river once your budget is tapped out.
Cherry season is usually the last week or two in June and/or the first week or two in July, while peaches are ready in July through September. These two farms in nearby Coloma offer both options. Jollay Orchards has more "farmtractions" like live animals to view, a playground area, a country shop and a cow-milking contest, while Fruit Acres is pretty much all about the fruit.
Cherry picking goes fast and adds up quickly—our kids wanted to fill two five-gallon buckets, which easily would have run us $100 or more (besides that we wouldn't be able to eat them all). Our plan is to try to make it up for peaches this year. We recommend doing this last so you don't have to keep 10 pounds of fruit in your trunk for the whole trip. On the way in or out of the farms, check out the Dinosaur Farm of dino skeleton sculptures built by local high school students.
Where To Eat in St. Joseph, MI
Silver Harbor Brewing offers great kids meals and activities.
This is the best of both worlds: Unique beers and sandwiches for the grown-ups, and kids meals that include TWO sides so your kids don't have to choose between fries and a fruit or vegetable. Make-your-own pizzas are always a favorite for kids. The grown-ups split a Michigan-shaped paddle of beer samples along with a trout BLT and a maple pecan chicken sandwich. You can also get a beer to go if you didn't pick a hotel within walking distance and still want to imbibe.
Detroit-ish style pizza with some unique veggie twists are perfect for kids at this restaurant inside the St. Joseph Amtrak Station and just east of the Whirlpool Compass Fountain. We like the Palladium and the Garlic Greek, and the schooners of beer aren't bad either.
For something a little lighter, this Italian cafe is a cute and delicious option. Grown-ups can enjoy sandwich and salad options while kids like things like peanut butter and banana sandwiches or three cheese paninis. An extensive breakfast menu is great for those who don't like to eat bagels in their hotel room.
Owned by local brewery North Pier Brewing Company, this new downtown location offers fresh, unique tacos for grown-ups, as well as kid favorites inside tortillas like the cheeseburger taco or the chicken nugget taco. Try a handful of locally crafted beers or choose a seasonal cocktail from a long list of twists on favorites.
No beach town trip is complete without an ice cream shop stop. If you're looking for lots of flavor options, this is your place. There's dozens of choices, and you can definitely split a "single" with your kid (if you can agree on a flavor—I'm lookin' at my one kid who always picks Superman). We like Eskimo Kisses and Traffic Cone.
This sweet shop also sells ice cream, but you go here for the sundaes. One big one cuts it for our family of four—but again, you all have to agree. There's also lunch foods, in case you want to have a two course meal.
Where to Stay In and Around St. Joseph
This boutique hotel is right in the heart of downtown St. Joe. You'll never have to take your car anywhere, from the beach to the restaurants. There's no pool, but with the beach less than half a mile away, you won't need it! Check out packages that offer gift baskets and cards featuring local goods.

Kid-friendly hotels in St. Joseph. Photo courtesy of the Inn at Harbor Shores
Slightly off the beaten path of downtown St. Joseph, this classy modern hotel has family-style rooms with 650 square feet and three beds. You can also upgrade to a condo for a (significantly) higher price. Views of the golf course or the harbor are relaxing and create a quiet setting.
If your budget per night for a hotel starts with a one instead of a two and you don't mind driving 10-15 minutes to park in St. Joseph, these newer hotels in Benton Harbor are a decent option. They're part of a court of big box hotels with pools and standard amenities. They're also located near a Meijer, so you can pick up basic groceries for breakfasts or picnics on the beach.
If you want to bring the grandparents, aunts, uncles, cousins, or friends, you can find good accommodations on VRBO. If you don't see something in your price range in downtown St. Joe proper, look for a property near Klock Beach, which is a mile to a mile and a half north—still walkable or bikeable for adventurous families. Be sure to check reviews on individual properties before you book.
All photos are courtesy of the author unless otherwise indicated.
Click Here to Sign Up!
i