Amazing Lake Resorts in the Midwest for Family Summer Getaways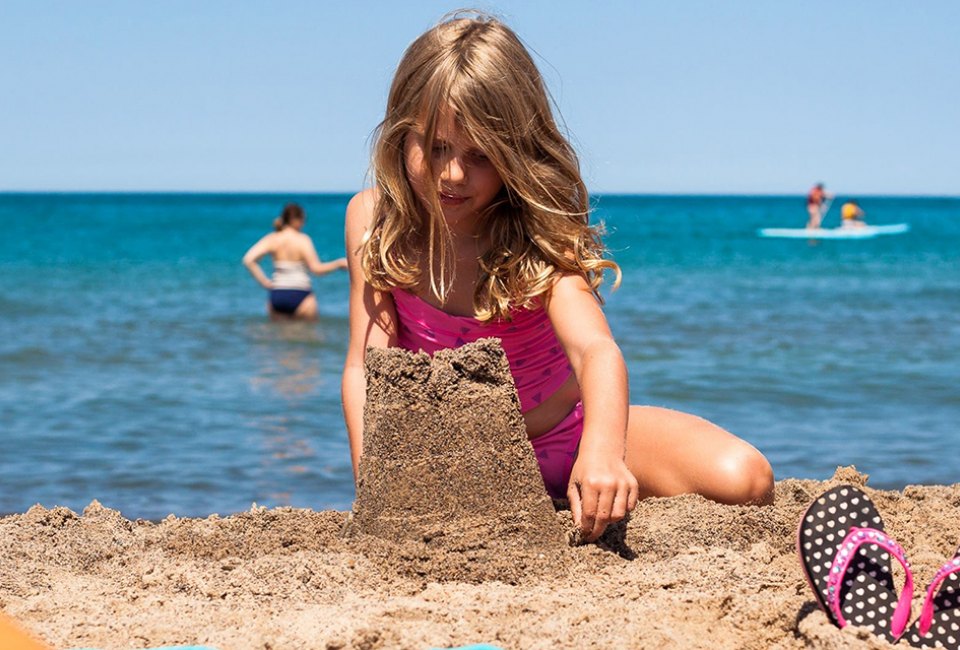 5/22/21
- By
Lauren LaRoche
In the Midwest, there's nothing like summer on a lake. From kayaking to jumping off the swim pier, kids make memories that last a lifetime. To help plan a relaxed, sandy, summer vacation, we've rounded up our favorite family-friendly lake resorts. These resorts near Chicago range from lake resorts on nearby Geneva Lake or Green Lake to northern lake resorts in Door County, Wisconsin and Northern Michigan.
Each of these resorts features outdoor and indoor swimming options, water recreation, quaint nearby towns, and family-friendly suites, cottages, and accommodations. Parents can also enjoy nearby or on-site spas, golf, and plenty of lakeside sunsets.
Seeking even more inspiration for summer travel? Check out our Family Travel Guide for loads of family travel destinations, whether you're looking for day trip inspiration or you are ready to book a longer holiday at a family-friendly resort.
Family Lake Resorts near New Buffalo, Michigan
1. The Harbor Grand—New Buffalo, MI
The Harbor Grand is a beautiful, luxury resort located on the shores of Lake Michigan. The Harbor Grand is just a few minutes from downtown New Buffalo, making it a great place to spend a weekend or even a week. From the dunes to the shopping and dining options downtown, there's something for everyone in the family. But no one will want to leave the property, where the whole family can enjoy an indoor pool with a sun deck overlooking Lake Michigan, beach chairs, bicycles, and Ben and Jerry's delivered on-demand (this is as dangerous as it sounds).
The beautifully appointed rooms have stunning views of Lake Michigan. The suite options are great for families with kitchens, separate bedrooms, and living areas. Arguably the best part is the complimentary breakfast in bed. What kid (or adult) wouldn't love getting free breakfast delivered to their bed? It's a great way to fuel up before a day at the beach or walking around New Buffalo.
2. Marina Grand Resort—New Buffalo, MI
The Marina Grand Resort is a luxury resort located in the heart of Michigan's harbor country. It is also a sister resort to the Harbor Grand. The beautifully appointed suites are great for families with separate living and sleeping rooms, and a soaker spa tub for mom and dad to relax in (or for washing off sandy feet before hopping in bed). There's also a 3-bedroom loft option that's perfect for extended family vacations with grandparents or cousins.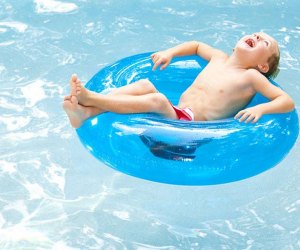 Let your worries float away at the Marina Grand Resort.
On the property, there are so many activities to choose from with a private beach, indoor and outdoor pools, game room, beach chairs, bicycles, rooftop deck, waterfront dining, and Ben and Jerry's delivery (yes, here, too!). A vacation with Ben and Jerry's on speed dial is bound to be a new family tradition. Boats, fishing charters, and wave runners are available to rent for family fun on the water. New Buffalo also offers plenty of family activities like biking around the quaint streets, shopping, hiking the beachfront trails, dining on the water, or antiquing.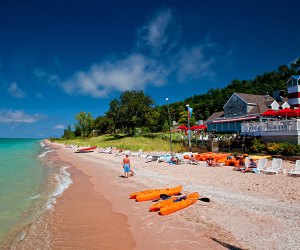 Hop in a kayak or lounge on the beach at The Homestead.
Family Lake Resorts near Northern Michigan
3. The Homestead—Glenn Arbor, MI
Located on the shores of Lake Michigan, The Homestead is a stunning waterfront property, perfect for making family memories. Located in the Sleeping Bear Dunes National Lakeshore, there are miles of sandy coastline and hiking along the water. This resort is made for family fun with golf, swimming, tennis, watercraft pools, fishing, and old-school yard games.
After hours spent on the dunes, families can dine waterfront, order in, or relax fireside. Glen Arbor offers the charm of a quaint beach town with plenty of restaurants, ice cream, and shopping.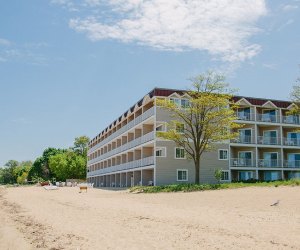 The Bayshore Resort is right on the beach.
4. Bayshore Resort—Traverse City, MI
The Bayshore Resort is a Victorian-style beach resort located in the heart of Traverse City, Michigan. The beautiful beach there offers endless summer days filled with swimming, boating, and jet ski rentals. There are also both indoor and outdoor pools. For families, the suites offer separate living areas and bedrooms plus a wet bar, fireplace, and lounge area. The gym and indoor pool are great for rainy days or chilly nights.
The location of the resort is ideal for families with older kids who like to walk or littles who can hop in the stroller. It's an easy walk (or short ride) to restaurants, coffee, ice cream, and shopping in Traverse City.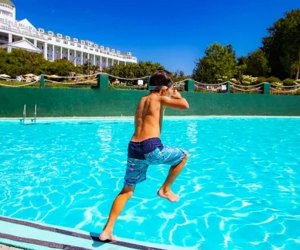 Dive in! The water is fine at The Grand Hotel.
5. The Grand Hotel—Mackinac Island, MI
Take a step back in time at the beautiful Grand Hotel on Mackinac Island. This historic resort can only be reached by ferry or boat—no cars of any kind are allowed on the island. Traveling around the island can only be done on foot, horse carriage, and bicycle.
While the hotel is completely modern, it feels like traveling back in time with afternoon tea service and suggested formal dinner attire. Little ones love being able to dress for dinner and scarf the treats offered at afternoon tea. The rooms are as colorful as they are unique with vibrant patterns and colors in one- and two-bedroom suites designed for families with kids. Visit the beach, go for a swim in the pool, ride horses, play golf, tennis, and bike around adorable Mackinac Island.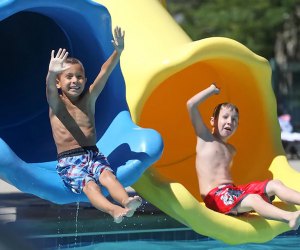 Kids adore the water slides at The Abbey Resort.
Family Lake Resorts near Southern Wisconsin
6. The Abbey Resort—Fontana, WI
The Abbey Resort is located on the shores of Geneva Lake in Fontana, Wisconsin. This sprawling 90-acre resort features an indoor and outdoor pool, private beach, boat rentals, and a convenient location in the heart of Fontana. From the resort, it's an easy walk to coffee, ice cream, and waterfront grills. On-site there is a special art studio just for kids.
Nearby there are several golf courses, additional beaches, and quaint lakefront towns including Williams Bay and Lake Geneva. On the property, parents can rent a boat from the marina, bike around town, walk the lake path, or relax kid-free in the spa. Kids love the indoor and outdoor pool options with water slides, as well as spending the day at the private beach. This resort is also only a little over an hour drive from most of Chicagoland.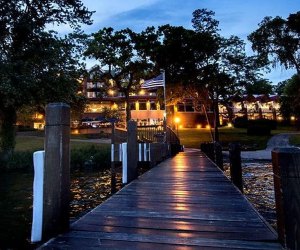 The Heidel House is on the shores of Green Lake.
7. Heidel House—Green Lake, WI
Located on the shores of Green Lake sits the iconic Heidel House, which boasts indoor and outdoor pools, waterfront dining, lakeside activities, golf, boating, tubing, kayaking, and more.
Green Lake is less than 3-hours from Chicago and just a short drive from Madison. The beauty of Green Lake comes from its natural setting. It feels like you've traveled to a North Woods summer camp —without the long drive.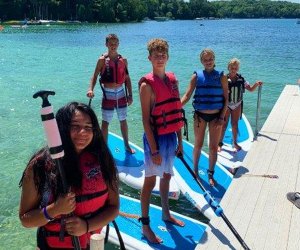 There are so many activities for kids at The Osthoff!
Family Lake Resorts near Sheboygan, Wisconsin
8. The Osthoff—Elkhart Lake, WI
The Osthoff is a resort centered around family fun. Families can play on the private beach and splash in the two outdoor pools (or the indoor pool). There's also a game room and Osthoff Kids club for kids ages 4-10.
On the lake, there is live entertainment on the weekends, bike rentals, water sports, water rentals, and a playground. In addition to the pool and lakeside fun, there's a spa on site, as well as nearby golf. Play on paddleboards, go fishing, jump off the swim pier, or take a canoe ride. There's enough to do here to fill up a whole week!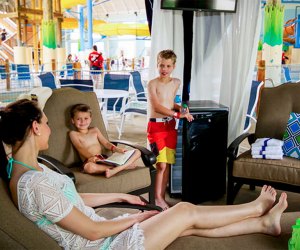 Blue Harbor Resort has a water park for kids; they'll never want to leave.
9. Blue Harbor Resort—Sheboygan, WI
Blue Harbor Resort is beautiful inside and out. Located in Sheboygan along the shores of Lake Michigan, it feels more like an East Coast vacation. There are individual rooms that range in grandeur all the way up to the Presidential Suite that comes with 12-water park passes. That's right, there's a year-round indoor water park, so there's always something to do even on a rainy day.
In addition to the indoor amenities like the water park, arcade, and mini-golf, in the summer months, the water park itself extends to an outdoor pool overlooking the lake. The water park has water slides, a lazy river, a hot tub, and more. Relax in a private cabana or take a spin on the lazy river and hear the waves of Lake Michigan just beyond the patio.
In Sheboygan, there are water sport and boat tours, rentals, and activities, along with quaint shops and great restaurants. Families can also rent bikes or take kids on a Lake Michigan fishing charter.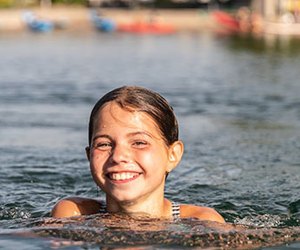 Enjoy swimming at the private beach at Gordon Lodge.
Family Lake Resorts near Door County, Wisconsin
10. Gordon Lodge—Door County, WI
Gordon Lodge is a seasonal resort located on North Bay in Door County boasting 300 feet of private, sandy beach, along with an outdoor pool, tennis, and basketball court. For nature lovers, there's a hiking trail that runs right through the resort property. On the water, guests can use paddleboards, paddle boats, kayaks, fishing poles, and more. The private swim area provides a safe place where little ones can play in the water.
In the lodge, there are family-friendly cottages with cozy fireplaces, and one to two bedrooms with enough room for the whole family. Door County offers adorable boutiques and specialty shops, quaint restaurants, ice cream, and coffee. The shores of Lake Michigan provide a beautiful tree-lined coast and crystal-clear water.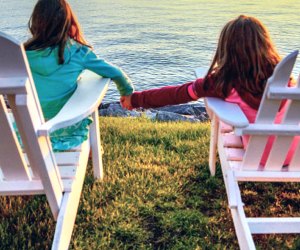 Paddle around the lake or simply sit by the water at Westwood Shores.
11. Westwood Shores—Door County, WI
At Westwood Shores Resort, guests can row or paddle boat around Sturgeon Bay, splash in the private sandbox, or take a dip in the lakefront pool. For families, the resort offers suites with kitchens and apartment units with two bedrooms that can be rented for a month-long stay. With cozy fireplaces, fully stocked kitchens, and private bedrooms that help make traveling with kids a little easier, families will want to spend as much time here as possible.
The resort also offers an indoor pool for a cooler or rainy day. Dine in the outdoor picnic area with free grills or play a complimentary board game. For parents, there's also free coffee 24/7 in the lobby. For dinner or breakfast out, Door County offers plenty of great local restaurants, pubs, and cafes to choose from.
Photos courtesy of the resorts/hotels
Click Here to Sign Up!
i