Brookhollow's Barnyard: A Sweet NJ Petting Zoo with the Cutest Animals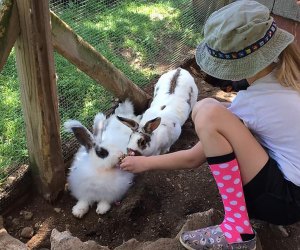 7/25/18
- By
Danielle Halibey
I've lived in New Jersey my entire life—30 years—and I'm devastated that it's taken me so long to learn about Brookhollow's Barnyard, a sweet petting farm that is Boonton's best kept secret. The family-run farm not only entertained my own baby animal, but it kept my husband and me smiling for hours (on one of the most humid mornings of the summer, yet!).
If you're antsy to zip away from your own zany zoo at home, and have a few hours to kill on an upcoming weekend, you have to check this place out. And check out our guide to NJ farms for even more family-friendly fun, from pick-your-own fruit to top "agritainment" centers.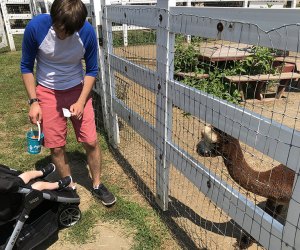 Admission includes a bucket filled with carrots to feed the farm animals.
Pick Your Pail
One of the sweetest parts about Brookhollow is how personalized it can be for your kiddos and their pals. After paying the admission fee ($5 for person; free for children under 2), we happily shelled out another $4 for a bucket full of carrots to feed the animals. We got to choose from a kaleidoscope of colored mini pails, of which I selected teal for my son (how cute would a whole tribe of tiny ones be with a rainbow palette of pails?), and it was packed to the brim with freshly shaved carrots. The plus about these pails is that once you've got 'em, you only have to pay $1 for refills—that day and any day you venture back to the barn!
As you meander around the farm, you'll see informational wooden animal heads dotting the fences. All serve as a reminder to "Use the shovel to feed!" I loved this, because I've been on the sore side of small animal bites many times, and it's certainly not fun. Having the shovel on hand to serve up the veggies made me so much more comfortable. And even though my little man was in more of a mood to watch us do the feeding this time around, he definitely took some notes about safe and proper petting-zoo protocol.
RELATED: Cream of the Crop: 10 Best Farms for Family Fun in NJ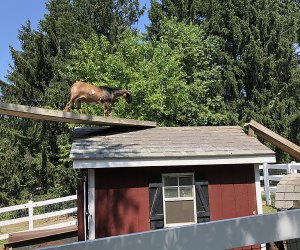 Look up, and you'll see goats scaling ramps above your heads!
So Many Animals, So Much Time
Perhaps it's because I've only been to a handful of petting zoos in NJ, I was expecting all the animals to be in one or two enclosed areas; but Brookhollow's habitats are huge. Once we headed in, we stopped at the first yard of goats and could not believe what we saw: goats of every size scaling ramps above our heads! I have at least 10 pictures and videos on my phone, because I knew no one would believe it until I showed them the proof. My son kept looking up and pointing at the goats, screeching "Hi!"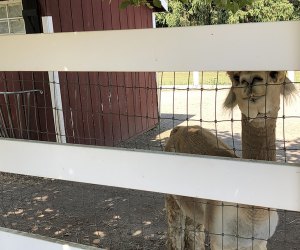 The alpacas will melt your heart.
As we continued to roam the grounds, we saw tons more animals—from llamas and alpacas to pigs and peacocks; small horses and sheep to bunnies and birds—and the whole barnyard was vibrating in a symphony of sounds.
We loved the free, open flow of the farm. Families filed in and never had to worry about competing in a feeding frenzy. You could essentially spend as much or as little time at each fence as you wanted, and get plenty of opportunities to see the animals chomping. A caution for parents with very little children: some of the animals are certifiably Alpha, so they won't shy away from swallowing up the carrots really quickly. Just be sure to keep an eye out for the more aggressive diners; even I got a bit spooked when an unassuming duck approached me for a bite, and nearly took my hand off (thank you shovel!) with his/her forceful peck!
Of course, the best part about meeting and feeding the farm animals was getting to know the babies. We had the pleasure of chatting with one of Brookhollow's zoo crew members, and she filled us in on all the just-born members of the BH brood, including our favorite kid, Oliver, and his two other siblings. If you have tiny ones in tow, they're sure to take a liking to these itty bitty babies.
RELATED: See Baby Animals and More and Family-Friendly NJ Farms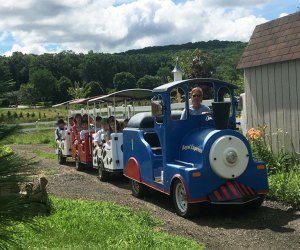 Jump on the mini train for a spin around the farm. Photo courtesy of the farm
Ride and Play
For another $3 per person, we hopped on a pint-sized train ride that provided a relaxing break from the hot summer sun. You don't see all that much winding through the garden, but it's certainly a sweet breath of fresh air when you've been walking around the farm for a while and need to rest your feet for a few.

Kids can't resist jumping on the toy construction vehicles.
In addition to the train ride, there are also a few non-animal activities and adventure areas that your pipsqueaks can play in, like sand pits stocked with mini diggers, trucks, tires, pails, shovels, and sifters; a variety of full-scale playhouses with tempting toys inside; and the coolest tractor swing set and fire truck fun house at the bottom of the farm.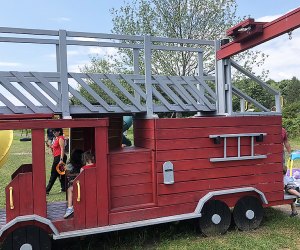 Parents can take a breather while kids climb around the fire engine play area.
While kids ages 3–7 romp around on the playgrounds, their parents can snap pictures from afar or sit down at the nearby picnic table to crack open a PB&J and replay the amount of times their toddler tried to put the llama-licked feed shovel in his mouth before it was taken away (not even kidding; I saw it happen twice while we were there).
RELATED: The Best NJ Zoos and Aquariums for Animal Encounters with Kids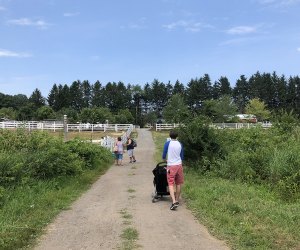 The calm, peaceful environment is great for kids—and parents.
Know Before You Go
Overall, Brookhollow's Barnyard is the one of the best gigs around, but we'd be remiss if we didn't note a few things you should keep in mind:
Look for signs with directions for parking. We got confused when we started seeing the farm on our left, from the road, with no outlet to park in. But there were decently-marked signs that led us to the parking lot behind the farm. It was not a busy day when we went, but chances are it fills up fast during the fall—so be sure to check in with farm on parking policies and overflow lots.
There are no bathrooms at the barn, just a solo porta-potty; so if you have a gaggle of your own to tend to, you might want to reinforce strict "gotta go before we go" rules. You'll most likely want to hit a public restroom on your way out, especially if you go during a scorcher when not drinking is a nonstarter, but know that the one Porta John is there for emergencies.
While you can buy food for the animals to nibble on, Brookhollow does not offer refreshments for humans. So, if you plan on making a morning or afternoon of it, don't forget to pack snacks or picnic lunches for the little ones. There are plenty of picnic tables scattered throughout the farm, and lots of other families to feast with.
Even though the farm is pretty mild on the "smells-like-a-barn front," it is fairly buggy. I had a number of full-blown mosquito bites come Saturday evening when we got home, but luckily my husband and son were spared. I did hear several moms and dads warn their waddlers to look out for bees, though, so bites and stings aren't totally out of the question.
The farm is open seasonally from April/May through October. Check the website to see regular hours (currently closed on Mondays; open Tuesday–Friday 9:30am – 2:30pm; Saturdays and Sundays 10am – 5pm) and to find out what events will be happening throughout those months; and take a peek at the farm's Facebook page for any updates. ​
Photos courtesy of the farm