Visiting the Stepping Stones Museum in CT with Kids: What To Know Before You Go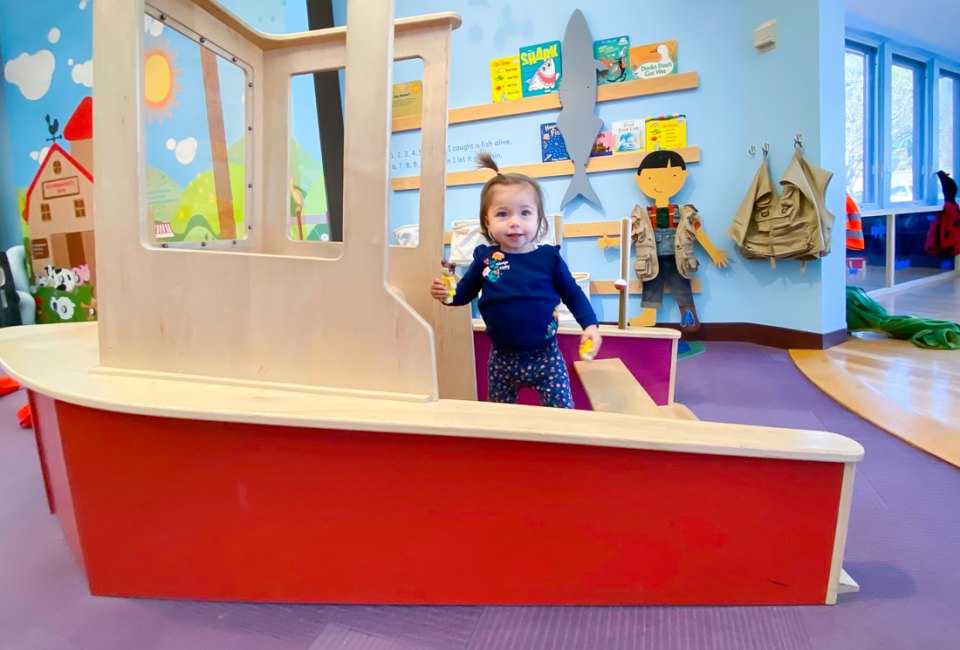 3/17/23
- By
Kelly Patino
Stepping Stones Museum may just be the best hidden gem for kids in Fairfield County. The museum is a kid's dream, offering a place to play, run, imagine, and have loads of fun. Completely kid-centric, Stepping Stones offers hands-on entertainment, such as riding on a school bus, digging for dinosaur fossils, and reporting the weather.
Families can enjoy weekly story reading, art, music, and fitness. Additionally, seasonal events for both kids and adults are offered. An award-winning museum, S Get ready for a solid outing for kids ranging from pre-crawlers to 10-year-olds at Norwalk's Stepping Stones Museum.
Here is your complete guide to exploring the wonders of Stepping Stones Museum in Norwalk. Looking for more to do in the area? Explore the 24 best things to do in Norwalk with kids. For more museum fun for the whole family (at a great price!), check out our free museum days in Connecticut.
Why Stepping Stones Museum is an Awesome Family Destination

Celebrate Stepping Stones"s 23rd birthday all through the month of March.
Opened in 2000, Norwalk's Stepping Stones Museum has been a family destination for decades. March 2023 marks Stepping Stones's 23rd birthday, with many amazing events and decorations all over. Don't forget to grab a family membership with a 15% off discount to celebrate turning 23!
Stepping Stones was designed with little ones in mind. The exhibits are colorful, engaging, and fun. It's worth mentioning that the Stepping Stones staff and volunteers do a fantastic job keeping the environment pristine and safe.

Every toddler loves a school bus - now be the driver or passenger!
Must See Things at Stepping Stones Museum
Tot Town
Tot Town is the perfect space for pre crawlers to around 4 years old. Best part for parents is there is a secured gate at the entrance to help wanderers. Endless pretend play everywhere that can keep a toddler memorized for hours. Riding the school bus is a toddler's favorite - love the windshield wipers moving and pretending to drive passengers. Rather be a fisherman? Hop on a boat and go fishing for small and big colorful magnetic fish. There's also doll houses, kitchens, tool workshops, race tracks, a slide, and even a dog house. There are lots of children's books based on the theme of the area. For example, fish or sea books are near the fishing boat. Finally, the designated infant, crawlers, and wobbly walkers space is ideal for little ones and parents to have fun.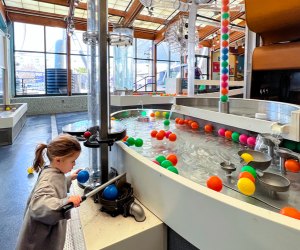 Water play is so much fun with balls, funnels, and waterfalls in the energy lab exhibit.
Energy Lab
Energy Lab allows kids to explore ways for energy sourcing. With cranks, water tunnels, air tubes, and blowers, kids can try all the energy sources with play balls. They can control the water paths and see their balls follow a water funnel. Another favorite activity is water painting on the wall. Sounds simple, but it will occupy kids for longer than you would think.

The Lights On! exhibit is fun and super colorful.
Lights On!
Lights On! is the newest exhibit at Stepping Stones. It showcases different ways to use light gadgets. The peg-light wall is definitely a favorite spot, reminiscent of a giant Lite Brite. My kid loves moving all the colors around! Another fun spot is the camera wall. Take a photo with different filters, and then add objects like hats, bows, glasses, and more. Once finished, it's published on the wall (as well as emailed to you).
Big Adventures: Dinosaurs
Roar! Dinosaur fans will love spending time in this exhibit. Say "hi" to Dolly Dilophosaurus, an animatronic and friendly dinosaur. Fun fact: the dilophosaurus is the Connecticut state dinosaur. Explore the time machine, and play with the control panels to take you to the past, future, and present. Next, grab a costume and head to the paleontology dig site. Use brushes, magnifying glasses, and other tools to find dinosaur fossils as well as eggs. Afterwards, see all the findings at the hands-on paleontology camp.
Multimedia Gallery
Just when you think you have explored it all, keep walking to the end to find the Multimedia Gallery. Kids enjoy playing or dancing on the interactive floor display. Push away shapes, colors, or seasonal objects. Many events take place in the Multimedia Gallery. Favorite seasonal activities include the Easter Egg Hunt as well as Countdown to Noon. Even characters make appearances in the gallery for photo-ops. Before heading back to the main entrance, visit Studio K to report the weather! Dress up like a weather reporter, grab a mic, and hit the green screen to tell viewers what to expect.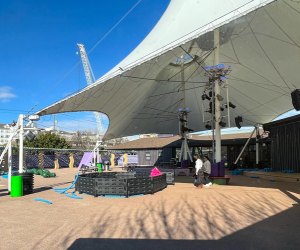 Outside activities at Stepping Stones with plenty of shade for hot summer days.
Celebration Courtyard
Want to enjoy being outside? The Celebration Courtyard is the museum's outdoor exhibit. It's covered, so there is plenty of shade even on hot days. You can enter either through Energy Lab or Healthyville Cafe. This huge play space has lots of play options. Kids can build with all kinds of foam shapes. Many events are held in the Courtyard such as concerts, bubbles shows, and miniature golf. Have a kid that loves performing? There is a big stage for him or her to fully enjoy. Finally, the Courtyard has picnic tables for families to take a break for a snack or drink.
On your way out, don't forget to stop by the Shops at Stepping Stones. Find amazing books, toys, games, and more to take home.
Know Before You Go - Stepping Stones Museum
The museum is open daily from 9am to 5 pm. Best times to go are early morning or post lunch for less traffic. Visit by purchasing a day pass or come often with a yearly family membership. A membership has loads of perks, including member mornings. Additionally, free admission is reserved for kids under 1 year old and active-duty military personnel including their family. Parking is free for all visitors.
Be warned, the Energy Lab exhibit allows kids to explore water. It might be best to save for last or have extra clothes to change into after play. Enter Energy Lab to find dress-up lab coats to help reduce water on clothes. Another tip for this area, put the coat on in reverse so the buttons are near the child's back, fully covering their front.
Eating or Restaurants at Stepping Stones Museum in Norwalk
Stepping Stones Museum features the Healthyville Cafe. It's ideal for a break and a snack or drink during your visit. Yes, the good2grow character apples juices are there!
Norwalk is full of great spots for a bite before or after your visit. Caffee Social offers breakfast, lunch, snacks, and coffee. The Sunset Grille has great views and delicious food. And you can't go wrong with the Arepas at Valencia Luncheria!
Visiting Connecticut's Stepping Stones Museum
Stepping Stones Museum is located in Mathews Park at 303 West Avenue Norwalk, Connecticut, 06850.
Museum hours are from 9:00 am – 5:00 pm daily. At the time of writing, admission is $18 for adults and children, $14 for seniors (over 64). Children under the age of 1 are free. Be sure to check the museum's website for the latest details.
All photos by the author, Kelly Patino.