Boston's New England Aquarium with Kids: Must-See Attractions, Special Programs, and More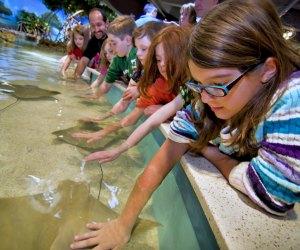 3/5/19
- By
Elyse Andrews
The New England Aquarium is such a fun way to spend a day in Boston, whether you're visiting Boston with kids or a lifelong local. My son loves animals of all kinds, so I knew we had to take him to the New England Aquarium as soon as he was old enough for the outing. Our trip did not disappoint! He was enthralled by the beautiful sea creatures and even got to experience some up close at the touch tanks.
Here's what I learned when we went to the New England Aquarium, including which must-see exhibits, where the best kid-friendly dining options are, and how you can score discounts on NEAQ admission. With new live animals and frequently updated exhibits, it's an especially exciting time to visit the aquarium.
Interested in more of our favorite kid-friendly Boston attractions? Check out our
Boston Museum Guide
.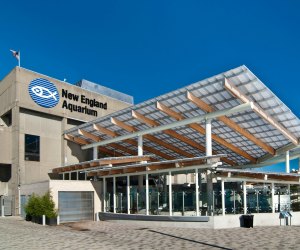 The New England Aquarium is located on Boston's scenic waterfront. Photo by S. Cheng courtesy of New England Aquarium
Insider Tips for Visiting Boston's Aquarium with Kids
Situated on the Boston Central Wharf, which is also home to several restaurants and boating charters (see our picks for boat rides kids love here), the New England Aquarium can be a busy place, especially on weekends. If you have little ones to keep in tow, try to plan your trip during the week, and you'll be rewarded with super-clear views of all the amazing exhibits. As an added bonus, you'll find thinner crowds in the Boston Harbor area in general, which is a guaranteed stress reducer. But no matter when you go, a visit is worth it: The structure of the building, with its big central ramp, means there's always room to see what's in the Giant Ocean Tank and it allows you to easily duck off to each floor for the smaller exhibits.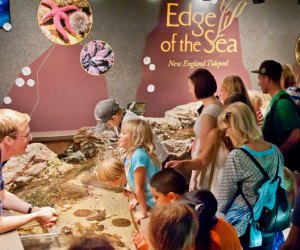 Small creatures are perfectly sized for little hands at the Edge of the Sea touch tank. Photo courtesy of New England Aquarium
Must-See Attractions at the New England Aquarium
When you walk from the ticketing area into the multi-story, open-format Aquarium, it's tempting to wander toward the first exhibit of colorful, aquatic eye candy you see. But it's smart to go with a game plan to make sure you hit all the hot spots. Here are the exhibits kids seem to love most.
Marine Mammals (outdoors)
The live animal fun starts before you even get inside the doors of the Aquarium. There's a harbor seal tank outside that's open year-round, and it's truly fascinating to watch these sleek creatures glide through the water just a few feet from your face.
New Balance Foundation Marine Mammal Center (indoors)
Inside the Aquarium, you can check out more seals and sea lions—performing amazing tricks, no less!—in the sunlit, enclosed pavilion that's just beyond the main exhibits. Our hearts were stolen by frisky Ron, the toddler of the sea lion pups, born in 2017, and Luna, the youngest of the fur seals, who arrived to the Aquarium in 2016.
Penguins
Because the penguins are situated on the ground floor in the center of the Aquarium, they are among the first things you encounter after entry. The Aquarium is home to more than 80 penguins, and it's fun to watch them waddle about the rocks and dive into the water. While yes, they don't smell like roses—expect your kids to giggle at the olfactory effects of peering over the railing and into the penguins' habitat— any fans of Happy Feet will love getting up close with these sweet creatures.
Giant Ocean Tank
This is, quite literally, the centerpiece of the Aquarium. A spiral ramp hugs the tank, and kids seem to love walking up it; it's actually an ingenious way to keep active kids moving while looking at amazing creatures. The four-story tank contains coral reefs and hundreds of Caribbean reef animals, including sharks, sea turtles and many varieties of fish. Of course, the most most exciting moments are when a giant shark skims the glass nearby, emitting squeals from kids (and grown-ups).
Edge of the Sea Touch Tank
Here, kids can get their hands on sea stars, urchins, and snails. Staffers linger nearby to answer questions and help guide eager little ones on how to best handle the small creatures. This is a real highlight for toddlers and preschoolers who visit the Aquarium.
Sea Jellies
Take in the other worldly sea jellies exhibit, where these intriguing creatures look almost likes works of art suspended in water.
Marine Ecosystems
Learn about our local marine ecosystem in the Gulf of Maine tanks. Then learn about a marine ecosystem on the West Coast at the Olympic Coast Exhibit.
Science of Sharks Exhibit
Expand your knowledge of one of the ocean's most feared creatures with hands-on activities in the Science of Sharks exhibit.
Amazon Rainforest
This exhibit contains some of the world's most notorious animals: piranhas, anacondas, electric eels and poison dart frogs. And now you can check them out without ever leaving Boston.
Shark and Ray Touch Tank
The Aquarium's newest touch tank may be the most exciting feature of the Aquarium for kids, so we find it's a great finale to a visit. Children can literally lean over a protective barrier and stroke gentle sharks and rays that glide by.
A central ramp wraps around the Giant Ocean Tank. Photo courtesy of Greater Boston Convention & Visitors Bureau
Special Programming at the New England Aquarium
With so much to see with a basic ticket, special programs are by no means a must at the Aquarium. But if you have extra time, consider setting aside time for the following:
Animal Encounters
If your kids want to get really up-close-and-personal with the creatures at the Aquarium, you can book a special session with them.
Simons IMAX Theatre
Get a glimpse of our planet in a totally unique way with a movie at the adjacent IMAX theater. There are always special films playing that you can't see anywhere else.
Whale Watch
Book a whale watch when you go to the Aquarium to see the ocean's biggest animals in person. These whales won't fit in any tanks and the only way to see them is in the wild!
Classes and Summer Camps
Starting as young as 12 months and going up through the teen years, the Aquarium offers classes and summer camps specially designed to get each age group excited and educated about marine life.
Photo by Brian Skerry courtesy of New England Aquarium
Where to Eat Near the New England Aquarium
If it's a nice day, you can save money by packing a lunch or snack and eating it just outside the Aquarium at the waterfront tables that dot the harbor. Inside, the Harbor View Cafe is the New England Aquarium's own dining area, and features floor-to-ceiling windows so you can take in scenic views of the city while you eat. The cafeteria options are very family-friendly and there are lots of high chairs available for the littlest diners. In the warmer months, there's also an outdoor cafe at the Aquarium.

But this being the most tourist-friendly part of town, there are plenty of other kid-friendly dining options in walking distance. If a trip to the Aquarium has whet your appetite for some seafood, look no further than the Legal Sea Foods directly across the plaza. You'll find reliably good meals for parents and kids alike. There's even an aquarium and lobster tank in the restaurant to keep kids entertained. Panera Bread is just a few blocks away from the Aquarium at 200 High Street. Finally, the Faneuil Hall/Quincy Market area is bursting with kid-friendly dining options that will please any palate, and is only about a five-minute walk from the Aquarium. For more places to eat in Boston, check out our Boston Restaurant Guide.
What to Know Before Visiting the New England Aquarium with Kids
How to buy tickets to the Boston's aquarium
We found that getting tickets in advance so we didn't have to stand in line with eager kids was key. You can always buy in person, but the lines do tend to get long.
Discounted tickets for the New England Aquarium
Getting into the Aquarium isn't cheap, but there are ways to make it less expensive. Kids under 3 are always free and members get in free (plus get other perks). Online ticketing is easy to do here, but if you're looking to save some dough, check to see whether your local library offers discounted tickets to the Aquarium (mine in Somerville does) first. And if you're visiting Boston for more than a day, consider buying the Boston CityPASS or the Go Boston Card: Both offer admission to the Aquarium as well as other local attractions for a bundled price.
How to save on special exhibits
If you also plan on checking out an IMAX movie or doing a Whale Watch while you're at the Aquarium, you can buy combination tickets that are less expensive than buying each separately.
Where to park near the New England Aquarium
There are a variety of parking garages near the Aquarium, some of which offer discounted rates. You can also take the T and get off at the Aquarium stop, which is on the Blue Line. You can even take a boat from Hull, Hingham, Logan Airport, Salem and Winthrop.
Strollers at the New England Aquarium
If you bring your stroller but don't want it inside the Aquarium, there is even a stroller check right inside the entrance.
New England Aquarium Gift Shop
Like most museums, the gift shop is situated between the exhibits and the exit. It's quite a large store with plenty of cute and interesting gifts, from beautiful plush sea creatures to marine science kits. We find it's a good idea to set expectations before heading into the Aquarium to avoid haggling on the heels of a wonderful visit.
Things to do near the New England Aquarium
If you still have energy in the tank after a day at the Aquarium and it's decent weather, consider a short walk to the Rose Kennedy Greenway and the Greenway Carousel. This charming merry-go-round is populated not by horses, but by a variety of animals native to the region, including some of the sea creatures seen at the Aquarium.