Visit Boston's Museum of Science Like a Local: Inside Tips for a Visit with Kids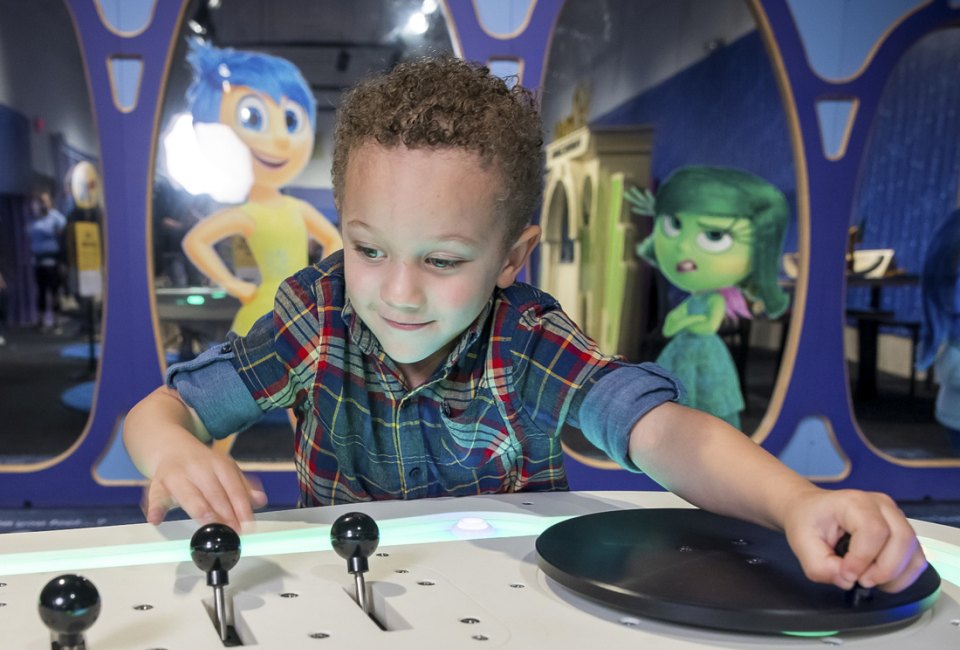 4/22/22
- By
Lauren Saunders
Visiting Boston's Museum of Science
One of the biggest changes is that timed tickets are now required for admission to the exhibit halls. While this adds an extra step for parents, it's not required for members. Tickets can be booked online or by phone. When we called for tickets, we received our first choice of entry time. Busy days (like weekends and school vacations) or large group reservations may need more advanced scheduling.
While the Museum is enormous, it is well-signed and has three main sections: the Red, Green, and Blue Wings.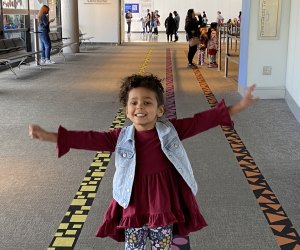 Boston's Museum of Science guides young visitors through their engaging exhibits.
Here are some of our family favorites, organized by wing of the Museum.
Red Wing - Museum of Science Boston
A crowd favorite, the Atrium boasts the Audiokinetic Sculpture and SoundStairs, adding a whimsical feel to this airy space. Try checking out an Omni film for a small add-on fee if you have exhibit passes or a membership. Superpower Dogs was a hit with my four and five year old visitors.
The Charles Hayden Planetarium also requires an additional fee. It's worth it for shows that explore the universe–some of which feature Sesame Street characters!
Boston's Museum of Science has exhibits that combine science, engineering, and the arts.
The cafe is not to be missed. Whether just grabbing a Starbucks coffee, or having a full meal, you're treated to a striking view of the Charles River from a unique vantage point.
Blue Wing - Museum of Science Boston
Just opened in 2021, Engineering Design Workshop is an impressive addition to Level 1 in the Blue Wing. The workshop creates accessible experiences for even a pre-schooler; you can build a trampoline and test it out at this new exhibit.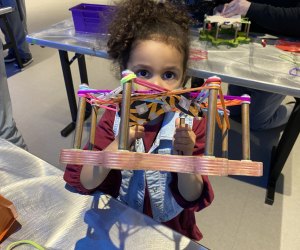 Boston's Museum of Science provides hands-on engineering activities for kids.
The permanent Science in the Park exhibit on Level 2 is set up like an indoor playground with science-themed, hands-on, and climb-on activities. Across from Science in the Park, kids will love the familiar faces in the new temporary exhibit, Emotions at Play, based on Pixar's film, Inside Out. You can leave your stroller outside the entrance.
Also on Level 2, the former Butterfly Garden has had an exciting transformation into the Insect Zoo, which is free for all exhibit hall visitors. The Leafcutter Ant farm is an interesting attraction, providing plenty of things to explore for young ones with a magnifying glass.
The Blue Wing also houses the fossils your little dino-fans love, though the life-size T-Rex might be intimidating for younger kids. Presentations at the Theater of Electricity, while definitely stimulating, also might be a bit too shocking for the littlest ones.
Green Wing - Museum of Science Boston
Primates at the Museum? Check out family favorites, the cotton-top tamarins on Level 2 in the Green Wing. Another temporary exhibit, Resilient Venice, provides a visually appealing, fascinating look at this city of the sea, complete with acqua alta rising at your feet in a gelateria!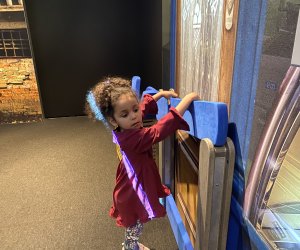 Kids get to explore at Boston's Museum of Science. Photos courtesy of Lauren Saunders.
On the Lower Level, the Science Live! Stage has a rotating series of performances covering a variety of topics. Check out the fish tanks and the Yawkey Gallery in the middle of the Blue and Green wings, where you'll find more gorgeous views of the Charles River.
Eating at Boston's Museum of Science
Visitors can eat at the Riverview Cafe; seating is reserved for cafe customers. There are also vending machines at the museum. Those who wish to bring their own food can enjoy a picnic in the plaza out front or at the tables behind the museum. The restaurants of the West End and East Cambridge–including the food court at CambridgeSide–are nearby.
Know Before You Go - Museum of Science Boston
It's worth taking a few moments to familiarize yourself with the Museum map ahead of time. There are multiple elevators for those with strollers, and Level 2 (Green Wing) has a family restroom.
Exhibit Halls are open 9am-5pm and the MOS is free for visitors under three years old. Children under three years old will still need a timed ticket, but it is free of charge. Admission includes access to the exhibit halls; Hayden Planetarium, Mugar Omni, and 4-D shows are discounted with admission.
Parking is available in the garage; this makes it an extremely easy trip to Boston for a family driving in. Visitors can take the T to Boston's Museum of Science; the Green Line's Science Park/West End station is a short walk from the museum.
All photos courtesy of Lauren Saunders, unless otherwise indicated.
Places featured in this article:
---
Museum of Science
---
Museum of Science