Sleepaway Camps in New England with Short Sessions for First-Timers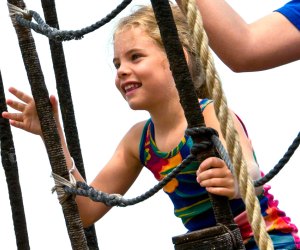 3/12/23
- By
Kelley Heyworth
Going to sleepaway camp is a rite of passage for many kids in Boston, Connecticut, and the rest of New England. However, the idea of being away from home for more than a couple of weeks can be a deal breaker for many kids. This is especially true if they're on the younger side or have separation anxiety. Fortunately, many overnight camps offer one- or two-week (some even even shorter) sessions. These are designed to introduce children to the independence and kid-bonding of sleepaway without forcing them to "stick it out" for longer than they may be ready to handle.
Established on shorelines and lakefronts across six states, we've rounded up popular overnight summer camps. These sleepaway camps have first-timer-focused starter sessions for children 6 to 12 years old. The only catch may be if you're unsure you can part with your kiddo for more than a night. (Trust us—you can!)
Look to our complete camp directory for more ideas on summer enrichment for kids in Boston and Connecticut.
Please click the links to the individual camps below for the latest information.