Thrilling Tubing Near Philly and Water Rafting Adventures for Families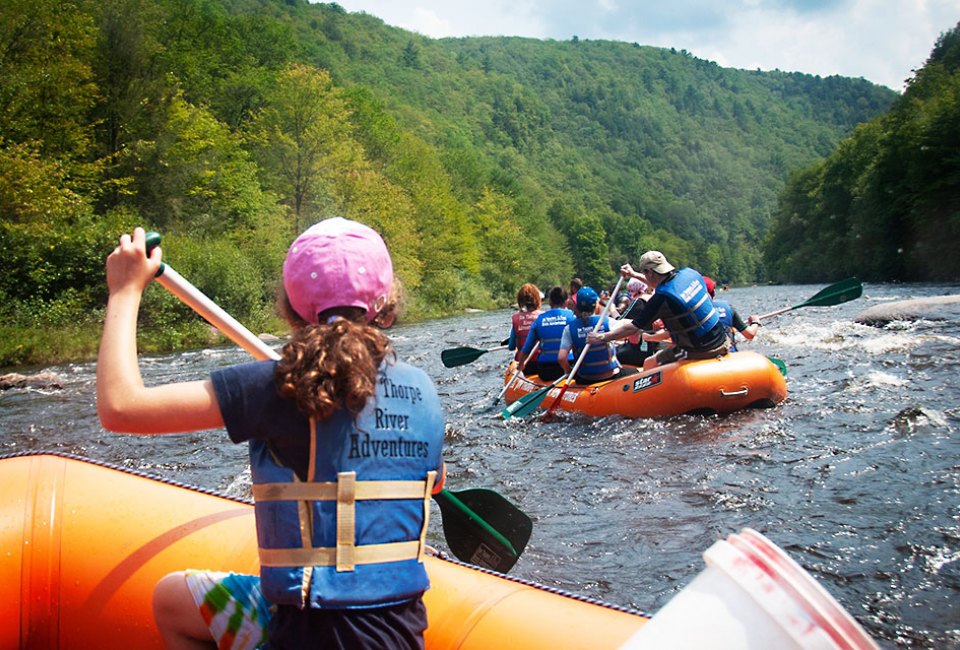 8/6/21
- By
Lindsay Li
Nothing beats a day on the river—floating, swimming, or enjoying a whitewater rafting adventure. In fact, whitewater rafting in the Philadelphia area is one of the most enjoyable, fulfilling activities I can think of to do as a family.
If you are eager to enjoy some outdoor family fun or just want to escape these 90-degree summer days, we have compiled the best whitewater rafting and tubing in Philadelphia and the surrounding area. For more water fun, check out our roundups on the Best Places for Canoeing and Boating and the Best Swimming Lakes near Philadelphia.
One of my fondest family-bonding memories was setting out on our first rafting adventure. I was 9, barely old enough for the rapids my family picked, so when I helped steer the boat past a "dangerous rock" (as our guide put it), I felt incredibly important. My family worked as a team, and we still talk about our adventures to this day.
If you decide to head to the Poconos for your water adventures, check out our list of 70+ Things To Do in the Poconos while you're there.
Whitewater Rafting Near Philadelphia for Families
For families or groups with small kids (ages 4 and older), this is the trip for you. Jim Thorpe offers an eight-mile EasyWater Rafting trip from May through October that is sure to be fun for the whole family. Families can save a few dollars per person by going on a weekday instead of a weekend. If you have older kids, it also offers "BigTime" trips in Lehigh Gorge State Park. On this trip you can expect to get wet, possibly dunked, but it is also suitable for kids as young as 8.
With mild to wild family whitewater rafting trips to choose from, you pick your adventure. For families, the company recommends rafting in the summer months of June, July, and August so you can enjoy opportunities to swim, play, and relax. With only Class I and Class II rapids (on the easier side), young children can enjoy this mild rafting adventure. Family rafting excursions and moonlight trips are also available.
This whitewater trip may be a drive, but it is worth it! White Water Adventurers is located alongside the Youghiogheny River in the middle of western Pennsylvania. Trips are available for all ages and skill levels. This family-owned business has been in operation for 30 years, so the owners know their stuff and the river. The most popular excursion is the lower yough rafting trip which lasts about 3-5 hours and is geared towards kids 12 and up.
Families can select between two different types of whitewater rafting trips. The first is the most popular with Class II and III rapids and appropriate for kids ages 8 and up. The other is a family trip, perfect for younger children, ages 4 and up. It also features calmer spots for swimming along the way. Weekday rates are less than weekends and group rates are available.
For over 40 years, Whitewater Rafting Adventures has been helping families create lasting memories on the Lehigh River with extraordinary whitewater rafting trips.The most popular trip takes visitors through Lehigh Gorge State Park and features Class II and III whitewater. Younger kids can enjoy the EZ Whitewater excursion which is suitable for children ages 6 and up. Their Summer Rafting trip is ideal for kids age 4 and older since it has a difficulty no greater than Class I and Class II.
Family-Friendly Tubing Near Philadelphia
Bucks County River Country is one of the oldest operating tubing companies in the area. It offers two- to four-hour tubing adventures along the Delaware River. Standard tubes are custom manufactured with dual chambers for safety and come in four different sizes. It also has a "Snuggle Tube" that can be shared with smaller children. Rafting rentals as well, but it is not a true whitewater experience.
Although the name may be deceiving, Northbrook Canoe Co. offers more than canoe trips. Families can float down the Brandywine River by reserving a two-hour trip from Embreeville or a three-hour adventure from Corcoran's Bridge. The duration of the trip is approximate as everyone floats at different rates. Children must be four feet tall to participate.
Families can rent tubes from Rivertribe for a trip on the Schuylkill. There are two different options: the three-mile trip, which takes about two to three hours, and the six-mile journey, which lasts about five to six hours. Single, double, and deluxe tubes are available. Kids must be at least 6 years old and able to swim.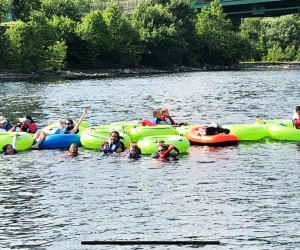 Cool down in the river at Twin Rivers Tubing.
Offering tubing, kayaking, and rafting on the Delaware River, Twin Rivers Tubing is a great destination especially for families with children. It offers free tube tethers so you are guaranteed to stay close to your kids—although it caps the age for tethers at 6. Enjoy a relaxing trip while also taking in the beautiful views of the Lehigh Valley Falls along the way. Other amenities include indoor restrooms, outdoor showers, and free key check. Tubes with backrests are available.
This afternoon-only adventure sets off from Smith Bridge, where you pick up your tube after a brief safety overview and prepare for your nearly two-mile float down the Brandywine River. Minimum age is 5 years old.The Brandywine is a very slow, meandering river and is ideal for beginners or older couples who want a relaxing ride without needing prior canoe and kayak knowledge or skill. The river is about two to three feet deep on average.
Photos courtesy of the tubing companies
Sign up for the Mommy Poppins Newsletter today!