Angels Flight Opens Again, in Time for a Labor Day Ride!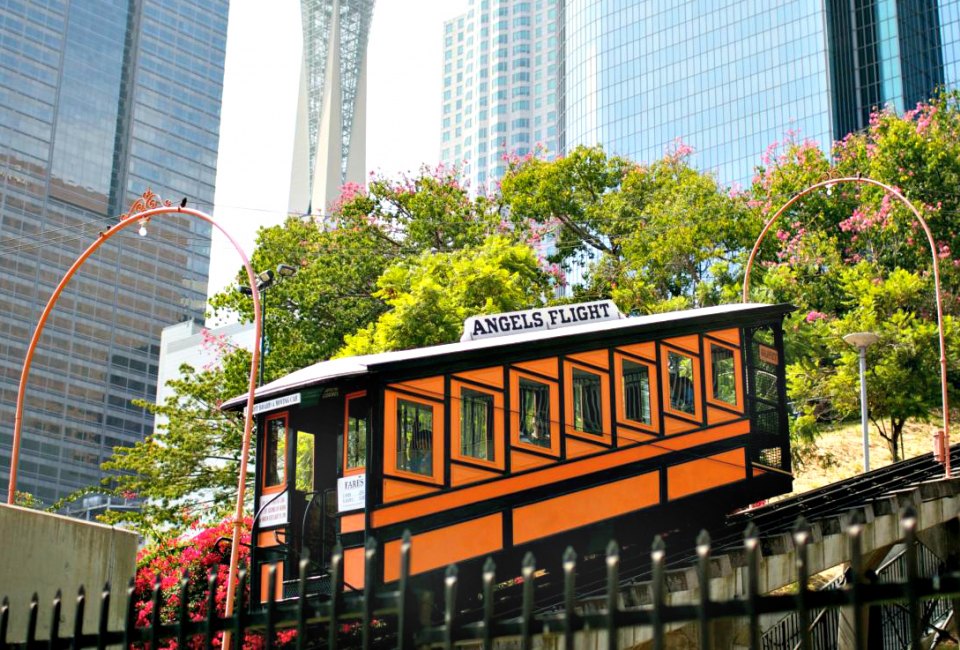 8/29/17
- By
Roberta B
Anyone can root for the Dodgers or skirt traffic on the 405; proof of a real Angeleno is whether you've been on Angel's Flight. The quirky, ostensibly pointless little funicular train shoots straight up Bunker Hill and only makes sense to locals (a train in Downtown LA that travels 300 feet—uh, why?); transplants from other states generally don't even know it's there. For an LA native, though, a ride on Angels Flight is a must, whether or not you have any need to be on Bunker Hill. This is especially true this week, when the 116 year-old railway revs up its two little cars again after a long absence.
Fans of Angels Flights actually know those two vintage rail cars by name: Sinai and Olivet. The cars are still the oringal ones, and a ride in them takes a person on a longer journey through time than it does through space. The trip up or down the hill is just long enough to look around the beautiful turn-of-the-last-century woodwork and peek at the view before it's all over. But the trip is a rite of passage which has been denied us since safety concerns caused the railway's closure in 2013. Starting his week, the Angels fly once again, and we can take our kids to enjoy the fun for $1 per ride.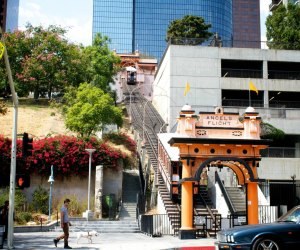 This is more of a journey through time than through space. Photo by Anson Chu/CC BY 2.0
Over the years, the narrow gauge funicular has been closed on more than one occasion, but thanks to the efforts of Mayor Garcetti, the Los Angeles City Council, and the Angels Flight Railway Foundation, the cultural gem that connects Hill Street and Olive Street is back in action with a major renovation that will hopefully keep it running safely and smoothly for years to come. At $1 per ride, we're not paying too much more than our predecessors did in 1901; and with a Metro pass, you ride for just 50 cents.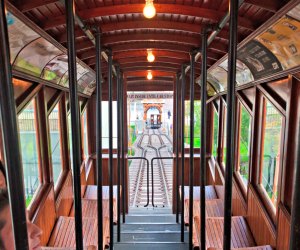 To be an Angeleno is to know this view. Photo by David Hilowitz/CC BY 2.0
Starting this week, Angels Flight makes its historic trip up and down the hill from 6:45am-10:00pm seven days a week, 365 days a year, including all holidays. The Railway's Top Station is located at California Plaza, and the the Lower Station is at 351 South Hill Street, across from Grand Central Market. It's only a block from Pershing Square and several other DTLA destinations.
Of course the real question isn't, "Why should we go up Bunker Hill today?" The real question is "Why not?"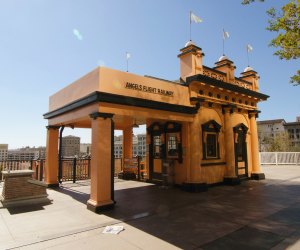 Photo by Boris Kasimov/CC BY 2.0
Angels Flight
Daily 6:45am-10pm
Adults & Children $1
Metro pass holders 50¢
Places featured in this article:

Sign up for our free
newsletters.
Mommy Poppins is a family activity website that helps people find things to do with kids.
©
2023
MommyPoppins. All Rights Reserved.
mp-prod4-v4.32.99
Sign up for the Mommy Poppins Newsletter today!
i