Exceptional Explorers Play Space Debuts in Livingston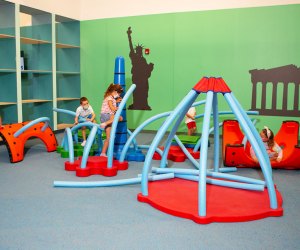 Livingston kids can travel the world without leaving their neighborhood, thanks to an innovative new play space that's debuted in northern New Jersey.
The brainchild of two creative cousins, Exceptional Explorers is the area's newest indoor play space. It's a uniquely designed indoor playground where kids from crawlers through elementary-school age can learn about global cultures and geography while sharpening their fine- and gross-motor skills. Area parents can appreciate the venue's attention to cleanliness and remote learning support, plus plans to offer enriching classes, and a new venue to celebrate milestone birthdays.

Exceptional Explorers maximizes engagement with three different indoor play areas.
Exceptional Explorers founders Mila Grushin, a speech therapist, and Marina Sharfshteyn, an occupational therapist, felt something was missing in North Jersey's mix of kids' entertainment spots and sought to fill it with Exceptional Explorers. "When our kids were young, there wasn't a place in town where we could drop in with our kids to play, meet other parents, and have the kids take enrichment," says Grushin. "We wanted to create a new spot for families in Livingston that's clean and modern, where kids can play and take classes to develop their language and motor skills with an emphasis on culture and geography."
It took two years for Grushin and Sharfshteyn to turn their dream into reality, but the result is unique. Travel-themed Exceptional Explorers has a classroom plus three main play areas, including active play equipment like slides, tunnels, and monkey bars, all made with clean, non-toxic materials.
A toddler area is separated from the main play space to avoid collisions with bigger kids. It has a pegboard and a functional partition that incorporates many fun tools to help tots practice developmental skills. "There are mirrors, manipulatives, different textures, and shape sorters, all of which line up with various developmental milestones," says Grushin.
A third attraction includes large modular foam pieces kids can stack and combine to engage in imaginative play and collaboration. Throughout the space, the modern, sleek decor encourages an interest in other cultures and introduces kids to the idea of being good global citizens.

Currently, one section of Exceptional Explorers acts as a classroom for drop-off remote learning support.
As the COVID-19 pandemic runs its course, and families become more comfortable enrolling in in-person classes, Exceptional Explorers plans to expand its enrichment offerings. For now, drop-off remote learning support is available for school-aged children (limited to eight kids) in both full- and half-day sessions (reservations are required). Interactive story time and sing-along playgroups are also offered for little ones at select times during open play.
Pandemic or no pandemic, cleanliness, and safety are top priorities at Exceptional Explorers. While social distancing orders are in place, the facility allows up to 12 kids (each accompanied by one adult) to enter during specific 1.5-hour open-play time slots. Between reservation times, the staff cleans and sterilizes play areas for 30 minutes. The facility has a HEPA air filtration system as well.
"We take cleaning really seriously. We really wanted it to be a clean space, and with COVID-19, we took our protocols to the next level," says Grushin. In terms of safety, temperature checks are standard for all guests, and masks are required for visitors over 6 (and strongly encouraged for little ones ages 2 through 5).
Exceptional Explorers also helps kids celebrate their birthday with a global twist. In addition to general superhero and princess themes, birthday kids can choose continent-inspired party themes like an African safari or European tea time.
"We are so proud to open a space in our community that will offer a little bit of normalcy during a chaotic time. We hope to continue to serve our neighbors and meet the needs of local families," stated Sharfshteyn in a press release.
Visit the website to book your open play or remote learning support time today.
Photos courtesy of Exceptional Explorers