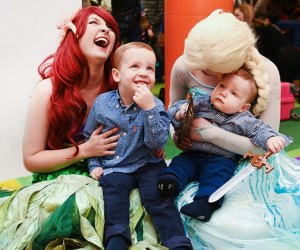 Kids' Birthday Party Entertainers in NJ that Come to You!
There's nothing like the comfort of your own home when it comes to hosting your kid's birthday party. Sure, you have to clean up, but you're in control and you don't have to worry about sharing a space with other parties. And, since the cost of an at-home party tends to be lower, it's the perfect opportunity to splurge on a one-of-a-kind experience that will bring the party to you.
We've rounded up top New Jersey entertainers for your next bash. From costumed characters to magicians, balloon twisters, and face painters—even ponies and lizards—these party entertainers make house calls to delight your birthday kid and pint-sized party guests.
Find more ideas in our NJ Birthday Party Guide.
Character Visits
Perfect Princess Parties NJ
Coverage area: All of New Jersey
Perfect Princess Parties aims to make your little princess's dreams come true. Invite one or two princess characters to your home for singing, dancing, and storytime, as well as face painting, games, and a coronation of the birthday girl with a real rhinestone tiara.
Time2Party
Coverage area: Northern and Central New Jersey
If a one-stop shop with plenty of options is what you're after, Time2Party will satisfy. Offering costumed characters from your kid's favorite TV shows, as well as balloon twisting, glitter tattoos, carnival games, and cotton candy, Time2Party lets you plan the exact party your little one wants.
RELATED: Top Party Spots for NJ Preschoolers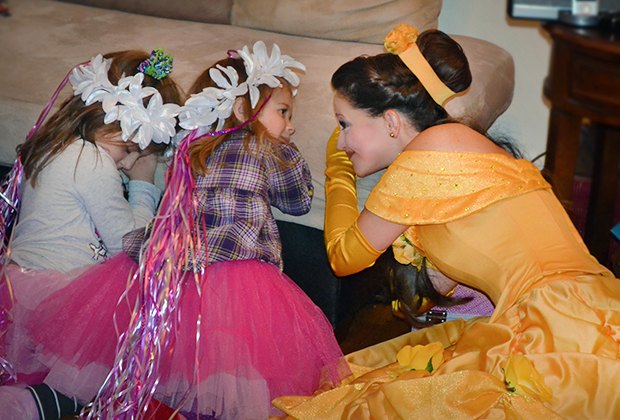 My Fairytale Party sends storybook characters to celebrate with the birthday kid and guests.
My Fairytale Party
Coverage area: All of New Jersey
Fulfill your little Disney fan's ultimate fantasy with a My Fairytale Party. Pick from a cast of storybook characters and party packages that range from a musical performance and meet-and-greet to dress-up time or a full-service tea party.
Pampering
Little Miss Fashionistas
Coverage area: Central New Jersey
After getting hair, nails, and makeup done by their very own glam squad, the birthday girl and her guests can accessorize with provided props to rock the runway in a mini fashion show. Little Miss Fashionistas will even take and print pictures right on the spot for guests to take home.
RELATED: Splurge on Your Jersey Kid with These Special Outings

A group of party girls enjoy a relaxing foot soak before their Mobile Kids Spa Party pedicure.
Mobile Kids Spa Parties
Coverage area: Northern and Central NJ
Book a mini mani/pedi, massage, and facial for girls as young as 3, or make your own bubble bath, bath salts, sugar scrub, or lip balm. Mobile Kids Spa Parties will also provide an online photo album and DVD of party memories.
Music & Dance
Rockness Music (formerly Preschool of Rock)
Coverage area: Northern and Central NJ
Need an idea for your baby's first birthday? Rockness Music offers a musical baby birthday theme that's perfect for little ones, bringing the contagious energy of their popular music classes into your home. Parties for toddlers include instruments, drums, shakers, and scarves.
The Little Moving Artist
Coverage area: Northern NJ
The Little Moving Artist will work out the wiggles before you cut the cake. Choose a dance/movement class with games and music, or opt for energetic and engaging ball play. A bag of dress-up costumes will also help keep kids busy, and the birthday child receives a special gift. Great for kids age 3–7.
Funny Bonz Entertainment
Coverage area: All of New Jersey
Book a Funny Bonz DJ for your big kid's birthday party. They have the latest music for kids of all ages, and they'll help get the party started with interactive games such as The Chicken Dance, YMCA, and Limbo.
Acting
The Actor's Garage
Coverage area: All of New Jersey
As the birthday kid and guests play fun games, The Actor's Garage cameras are rolling, filming the action to turn it into a TV show and commercial. The star of the show will walk the red carpet before the big premiere, and guests leave with their own DVD.
Acting-A-Part
Coverage area: All of New Jersey
Do you have a future Oscar winner on your hands? Acting-A-Part makes your child the star on his or her special day. Party leaders will work with you and your little one to pick a theme, and then they'll involve all of the guests to create and perform a full-on show complete with costumes and music.
RELATED: Top New Kids' Birthday Party Venues for NJ Kids
Animals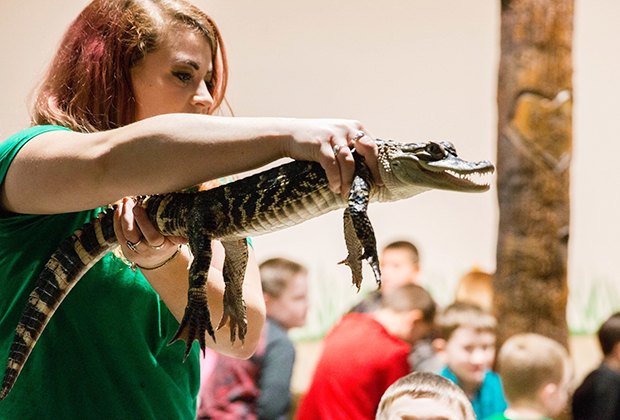 Wow your guests with alligators and more with Rizzo's Reptile Discovery.
Rizzo's Reptile Discovery
Coverage area: All of New Jersey
If you're open to some exceptionally exotic party guests, Rizzo's Wildlife Discovery offers a menagerie of lizards, snakes, frogs, turtles, and insects that will come to your home to wow your little animal lover.
The Lizard Guys
Coverage area: All of New Jersey
For an atypically adventurous way to celebrate another year, invite The Lizard Guys to entertain the littles at your party. The hour-long presentation features close to a dozen reptiles for mini munchkins to marvel at and interact with.
Happy Tales Traveling Petting Zoo and Ponies
Coverage area: All of New Jersey
Who doesn't want a pony for their birthday? Turn that dream into a reality—at least for a few hours—with pony rides. Happy Tales will bring two maned beauties for your little cowboys and cowgirls to ride. They can also fill up an on-site petting zoo with sheep, goats, chickens, ducks, and rabbits.
Art
ArtWorx Events
​Coverage area: All of New Jersey
ArtWorx will bring all of the supplies you need for a kids' paint party, and they'll take care of setup and cleanup, too. Little artists can work with an 11x14 canvas, a tote bag, or pretty much anything else. All parties include a free digital photo album commemorating the event.
Magic & Puppets
Uncle John's Puppets
Coverage area: All of New Jersey
With more than 40 recognizable TV and movie character puppets in his arsenal, Uncle John performs the show as a stand-up comedy routine (so parents will get a kick out of it, too). The birthday kid will help him perform a set of easy, classic magic tricks, followed by the puppet show and a dance party.
Wings of Magic
Coverage area: All of New Jersey
Magician Mark Dolson is a one-man show who truly delivers. His theater and special effects background will bring your child's party to life with magic, puppets, balloon art, slime, and sand play.
B. Happie Entertainment
Coverage area: All of New Jersey
Imagine it and B. Happie can make it happen. Magicians, stilt-walkers, caricature artists, clowns, and jugglers are just some of the talented entertainers available to entertain your child and party guests.
Cooking
Chef It Up 2 Go!
Coverage area: All of New Jersey
It's just not a party without cupcakes, so why not have mini bakers make some as part of the celebration? Or better yet, let the birthday guests make their own food, including homemade pasta and pizza. Those are just some of the yummy options available when you hire Chef It Up 2 Go! And did we mention the chef even cleans up the kitchen? Score!
Face Painting
Paint2Smile
Coverage Area: All of New Jersey
Paint2Smile is dedicated to making your child's party as safe and fun as possible. Owner Laura Hoyos uses FDA-compliant makeup, as well as waterproof paints—perfect for pool or outdoor summer parties.
Gina's Face Tag
Coverage area: All of New Jersey
Take your kiddo's special day to a new level of awesomeness with face and body art by Gina's Face Tag. Temporary glitter tattoos and balloon twisting are also available.
Fifi's Face Painting
Coverage area: Northern and Central NJ
Fifi will customize her face painting to match your kid's birthday party theme, including princess, pirate, fairy, and superhero.
Balloon Twisting
The Mad Hatters
Coverage area: All of New Jersey
Send your little guests home with inflatable souvenirs that they won't soon forget. If you want to check out the Mad Hatters' skills in advice, you can find their entertainers working at restaurants around the state, including Tiffs, Tinga, Friendly's, and McDonald's.
Magical Teamwork
Coverage area: Northern and Central New Jersey
Magical Teamwork offers face painting and costume characters along with the twisted main attraction.
Sports & Games
Game Truck Party
Coverage area: All of New Jersey
If interactive video games and the latest systems (think Xbox One and PS4) is all your kid wants for his or her birthday, take the party outside to a climate-controlled Game Truck that pulls up right to your front door. Kids can pile in and play their favorite games on high-definition, big-screen TVs, making you officially the coolest mom on the block.
Party Maniacs
Coverage area: All of New Jersey
Party Maniacs will do it all. Its all-inclusive party package provides two party hosts for fun and fast-paced musical games, as well as face painting, balloon twisting, and dancing, so you can sit back, relax, and enjoy the happiness on your birthday boy or girl's face.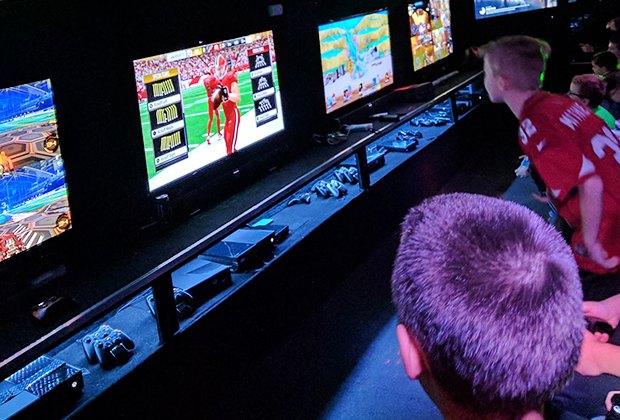 Rolling Video Games brings the latest games right to your backyard.
Rolling Video Games
Coverage area: All of New Jersey
Beyond video game trucks, Rolling Video Games can also transform your backyard into a laser tag battlefield or archery range for target practice. It also offers an inflatable outdoor movie theater to host a movie-themed birthday party under the stars.
Travelin' Tumblers
Coverage area:
Protect your furniture from rambunctious toddlers with an action-packed obstacle course. Incorporating giant parachutes, songs, tumbling equipment, and props, Travelin' Tumblers makes sure everyone is having fun, so you don't have to.
Top photo: Cuddle with a princess (or two) at My Fairytale Party. Photos courtesy of the entertainers.
Updated for 2018.