Kids' Birthday Party Entertainers in NJ that Come to You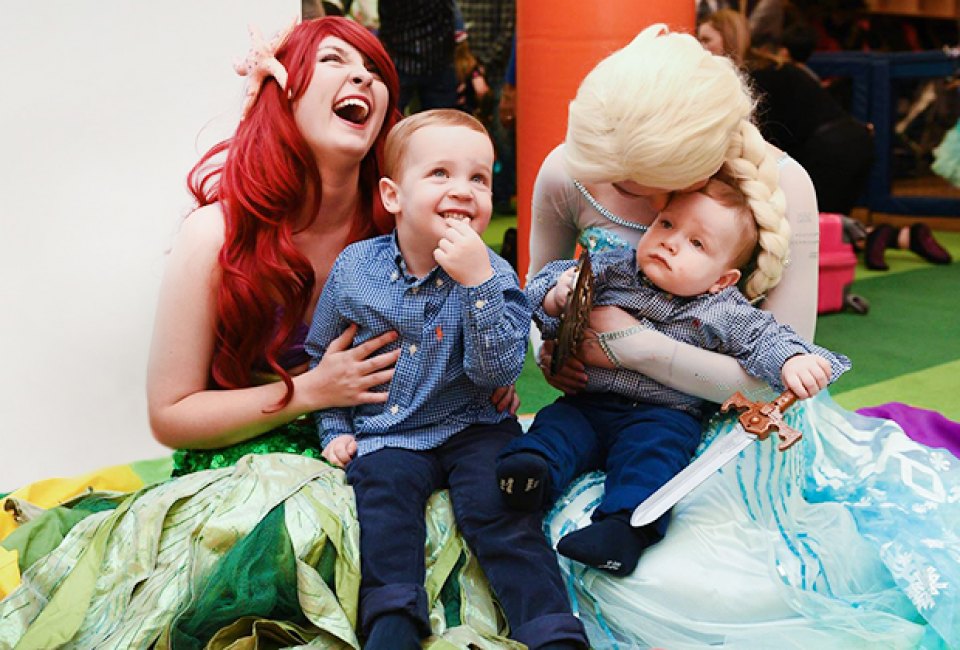 7/25/21
- By
Margaret Hargrove
There's nothing like the comfort of your own home when it comes to hosting your kid's birthday party. Sure, you have to clean up, but you're in control, and you don't have to worry about sharing a space with other parties. And, since the cost of an at-home party tends to be lower, it's the perfect opportunity to splurge on a one-of-a-kind experience that brings the party to you.
We've rounded up top New Jersey entertainers for your next bash. From costumed characters to magicians, balloon twisters, and face painters—even ponies and lizards—these party entertainers make house calls to delight your birthday kid and pint-sized party guests.
Find more ideas in our NJ Birthday Party Guide.
Subscribe to our newsletters to get stories like this delivered directly to your inbox.
Character Visits for an At-Home Birthday Party
Coverage area: All of New Jersey
Perfect Princess Parties aims to make your little princess's dreams come true. Invite one or two princess characters to your home for singing, dancing, and storytime, as well as face painting, games, and a coronation of the birthday girl with a real rhinestone tiara.
Coverage area: All of New Jersey
If a one-stop shop with plenty of options is what you're after, Bella Princess will satisfy. Offering costumed characters from your kid's favorite fairy tales, as well as singing telegrams, spa experiences, party favors, crafts, centerpieces, and cupcakes, Bella Princess lets you plan the exact party your little one wants.
RELATED: Top Party Spots for NJ Preschoolers

My Fairytale Party sends storybook characters to celebrate with the birthday kid and guests.
Coverage area: All of New Jersey
Fulfill your little Disney fan's ultimate fantasy with a My Fairytale Party. Pick from a cast of storybook characters and party packages that range from a musical performance and meet-and-greet to dress-up time or a full-service tea party.
At-Home Spa Party Providers Bring the Pampering to You
Coverage area: Central New Jersey
After getting hair, nails, and makeup done by their very own glam squad, the birthday girl and her guests can accessorize with provided props to rock the runway in a mini fashion show. Little Miss Fashionistas even takes and prints pictures right on the spot for guests to take home.
RELATED: Splurge on Your Jersey Kid with These Special Outings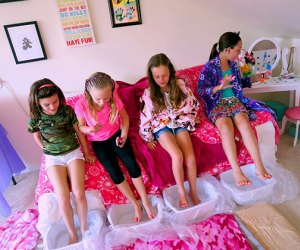 A group of party girls enjoys a relaxing foot soak before their Mobile Kids Spa Party pedicure.
Coverage area: Northern and Central NJ
Book a mini mani/pedi, massage, and facial for girls as young as 3, or make your own bubble bath, bath salts, sugar scrub, or lip balm. Mobile Kids Spa Parties also provides an online photo album and DVD of party memories.
Musicians To Rock Your Next At-Home Birthday Party
Coverage area: Northern and Central NJ
Need an idea for your baby's first birthday? Rockness Music—formerly Preschool of Rock—offers a musical baby birthday theme that's perfect for little ones, bringing the contagious energy of its popular music classes into your home. Parties for toddlers include instruments, drums, shakers, and scarves.
Coverage area: All of New Jersey
Book a Funny Bonz DJ for your big kid's birthday party. It has the latest music for kids of all ages and helps get the party started with interactive games such as The Chicken Dance, YMCA, and Limbo.
Make Movies at Your At-Home Birthday Party
Coverage area: All of New Jersey
Do you have a future Oscar winner on your hands? Acting-A-Part makes your child the star on their special day. Party leaders will work with you and your little one to pick a theme, and then involves all of the guests to create and perform a full-on show complete with costumes and music.
RELATED: Top New Kids' Birthday Party Venues for NJ Kids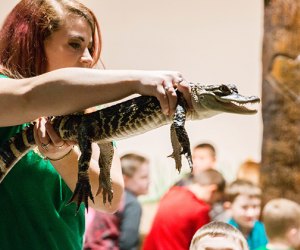 Wow your guests with alligators and more with Rizzo's Reptile Discovery.
At-Home Animal Experiences for Kids Who Love Critters
Coverage area: All of New Jersey
If you're open to some exceptionally exotic party guests, Rizzo's Wildlife Discovery offers a menagerie of lizards, snakes, frogs, turtles, and insects that come to your home to wow your little animal lover.
Coverage area: All of New Jersey
For an atypically adventurous way to celebrate another year, invite The Lizard Guys to entertain the littles at your party. The 45-minute presentation features close to a dozen reptiles for mini munchkins to marvel at and interact with.
Coverage area: All of New Jersey
Who doesn't want a pony for their birthday? Turn that dream into a reality—at least for a few hours—with pony rides. Mountainside Stables brings up to 10 maned beauties for your little cowboys and cowgirls to ride. It can also fill up an on-site petting zoo with sheep, goats, chicks, ducklings, and llamas.
Party Services for an At-Home Arts & Craft Party
Coverage area: Northern NJ
Owner Allegra Baldwin brings her trailer full of fun to your backyard for various DIY activities, including tie-dye, canvas painting, jewelry making, and paper mache. Her mobile creative studio also offers sensory play for toddlers with water beads, rice tables, play-dough, kinetic sand, and so much more. Her tricked-out trailer even includes a wash and sanitation station, so kids won't even have to come inside to clean up.
Coverage area: All of New Jersey
ArtWorx brings all of the supplies you need for a kids' paint party and takes care of setup and cleanup, too. Little artists can work with an 11-by-14 canvas, a tote bag, or pretty much anything else. All parties include a free digital photo album commemorating the event.
Make Magic at Home with Magicians & Puppeteers
Coverage area: Northern NJ
The former Ringling Bros. clown brings the circus to your yard. Whether juggling fire, balancing a ladder on his head, or doing tricks on his unicycle, Krazy Kevin's hilarious antics are sure to bring joy to the hearts of young and old at any birthday party.
Coverage area: All of New Jersey
With more than 40 recognizable TV and movie character puppets in his arsenal, Uncle John performs the show as a stand-up comedy routine (so parents get a kick out of it, too). The birthday kid helps him perform a set of easy, classic magic tricks, followed by the puppet show and a dance party.
Coverage area: All of New Jersey
Magician Mark Dolson is a one-man show who truly delivers. His theater and special effects background brings your child's party to life with magic, puppets, balloon art, slime, and sand play.
Coverage area: All of New Jersey
Imagine it, and B. Happie can make it happen. Magicians, stilt-walkers, caricature artists, clowns, and jugglers are just some of the talented entertainers available to entertain your child and party guests.
Get Cooking with an At-Home Birthday Party Chef
Coverage area: All of New Jersey
The Blue's Baking Bash team travels around teaching kids how to create scrumptious sweet treats, both virtually and in person. For in-person events, the staff brings all the supplies and ingredients to your house and teaches kids how to bake and decorate. For virtual parties, a pre-made kit is mailed out to each guest, along with a virtual link to join the party and learn together.
Coverage area: All of New Jersey
It's just not a party without cupcakes, so why not have mini bakers make some as part of the celebration? Or better yet, let the birthday guests make their own food, including homemade pasta and pizza. Those are just some of the yummy options available when you hire Chef It Up 2 Go! And did we mention the chef even cleans up the kitchen? Score!
Friendly Face Painters for Your Next At-Home Party
Coverage area: All of New Jersey
Paint2Smile is dedicated to making your child's party as safe and fun as possible. Owner Laura Hoyos uses FDA-compliant makeup, as well as waterproof paints—perfect for a pool or outdoor summer parties.
Coverage area: All of New Jersey
Take your kiddo's special day to a new level of awesomeness with face and body art by Gina's Face Tag. Temporary glitter tattoos and balloon twisting are also available.
Coverage area: Northern and Central NJ
Fifi customizes her face painting to match your kid's birthday party theme, including princess, pirate, fairy, and superhero.
Add a Fun Twist to Your At-Home Party With Balloon Twisting
Coverage area: All of New Jersey
Send your little guests home with inflatable souvenirs that they won't soon forget. If you want to check out the Mad Hatters' skills in advice, you can find their entertainers working at restaurants around the state, including Tiffs, Tinga, Friendly's, and McDonald's.
Coverage area: Northern and Central New Jersey
Magical Teamwork offers face painting and costume characters along with the twisted main attraction.
Sports & Gaming Trucks Deliver the Party to Your Doorstep
Coverage area: All of New Jersey
If interactive video games and the latest systems (think Xbox Series X and PS5) are all your kid wants for their birthday, take the party outside to a climate-controlled Game Truck that pulls up right to your front door. Kids can pile in and play their favorite games on high-definition, big-screen TVs, making you officially the coolest parents on the block.
Coverage area: All of New Jersey
Party Maniacs will do it all. Its all-inclusive party package provides two party hosts for fun and fast-paced musical games, as well as face painting, balloon twisting, and dancing, so you can sit back, relax, and enjoy the happiness on your birthday boy or girl's face.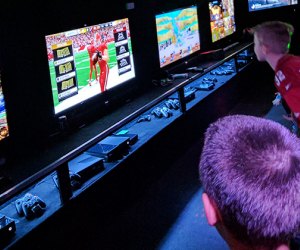 Rolling Video Games brings the latest games right to your backyard.
Coverage area: All of New Jersey
Beyond video game trucks, Rolling Video Games can also transform your backyard into a laser tag battlefield or archery range for target practice. It also offers an inflatable outdoor movie theater to host a movie-themed birthday party under the stars.
Coverage area: Northern and Central NJ
Protect your furniture from rambunctious toddlers with an action-packed obstacle course. Incorporating giant parachutes, songs, tumbling equipment, and props, Travelin' Tumblers makes sure everyone is having fun, so you don't have to.
This post has been updated for 2021.
Sign up for the Mommy Poppins Newsletter today!