How to Pick a Daycare That You Actually Love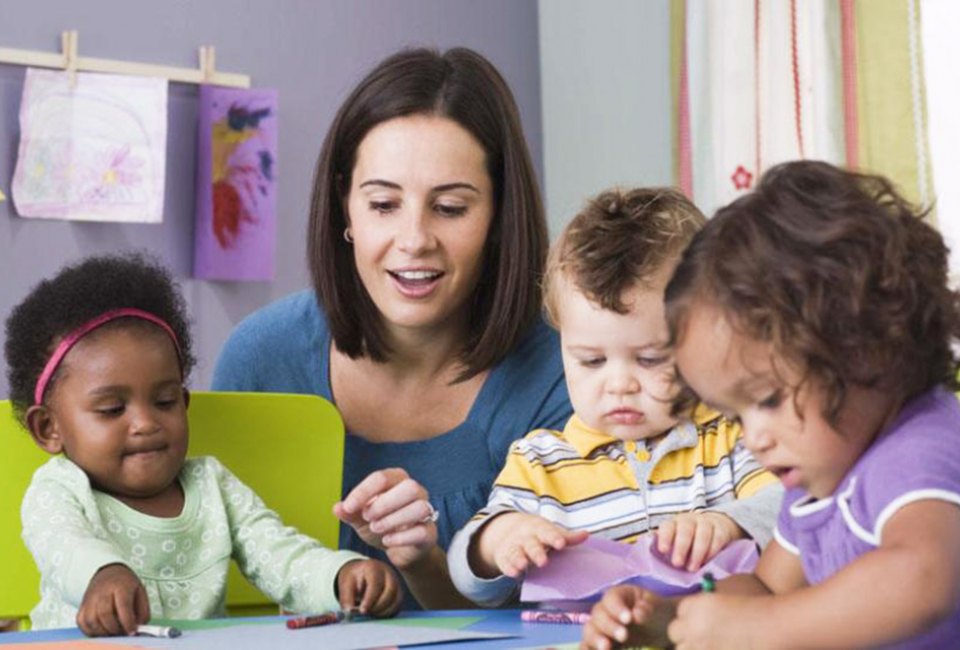 8/27/18
- By
Suzy Q
Whether it's your first child or your third, finding the best daycare option for your family comes with its share of challenges. Most parents are looking at factors like cost, hours, location, safety, and child-teacher ratio, but of course, another major requirement is an environment that's warm, inviting, and family-friendly. While trying to find the perfect daycare can make any parent anxious, the relationships and beautiful memories you'll create as a family will make all the effort worthwhile.
To help guide your search for the right daycare, we reached out to childcare program directors, Mommy Poppins editors, teachers, and professional moms to collect their stories and consolidate their advice. These daycare veterans have had time to reflect on their choices, and are ready to share their wisdom and lessons learned, which, together with your area's Daycare Listings, can help you pick a daycare that you actually love.
Daycare 101
Daycare is a broad term that covers many forms of childcare. Your child can start daycare as early as a few weeks to 4 or 5 years of age, although most daycare programs serve infants through age 4. Daycares also typically differentiate their care programs by age, separating children into infant, toddler, and preschool groups. Daycare goes by many names, too: Programs can be called preschools, early childhood centers, or early child academies. Daycare centers are perhaps the most common type of group childcare environments, but in many areas, you'll also find private, in-home group childcare, sometimes called family daycare, run by licensed caregivers who provide care for small groups of babies and children.
RELATED: How to Get the Most Out of a Nanny or Babysitter Interview

The toddler room at Discovery Pitstop is a warm environment where toddlers play and learn. Photo courtesy of the center
After researching different naming conventions for daycares and preschools, Linique McCoy, Director of Discovery Pitstop in Brooklyn, NY, settled on the name Early Learning Environment. "I felt like it was more inclusive. The term daycare makes you think more of the care aspect, which is an obvious portion of what we do. But it is so much more than that. There are many other components to our day that help a child be nourished in many ways, academic, social, physical…Then there's the interactions between teachers, parents, and administrators. It's a learning environment for everyone, not just the children, but the parents as well." That's not to say there aren't amazing programs that use the name daycare, perhaps by default, McCoy added.
Regardless of its name, the most important thing about any daycare program is that it meets the needs of your family and your child. Group care offers a shared experience that creates a community among teachers, children, and families. While group childcare is different from the one-on-one relationship a child has with an individual caregiver, the work of a great daycare is to provide a family with a high level of comfort, attention, and guidance for the children in their care, and their parents.
Start Your Search Early, and Keep Your Options Open
Jody, a mom of three, felt she was late in starting her search for the right daycare. "I feel like I was late to the game, not starting a daycare search until my son was born. Ultimately, we found a spot at a new daycare that was semi-convenient for us—but I was surprised at the length of the waiting list for some reputable programs." Waitlists are common for popular centers, so it can help to start looking early, and to be open to a variety of options. Jody notes that while at first she was only looking at daycare centers, widening her search to include family daycare improved her choices. "Eventually, we switched to an amazing daycare provider who had an in-home center and the standards she has to live up to are rigorous. I wish I'd known from the beginning how closely regulated in-home providers are, because we may have found our wonderful provider sooner!"
Crismeylin, a mother of two, found herself in a similar situation. When the time came to return to work after having her first child, she felt panicked about finding the right care—and finally settled on having her grandmother watch her daughter for the first year of her life. But a series of life changes shaped their childcare needs and goals by the time they were expecting their second child, and Crismeylin found a family run daycare in their neighborhood and ultimately became a member of the PTA for the daycare: "I felt like a part of the program."
The best reason to start your search as soon as possible is to give yourself ample time to make the decision. As Jody says, "It's such a deeply personal thing entrusting your child to someone else, so it can't be a black-and-white business decision or relationship. You have to get to know your caregiver and be ready to commit to being a team."
Intuition Is Everything
You may not know it on your first visit to a daycare, but your intuition about the daycare staff and environment is everything. Linique McCoy, the Director of Discovery Pitstop Early Learning Environment, is a mother of two herself, and when searching for a daycare option for her own children, she and her husband knew exactly what they wanted—often to the detriment of the programs they visited. "We already had a specific idea of what we wanted it to look and feel like. We were really looking for that family feel." The couple settled on the school McCoy attended during her preschool years, even though it wasn't the most convenient choice. "Walking in and feeling that warmth, and that our children would be safe there...Even though it wasn't the most convenient choice, it was the choice that made us feel the safest, not worrying about whether or not they would be ok and that they were happy." A great daycare should make you feel welcome, safe, and supported.
As a daycare provider, McCoy works to close the gap between home and school by hosting parent classes, weekend events, and parent forum nights, where parents can mingle in the classroom and give staff members feedback. "You cannot nurture a child without ensuring that their parents are well informed," McCoy says. Look for a daycare program where your information needs are met, and where your instincts about your child's needs are fulfilled.
Do Your Research, Plan Visits, and Ask Questions
Tawanda, a mom of one, started her daycare search by asking around for references, and then dug in to some research on her own. "I googled best daycares, then I looked at the state reviews for any daycare violations. Site visits are also a must!" Ultimately Tawanda placed her two-month-old daughter into Chesterbrook Academy's Infant Program, where today she is three and half years old and flourishing.
Most daycare programs host parent information sessions, typically during spring and fall enrollment periods, where parents researching the program are invited to visit, either during the day, after hours, or both. If the daycare location you're interested in is open to it, consider visiting at different times of the year to see the progress of the staff, teachers, and children. On your visits, look carefully at how the facility is set up for playtime, naptime, and meals, and observe how caregivers and children interact. Don't be shy about asking questions about the factors that are most important to you:
What is the caregiving philosophy, and how does that factor into the day?
What is the daily schedule like?
Are snacks or meals provided, and if so, what kind?
What are the toys and games available?
Do children play outside, and if so, where and how often?
How long has the current staff been there, and what is their past experience?
What happens if my child is sick?
How do you keep parents up to date with what's happening during the day?
When you have found the right daycare, you will know. You may even find the ideal situation where you least expected. This was the case with Jody Mercier, who discovered an in-home daycare that helped her family to bloom and grow. "When we entered her space, it was bright and clean, decorated with children's artwork. There were plenty of old-school toys and zero electronics. A home-cooked lunch simmered on the stove, and the kids eagerly sat in a circle for story time and songs. The love the caregivers had was infectious. I often tell people I wouldn't have three kids in this city without our fabulous daycare provider who is very much a member of our family."
Teachers Make Successful Transitions Possible
Cinthya is a teacher and mother of two who has worked as a lead teacher in an infant-toddler classroom for the last six years. I asked Cinthya to share three things she wished she could communicate with parents before they signed their children up for daycare. Her response? First, the beginning of the school year is very hard for parents, children, and teachers. There are so many transitions happening at the same time, "there are new families, old families, and everyone is crying!" Second, it's important to build trust. The first two months are often challenging, as Cinthya says, because the teachers are trying to build that trust, but she promises, "It gets better! It is going to be OK."
Finally, flexible thinking is essential when working with teachers, as their observations may differ from your perception of your child. According to Cinthya, teachers love and care for children because it is their passion. Their job is to honor every child and their experiences. Every child works and grows, and it takes time to build a trusting relationship in a group daycare setting.