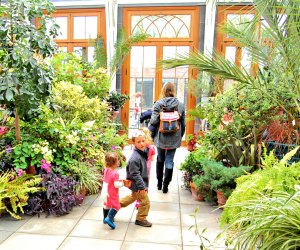 7 Easy Winter Day Trips for Boston Families
Ah, winter—the season of cozy togetherness, indoor fun, and, yes, the need to escape the house (at any cost). While a trip to a local museum or play place often fits the bill, sometimes, we all feel the need to stretch our horizons beyond the I-495 corridor. There's plenty of nearby skiing and indoor water park action to be had, of course, but in the event you're looking for something mellower (and, let's face it, cheaper), we have some ideas for you. Here are five day trips that allow you to wake up and fall asleep in your own beds, while packing in lots of beyond-Boston fun in between.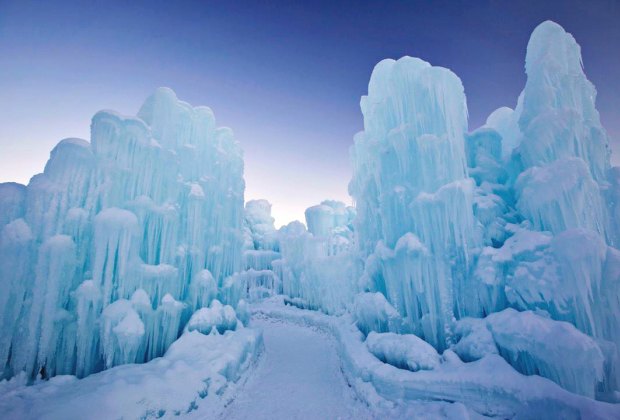 Ice Castles is a spectacle well worth the drive. Photo courtesy of Ice Castles
1. Lincoln, NH
The draw to little Lincoln, about two hours north of the city, is a big one: Ice Castles, one of 6 of its kind in the U.S. and Canada (and the only one in the Northeast). Crews grow more than 10,000 icicles a day to affix to the existing structures, and eerily beautiful shapes freeze around them. Kids can roam and explore over an acre of structures, tunnels, steps, and more. It's set to open as soon as the temperatures dip steadily low enough, which will likely be in late December or early January (you can check its Facebook page for updates). This year, an "enchanted frozen princess" will be greeting guests on most days.
Where to eat: Grab something quick when you hit the road in the morning, but once you get into town, be sure to hit Flapjacks Pancake House for a big breakfast or brunch. The Recess Peanut Butter Cup pancakes topped with whipped cream is almost as magnificent as the castles you'll see later.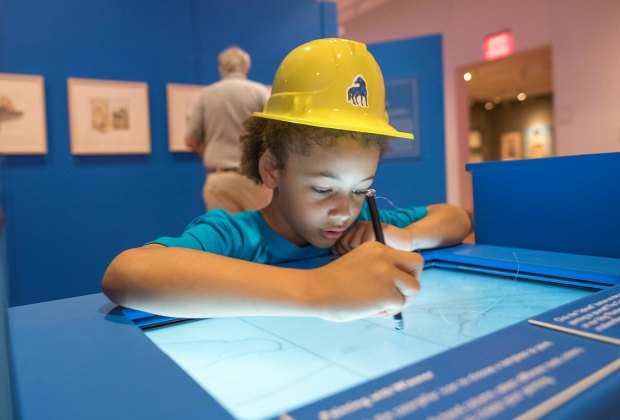 Get creative at The Eric Carle Museum of Picture Book Art. Photo by Jim Gipe/Pivot Media
2. Amherst, MA
Books like the Very Hungry Caterpillar and Brown Bear are a part of many our kids' childhoods, so it's well worth the just-under-two-hour car trip to the home of the Eric Carle Picture Book and Museum. The environment there is particularly well-suited to bringing out kids' own creativity, with an interactive studio filled with art materials and plenty of oversized renderings of Carle's most beloved characters. Children in grade school or above will also get a lot from a trip to the Emily Dickinson House, which is full of periodic curiosities. If kids were unable to find a souvenir in either museum's very cool gift shop, make a stop at the Toy Box, where they have great books as well as playthings.
Where to eat: Colorful Judie's is "home of the popover," but also mix of family-friendly sandwiches, soups and seafood.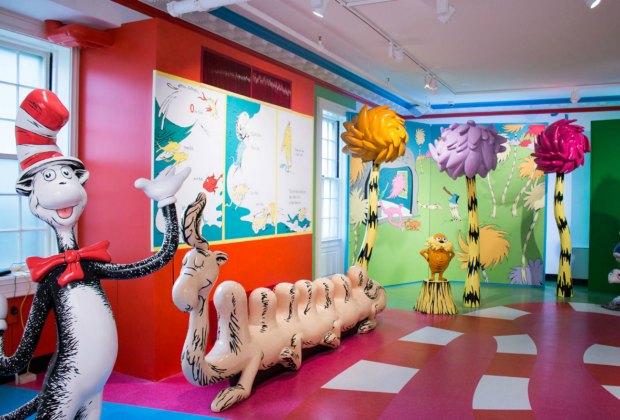 There's eye candy at every turn at the Seuss Museum. Photo courtesy of Springfield Museums
3. Springfield, MA
With the recent addition of the Amazing World of Dr. Seuss Museum, nearby Springfield has solidified its growing reputation as a special destination for kids. We think its a particularly great destination in the winter, when young hoops fans can also make a stop to the Naismith Memorial Basketball Hall of Fame and learn more about their favorite team (there's plenty of Celtics memorabilia). Definitely plan to top off the day with some fresh air (or a even just a drive-through) at Bright Nights at Forest Park, which is transformed into a winter wonderland every evening.
Where to eat: An easy, tasty spot for lunch or dinner, Red Rose Pizza serves up extra-large trays of pie and comforting pasta dishes.
4. Worcester County, MA
Worcester is just about an hour west of Boston but feels like a legitimate getaway, thanks to a few special places to visit this time of year. The EcoTarium might just be our favorite kids' museum in the state, with its hands-on exhibits like a step-in wind tunnel, a giant chess board, an open play area, and a thrilling see-through floor on the top level. During the first two weekends in December, the EcoTarium hosts Wild About Winter, where kids can celebrate the season. After a couple hours at the EcoTarium, don't miss a trip to the Tower Hill Botanic Garden, which has some of the most magical looking holiday light displays around.
Where to eat: Lunch, anyone? With juicy burgers and thick, creamy milkshakes, The Fix is a total treat for kids (and their grown-ups).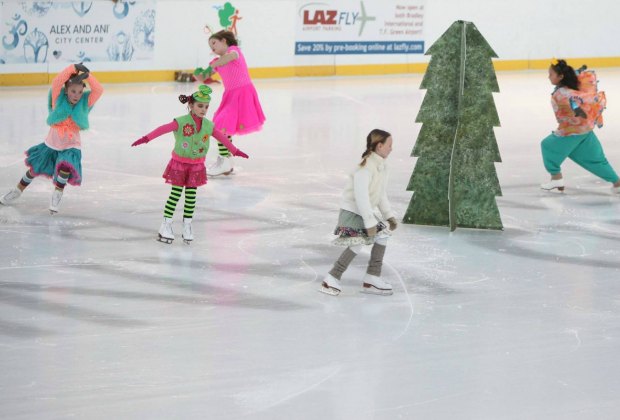 Skating at the Alex and Ani City Center is a highlight of wintertime in Providence. Photo by Kyle Auclair
5. Providence, RI
Not all Bostonians realize just how close and accessible the capital city of our southern seaside neighbor really is. Just about an hour drive unlocks a wide array of possibilities for a day both educational and active. We recommend you divide your day between Roger Williams Park Zoo, where a new rainforest exhibit awaits, and the Providence Children's Museum, where the water play station and climbing maze are always a hit. Follow-up a day indoors by taking a twirl around the Alex and Ani Skating Rink, one of our favorite outdoor rinks in the region.
Where to eat: Kids' meals are half-price Sunday to Tuesday at Chelo's Hometown Bar and Grill, which also has an excellent kids' menu (try the "jr. chicken parm") and activities to keep them busy.
​6. Foxborough, MA
Got little Pats fans? Patriot Place offers so much for children during the winter and holiday season. Bass Pro hosts a wide variety of museum quality dioramas (visit Santa's Wonderland for crafts, activities, and free photos with Santa through Christmas Eve each year). For more educational components to your trip, look for the large fish tank on the same floor, and also a turtle habitat and waterfall that will delight the little ones. The half-mile Nature Trail in the back of the store is worth checking out: It features a working cranberry bog and a boardwalk out into the wetland. You can gain access through the lower level of Bass Pro through an exit in the restaurant or walking around the store on the outside. Look for a paved walkway heading down to the water. Also visit Winter Skate, on the other side of Patriot Place. It's one of our favorite outdoor skating rinks around Boston!
Where to eat: Athletic prowess may be on display in "the Hall," but feats of culinary excellence are on show at Saga Hibachi Steakhouse and Bar. Kids love being entertained by the chefs' tricky knife skills (and accompanying good humor), and the stir fry dishes are both healthy and kid friendly.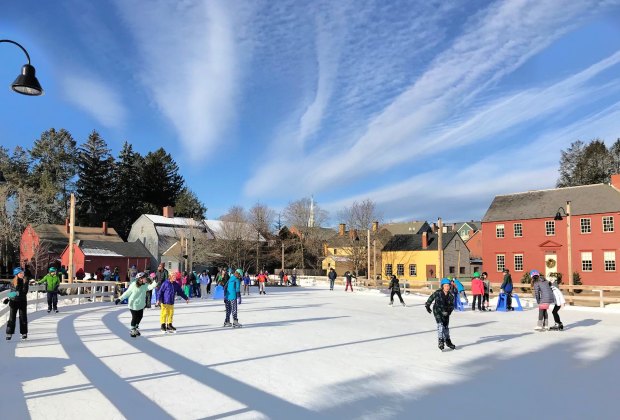 Labrie Family Skate at Puddle Dock Pond in Portsmouth. Photo courtesy of Strawbery Banke Museum
7. Portsmouth, NH
Just about an hour north of Boston, you'll find quaint Portsmouth, NH. There's hardly a better place to experience a historic holiday celebration than this little town on the New Hampshire Seacoast. The city's Vintage Christmas has events happening throughout December, like a production of Elf The Musical at the famous Music Hall, a Candlelight Stroll at the historic Strawbery Banke Museum, and even a Gingerbread House Contest. Don't miss a spin around the Labrie Family Skate at Puddle Duck Pond, an outdoor rink at Strawbery Banke. And if you've still got some shopping to do, head to G. Willikers Toys & Books, where you'll find something for everyone on your list.
Where to eat: Try The Friendly Toast, which has hearty, decadent breakfasts, lunches, and dinners to satisfy any appetite.
First published December 2017; updated December 2018.