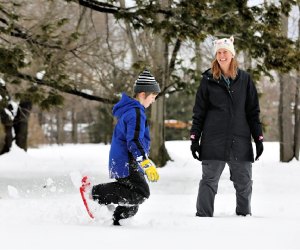 Winter Day Trips in Massachusetts for Boston Kids and Families
When Boston's winter doldrums set in—a likelier-than-ever possibility in 2020 and 2021—a day trip with kids can be just the thing to raise everyone's spirits. With travel restrictions making across-the-border visits complicated this year, we'll be looking for short, COVID- and family-friendly day trips right here in Massachusetts. A winter morning or afternoon escape to these parks, museums, and farms isn't exactly a tropical getaway, but it can provide a little excitement to an otherwise quiet winter—and a welcome respite from cabin fever.
For more cold-weather outings, see our roundup of Boston-area outdoor skating rinks that are open in 2020 and our favorite Northeast Ski Mountains for families.
While we are trying to promote safer activities that occur outdoors or with social distancing guidelines in place, please keep your family and others safe by always wearing a mask and maintaining appropriate distance. If you arrive at an event that appears too crowded try using the see all locations in this article or "nearby" search feature on our event calendar to find something else to do.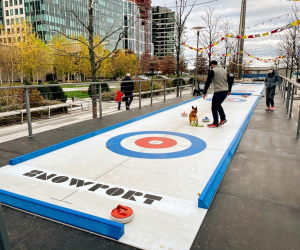 OUR LATEST VIDEOS
No need to travel north to try this Olympic winter sport—there's curling downtown! Photo courtesy of Boston Seaport
This winter, the Seaport has transformed into Snowport—an outdoor winter wonderland of fun. Learn how to curl, hunt for Betty the Yeti, and warm up with soup, mocktails, and cocktails in a rooftop Igloo!
The spot where so many local kids learn how to ski is adjacent to a exciting, kid-friendly hiking trails (think fun rock scrambles) and a quaint Trailside Museum that has year-round outdoor exhibits of animals, including otters and owls (reservations now required).
A welcome reward for a winter walk: meeting some friendly barn animals. Photo courtesy of Appleton Farms
One of the country's oldest continually operating farms offers guided tours, miles of hiking trails (including stroller-friendly farm roads), snowshoe rentals, and a busy programming schedule featuring maple sugaring tours in early March. On winter weekends, there are fresh-baked treats for sale, and fire pits going for cozy, socially distant socializing.
This gorgeous, flat property features groomed cross country skiing trails, Native American historic sites, and free tours of a working dairy farm.
The expansive property around the Gore mansion has become a favorite of local snowshoers. There is also a Nature Playscape for kids to frolic around, and barnyard animals to visit. Babywearing tours are a popular winter pasttime for new parents; check the website to see whether they will be happening, and in what form, in 2021.
Lincoln is a special place to be in winter with kids. Drumlin Farm is open by reservation, and kids can explore the aviary and barnyard areas, and the deCordova Sculpture Park grounds (always free for children under 12) offer an expansive place to run around and see art in the fresh air.

Warm up in the greenhouse—just remember your masks this winter. Photo courtesy of Tower Hill Botanic Garden
Night Lights may have gone dark in 2020, but kids can look forward to the Yeti, Set, Go program, running through January 31, 2021. With a pre-purchased ticket, families can do a winter scavenger hunt to find colorful, shaggy haired yetis—escaped from Wachusett Mountain, so the story goes—among the outdoor gardens that are decked out for wintertime. The indoor gardens are open, too, with social distancing and mask policies in place.
December 2020 update: The Boston Children's Museum will be temporarily closed between December 13, 2020 and January 7, 2020. Check the website for reopening information.
The museum has adopted carefully timed ticket and mask policies to ensure that kids can safely explore and learn this winter. Some favorite exhibits, like the New Balance Climb and PlaySpace, are closed at press time, but the new Snowmazing exhibit includes play igloos, sock skating, and more.
December 2020 update: The Eric Carle Picture Book and Museum will be temporarily closed, with a tentative plan to reopen in early 2021. Check the website for reopening information.
This beloved museum that captures the artwork of so many kids' favorite author is open with social distancing measures in place. The environment there is particularly well-suited to bringing out kids' own creativity, with an interactive studio filled with art materials and plenty of oversized renderings of Carle's most beloved characters.
First published December 2017; updated December 2018, 2020