Winter Hikes and Walks To Take with Boston Kids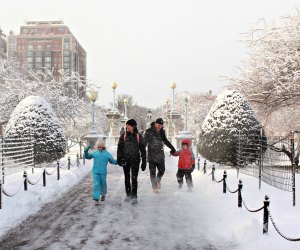 1/15/21
- By
Elyse Andrews
Boston winters are long and cold—no doubt. But a surefire (and blessedly simple) way to shake off a case of cabin fever is to bundle up and head outside for a winter hike or walk. From the heart of the city to the hilly suburbs, Massachusetts boasts many paved or wooded trails that are as majestic in winter as they are in spring or summer, whether dusted or just swept bare by the elements.
If Mother Nature delivers more than a few inches of snow, consider trying out one of the places to snowshoe with kids around Boston instead. Kiddos feeling lazy? A stop at a Boston cafe with great hot cocoa or the promise of a homemade hot chocolate bomb treat to follow your outing is sure to sweeten the deal.
Walking Paths for Winter Walks with Kids in Boston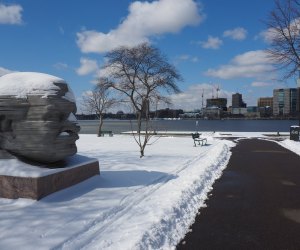 There are plenty of natural and artsy surprises to see when walking along the Esplanade. Photo courtesy of The Esplanade Association
Somerville Community Path
I walk on the Somerville Community Path, which now runs from Lowell Street through Davis Square, nearly every day of year. It's spectacular any time of year, a true respite from busy city life, but it really shines in winter. In one recent year when the snow was piled high, the path had been cleared, and walking on it was like being in a winter wonderland. Since one end of the path is in Davis, consider stopping for lunch or hot chocolate mid-walk to warm up.
Minuteman Bikeway
This 10-mile paved multi-use trail runs from the Alewife MBTA Station in North Cambridge through Arlington and Lexington to Bedford. There are many access points, making the path easy to find no matter which town you're in, and the trail's paved surface makes it the perfect place to take a winter stroll when you're itching to get outside. As with the Community Path, the Minuteman goes right through several downtown areas, which have nice places for hot chocolate or a lunch break.
Boston Common and Public Garden
Beautiful in any season, a walk through the Boston Common and Public Garden is extra lovely in winter. Snow tends to make the city seem quieter than usual, so you might even feel like you have the place to yourselves. Stop by the "Make Way for Ducklings" statue for a winter portrait you're sure to cherish.
The Esplanade
On either side of the Charles River runs a paved path that's a great destination for a winter walk. Whether you're in Boston or Cambridge you'll enjoy spectacular views of the other city from the path and can even-pit stop at the Museum of Science, which sits along the path, for a little indoor exploration.
Trails for Winter Hikes with Kids Outside Boston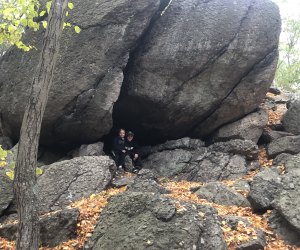 Rocks are fun to scramble over (and play hide and seek in) at Hammond Pond Reservation. Photo by Kelley Heyworth
Hammond Pond Reservation/Webster Woods
Tucked behind The Street at Chestnut Hill is a winding network of trails that are frequented by families as well as rock climbers—the area is dotted with enormous outcroppings of Roxbury Puddingstone, the state rock of Massachusetts. Scrambling up and down the smaller rocks is a great way to keep kids warm during this winter walk. The trails lead to the MBTA train tracks, which hikers can (carefully) cross to extend a walk to lovely Houghton Garden, a great spot to walk with young children in particular any season of the year.
Fresh Pond
The ever-changing landscape at Fresh Pond Reservation in Cambridge makes it a fun walking destination in any season. Do a loop of the pond in winter to stretch your legs and get some much-needed fresh air. It's so scenic, it's almost hard to believe how close to the city you are when you're at the pond.
Walden Pond
Located in Concord, Walden Pond is a favorite destination in the summer, but you can walk the peaceful trail that surrounds the pond in winter as well. If it hasn't been too snowy, boots should do the trick, but if the snow is piling up, better take along some snowshoes.
Middlesex Fells Reservation
Just north of Boston, the Middlesex Fells Reservation straddles Malden, Medford, Melrose, Stoneham and Winchester, and includes trails for all ability levels. There's plenty of parking, especially if you start at Sheepfold, which is also a popular dog play area. As with Walden, if the snow is light, boots should be fine; otherwise, bring snowshoes.
Blue Hills Reservation
Just south of Boston, Blue Hills Reservation straddles Milton, Quincy Braintree, Canton, Randolph and Dedham, and includes trails for all ability levels. For kids and hikers with special needs, the trail connected to the Blue Hills Trailside Museum is especially simple to navigate, but still has steep parts and interesting rock formations to make the trek exciting. Boots will be fine in light snow, but snowshoes are recommended for deeper snow. Some areas are even popular with cross-country skiers.