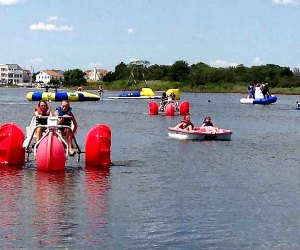 Hit the Water with Paddleboat, Canoe, and Kayak Rentals in New Jersey
Looking for a great summer outing that'll float the family's boat? A ride in a paddleboat (sometimes called a pedal boat), kayak, canoe, or rowboat offers panoramic views of New Jersey's scenic parks and lakes, and an opportunity for family time that may actually be peaceful.
Paddleboat and kayak rentals are available throughout the state. Check the specific paddling locations for any age or weight restrictions, then sit back and enjoy the ride. (And don't forget the sunscreen!)
Feeling more adventurous? Find the best places for tubing and rafting in and around NJ.

Pick a swan, dragon, pelican, or flamingo at Asbury Park Pedal Boats.
2020 Update: Asbury Park is open for paddleboating from 11 am to dusk every day. No reservations are required.
Wesley Lake not only offers swans, but also dragons, pelicans, and flamingos. A boat costs $20 for a half-hour and can accommodate two adults and one child, or one adult with two children. Other options are available for larger groups. The lake is conveniently located minutes from the beach and boardwalk area, so make a day of it.
Reopened for 2020.
This pretty spot on the Rahway River offers 2-hour canoe or kayak rentals to families and an adorable rubber duckie race. There is an age requirement at this NJ boat rental spot but also coveted tandem kayaks that parents and kids can enjoy together if of age. A concession stand serves hot dogs, ice cream, drinks, and snacks.
The park is open but paddleboats, mini golf, and the spray park are closed in 2020.
There's so much to do in this busy, well-maintained park, including a recently renovated playground, flourishing gardens, fishing, a putting course, a dog area, and paddleboating on Powder Mill Pond. Paddleboats are rented for $10 for a half-hour ($13 if you opt for a duck-shaped boat), and for those with disabilities, hand-operated pedals are an option. The almost-square-mile park has so much to offer, so pack a picnic lunch and explore.
RELATED: The Best Lakes for Swimming with Kids in New Jersey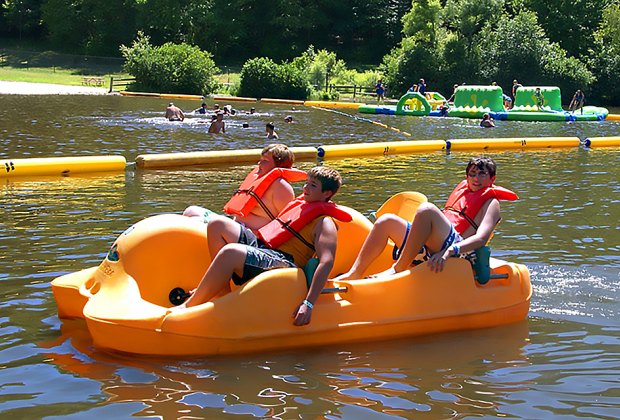 Closed in 2020, but normally the paddleboats are just one part of the fun at Sunrise Lake!
Paddleboats are unavailable as the lake water park is closed in 2020, but the park remains open for hikes.
This expansive 1,000+–acre park is home to Sunrise Lake, where you'll find all kinds of water adventures. Visitors can swim, sail, or play on a crazy inflatable obstacle course, known as a Wibit. (Wibit explorers must be over age 7 and pass a swimming test.) Paddleboats can be enjoyed by all family members at the cost of $5 for a two-person boat or $7 for a four-person boat. See website for lake activity and beach access fees. In addition to water recreation, visit the park's picnic areas, walking paths, a dog park, equestrian trails, and the colorful Saturn Playground.
Reopened in 2020 with masks and social distancing required at check-in and pre-payment and online reservations recommended.
If you're day tripping to Princeton to enjoy the pretty New Jersey college town or the popular nearby farm of Terhune, it's worth throwing in a sail down the D&R Canal or into a pretty lake with Princeton Canoe and Kayak. Choose from either type of boat. There are no age restrictions, and kids can ride in the canoe with parents.
Open for 1-hour kayak rentals only in 2020.
The scenic marina in this sprawling park features paddling, kayaking, rowboating, and fishing on Lake Mercer. Paddleboat and rowboats rentals are $16 an hour, and two-person kayaks are available for $20 an hour. You can also see the lake's sites from the pontoon boat tour, which lasts 50 minutes for a fee of $8 for adults and $6 for seniors and children under 11. Surrounding the lake are tons of park activities, including walking trails, playgrounds, tennis courts, a snack bar, and special events throughout the summer.
Limited boat rentals have resumed at several parks, including those listed below. Guests are encouraged to bring their own life jackets if possible, but jackets will be cleaned after each use.
Monmouth County offers several spots to get out and enjoy the summer weather on the water, including the Manasquan Reservoir in Howell, Turkey Swamp Park in Freehold, and Thompson Park in Lincroft.
Reopened seven days a week until Labor Day for kayaks, paddleboards, pedal boats, and Aqua Trikes, but Jump Island is closed to maintain social distancing.
The calm waters of Barnegat Bay is the perfect place for a family adventure. In addition to paddleboats, you can rent kayaks, stand-up paddleboards, or the incredibly cool-looking Aqua Trikes. There's also an inflatable bounce platform known as Jump Island, where you can bounce on water trampolines, try the Tarzan Swing, run on the Spinning Wheel, and more.
Reopened with kayaks, canoes, stand-up paddles, and pontoons are available for rent. Crabbing traps and nets are available for rent or purchase along with bait.
With fantastic views and several watercraft options to enjoy, the Red Bank Marina on the Navesink River is a great way to beat the summer heat! Choose from kayaks, rowboats, and stand-up paddleboards. Motorboats and pontoon rentals are also available.
Reopened in 2020.
Head down to Pier 13 in Hoboken for a tour, lesson, or another adventure in the harbor with Resilience Paddle Sports. They have kayaks and paddleboards, and offer teen-specific programs, as well as family events and happenings.
Open for rentals on Friday, Saturday, and Sunday only in 2020. Only kayak and rowboat rentals are available from 9am to 6 pm.
Located in Swartswood State Park, Row Your Boat offers rowboats, canoes, kayaks, paddleboats, and more are available at various price points. Normally, open daily till 6pm throughout the summer.

Ride or relax by the water and watch the action at the South Mountain Recreation Complex.
Paddleboat rentals are open again at the South Mountain Recreation Complex, along with the playground, mini golf, and zoo. Masks required, and the concessions are closed.
I used to envy Bostonians who were able to ride awesome boats shaped like swans. Now swan boats have found their way to Northern New Jersey right by Turtle Back Zoo. Paddleboats are available for a half-hour at $17 for a two-person boat or $21 for a four-person boat, with discounts for Orange residents. After touring the banks of the Orange Reservoir, stop by the zoo or mini-golf course for a full day of fun.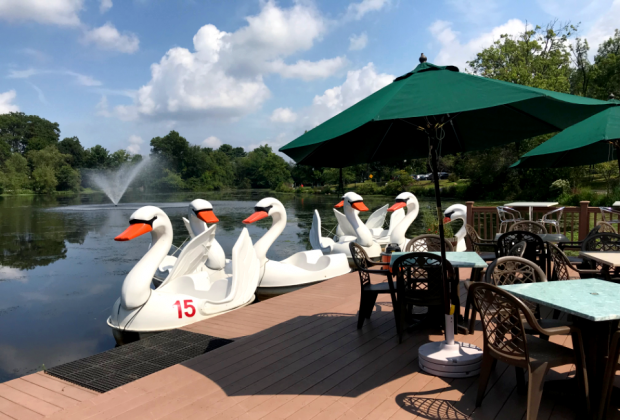 The swan paddleboats at Verona Park are ready to go. Photo by Mommy Poppins.
Paddleboats are available on weekends in 2020. The popular playground has also reopened.
With its beautiful scenery, lush landscaping, and tranquil lake, Verona Park is one of my favorite New Jersey spots to spend outdoor time (and take pictures). Check out the park from all angles from the paddleboats (two or four seats) and rowboats on the 13-acre lake at the center of the park. Boat rentals are available for a fee of $15 a half hour or $20 for an hour. The park also features walking paths, a children's garden, tennis courts, a playground, and boathouse with a snack bar.
Closed in 2020.
Like Union County's own version of Central Park (and designed by the same firm), Warinanco Park boasts flower gardens, walking paths, a playground, spray ground, fields, and a pond for paddling. Observe the park's vibrant backdrop from the paddleboats, which cost $10 to rent for an hour.
Call or visit parks' websites to confirm prices and guidelines as things do change.
Photos courtesy of the venues.