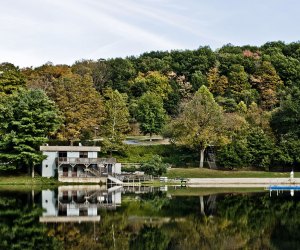 Find Outdoor Family Fun Year-Round at Lewis Morris County Park
I begin my review of Lewis Morris County Park with a word of caution: the park does not have a playground, much to the disappointment of my 5-year-old daughter. While plans are in the works for a new play space (the previous one was removed several years ago), you won't find any brightly-colored jungle gyms, slides, swings, or climbing walls here.
That said, Morris County's second-largest park still offers plenty of opportunities for outdoor fun. You can swim, hike, bike, and even ski during a day trip to this four-season park. So with all that Lewis Morris has to offer, chances are your kids won't even miss the slides and swings.
Read on for more about this historic park. Find even more great day trips in our NJ Day Trip Guide, or check out our Parks & Playgrounds Guide to discover a new-to-you playground.
Named in honor of Lewis Morris, New Jersey's first governor from 1738 to 1746, Lewis Morris County Park was the first park designated in the Morris County Park Commission. It opened in 1958 with just 350 acres; today, it stretches across 2,196 acres spanning parts of Mendham, Morris, and Harding Townships. It's also located right next to the Morristown National Historical Park—formerly known as Jockey Hollow—where General George Washington and the Continental Army camped during the bitter winter of 1779-1780.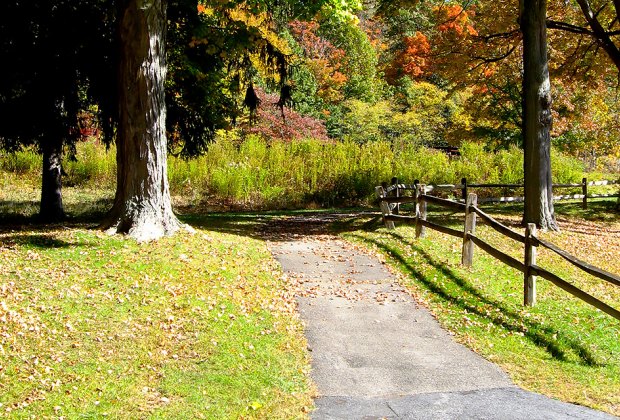 Hike, stroll, or bike on the gorgeous trails.
It's no wonder then, that when hiking the park's 12 miles of trails, you feel a historical vibe in the open space. The color-coded loops make these winding roads easy to navigate. The main Yellow Loop that follows the western perimeter of the park then cuts back through the center is likely too long for little legs. Stick to the shorter Green and Blue Loops, which feature mostly smooth, rock-free terrain with rustic bridges to cross and decent shade cover along the way. These trails are great for a brisk walk or family bike ride—and don't be surprised if you spot a horseback rider from a local stable along the way.
As the weather turns cold, swap your sneakers for winter boots and skis. The snowy trails and hills host wintry activities like sledding, snowshoeing, cross-country skiing, or just making snow angels.
In the warmer weather, areas with tables, benches, and grills are scenic spots to host a birthday party, much like the one we saw in full swing at Doe Meadow during our Saturday afternoon visit (reservations are required for groups of 25 people or more). Make it a day trip and bring along your lunch to eat once you've worked up an appetite hiking or biking the trails. In nearby sports fields, feel free to toss a Frisbee around, play catch, or organize an impromptu kickball game.
RELATED: Best NJ Nature Centers To Visit with Kids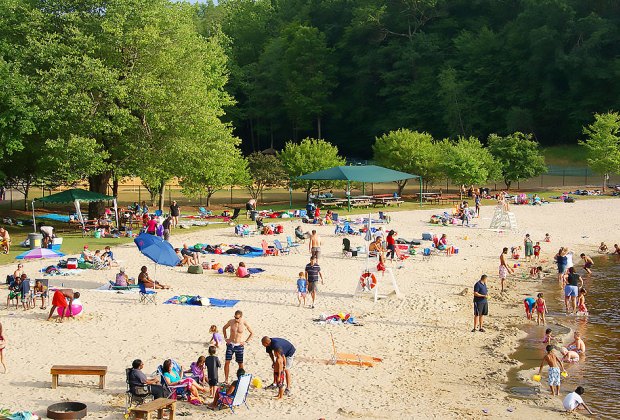 Even the littlest of visitors can enjoy the lake, and parents will be happy with the amenities.
During the summer, the park lures beach lovers to the Sunrise Lake Beach Club. Open Memorial Day Weekend through Labor Day, this beautiful lake lets you skip the drive to the Jersey Shore and take a dip closer to home. You can easily spend an entire day at the beach club swimming and paddle boating. Restrooms, showers, and changing facilities are available in the boathouse. Kids ages 7 and up can run, jump, climb, and splash across the Wibit, an inflatable obstacle course at the center of the lake, or slide down the Zoom Floom. The sandy beach is perfect for building sand castles and playing volleyball.
RELATED: Great Swamp: Year-Round Nature Trails for NJ Kids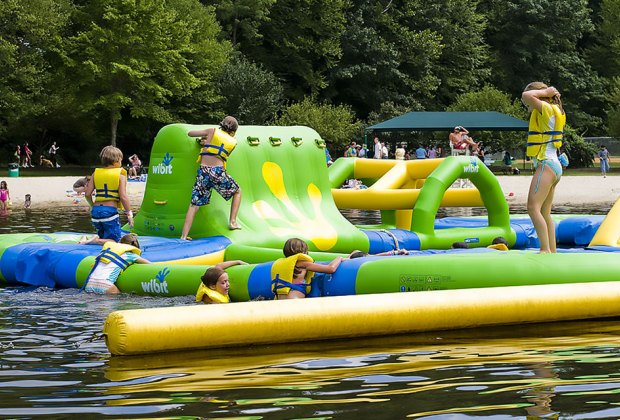 Older kids will love the Zoom Floom and the Wibit—it's a mini water park on a lake!
Parents with toddlers can check out the lake's Tiny Tot Tuesdays in July, when the beach club opens early exclusively for kids 4 and under and their parents. This is a great opportunity for little ones to play and explore without large crowds and older kids. Bring your sleeping bags for a Friday night family campout on the beach complete with tents, a campfire, stories, and s'mores.
No matter the season, whether you're looking to commune with nature by taking a long walk or spend the day playing and picnicking, we can't imagine a better launching pad for your family's next adventure.
RELATED: 10 Things To Do with Kids at Colonial Park in Somerset, NJ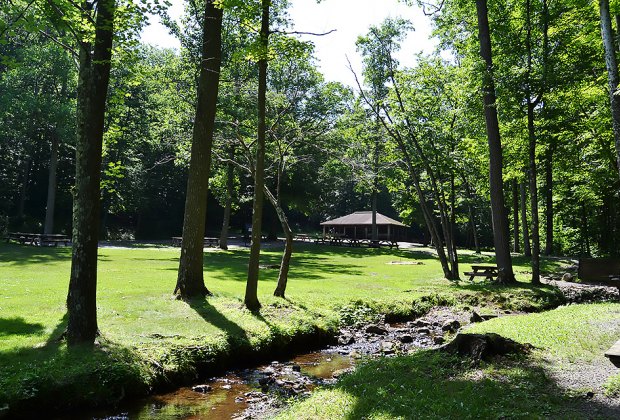 Let the kids run free and explore in Lewis Morris Park's lush, open spaces.
Know Before You Go
The main entrance to the park is at 270 Mendham Road in Morristown. When you see signs for Delbarton prep school, you'll know you're on the right track.
Daily admission to Sunrise Lake Beach Club is generally $7 per adult and $6 per child. Kids 4 and under are free. Weekdays rates are $1 less. Season passes are also available.
The park is closed for eight or nine days between November and February for hunting. If in doubt, check the hunt schedule before heading out to make sure the park and trails are open.
Photos courtesy of Lewis Morris Park.