New Ball N' Bounce Indoor Play Space Bounces into Encino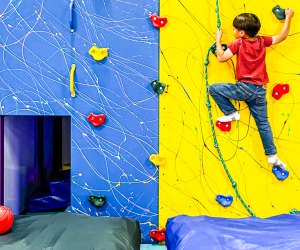 After months of masked, social-distanced toddler playdates, this mother can't quite articulate how refreshing a multi-family, indoor gathering feels. Especially since it's suddenly oddly chilly in LA! So when I saw that Ball N' Bounce just opened in the Encino Commons complex on Ventura Boulevard, an indoor playdate is exactly what I planned.
Stepping foot inside the play space, our whole group of kids and adults instantly perked up. The vibrant colors of the interior are joyful, and there are so many things to climb on and experience that my toddler couldn't wait to start playing. Read on for just what to expect in this new family gem in the San Fernando Valley.
And if you're in search of other terrific destinations for indoor playdates, check out our review of My Little Paris in San Gabriel, and all our favorite LA indoor playgrounds in our Indoor Fun and Play Spaces Guide for Los Angeles and OC Kids.

The zip line is a huge hit, and with soft landing pillows, you won't worry about falling!
What's Inside Ball N' Bounce
I paid our tab for "Open Play" (parents are free, kids are $30 each—more on if this is worth it below!) at Ball N' Bounce, and away my toddler ran, ready to tackle it all. She beelined for the swings, which are set low and perfect for her size. As do most of her peers, she loves a good swing session, but at the park, the swings are usually so high that she can't get on them without adult help. The Ball N' Bounce swings allowed her to be totally independent, which was a gift for me.
Near the swings is a zipline, and it was especially loved by my friend's five-year-old. At his age and height, he could easily climb the squishy pillars to reach the handle of the zipline, then fly over crash pads and drop into a ball pit at the end of the line. My toddler and her same-age buddy also found this thrilling, though they needed some assistance to reach the bar.
Other big hits with our pint-sized crew included crawling around the ball pit, jumping together on a medium-sized, netted trampoline, and going down the super-fast slide toward the back of the space. Though the following didn't get as much attention from our group, there are also giant LEGO bricks to build with, a very cool sand table with projections on it (to make the sand look like various "destinations," like outer space), rock walls, a two-story climbing maze that ends in a twirly slide to the ball pit below, and squishy ramps and toy tables appropriate for crawling and standing babies. There are also two pay-to-play claw machines, with a winner every time, and a digital projection game board that is sure to attract the attention of older kids.
RELATED: Free Museum Days in Los Angeles for Kids
Slide into the ball pit, climb the wall and fall into the ball pit, or just play in the ball pit!
Overall, what we loved most is that there's literally nothing the kids can't touch and move here—which again, is a nice way to give parents a break from shouting, "No!" It's also nice for even the littlest kids to be able to explore and try things without constantly needing adult help. Not only are there plenty of opportunities for sensory play (think the sand table, liquid floor tiles, and crash pads everywhere for healthy risk-taking and soft landings), playtime at Ball N' Bounce fosters independence at all ages. The only thing the place is missing is perhaps a space for messy play, such as a water table, painting space, or sensory table with various textured items to touch. I did spot a bubble machine, but it never turned on during our stay.
RELATED: Top Family-Friendly Bowling Alleys in Los Angeles
Swings for kids of all ages and abilities.
Time to Party at Ball N' Bounce
No surprise here—Ball N' Bounce is more than ready to host kids' birthday parties. There's a whole area set up with low table-and-chair sets ideal for pizza and/or cake eating with a large group (they allow up to 50 kids). Themed decor is available; on our visit, the staff was prepping for a Minion-themed celebration. Parties are two hours long, start at $1,500, and decor and goodie bags can be added for an additional cost. Pricey? Yep. But to have everything taken care of and be able to invite the whole preschool plus siblings, it just might be worth it.
Based on our playdate here, I'd say children ages two to seven are the best fit for the open play or a party here (though note that they do charge for all children between 1-12 years old). While the space felt huge and exciting for my nearly three-year-old, I think it would feel small and less engaging to my 10-year-old, who didn't come with us.
RELATED: 23 Best Indoor Playgrounds in Los Angeles

Not too big, and not too small, this space is jusssst right for kids ages 2-7.
But Is It Worth the Price?
At first, I thought $30 was a high entry price. But, upon noting Ball N' Bounce rules, I changed my mind. $30 is for unlimited play. My toddler wore herself out in about two hours, but my friend's five-year-old could have easily played there for four hours, making that $30 price tag look like a deal in the cost-per-hour category. All in all, with the kids enjoying themselves so much and so independently, I had no problem with that price and intend to go back very soon. And, if families think they'll go back often, they might consider a membership or class pack.
Another huge win for me (and financial savings) is that the facility allows you to bring in outside food and drink, so long as it remains in the area where parties occur. I didn't know this on my first visit, but had I, I certainly would have grabbed lattes for my fellow mamas, and packed snacks for the kids. I have come to expect the "No Outside Food and Drink" rule, so I love that Ball N' Bounce is flexible on that point. Note that the eating area is right next to the play area, so guests can easily take a sip of juice and then head back out to play, or parents can hold court there while still watching their kids. There are limited snack and drink items here for sale, should someone need something.
Finally, the service and spaces are simply delightful. There were two staffers present on our Friday visit, and they happily answered all of our questions, rang us up for chocolate milks mid-visit, and pacified all the kids with free balloons as we exited. If it hadn't been nearing dinner time, we'd have stayed even longer.
Location Details
Ball N' Bounce currently has two locations: this Encino site, and one other on Beverly Boulevard in Los Angeles. Be sure to check the website before going, in case the space is closed for a class or party. The website mentions classes for babies 6 to 24 months though none are currently available, so be sure to check current availability if you're looking for a fun and active class for toddlers.
All photos are courtesy of the author