This New Indoor Playspace in the Valley Has a Fun Twist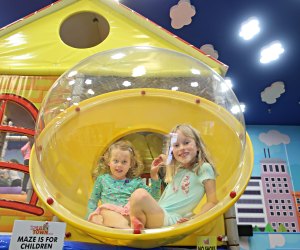 The San Fernando Valley has a new indoor playspace, treating kids to a giant jungle gym, plenty of pretend play, climbing walls, and spontaneous dance parties on a hot or rainy day. My Lil' Town is a great addition to the family scene in Granada Hills (just next door to Northridge), but it's more than just an indoor playground; My Lil' Town is an inspiring space, with a creative design that has something for kids of all ages, from babies and toddlers to big kids.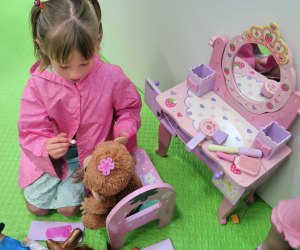 My daughter especially enjoyed the play beauty salon.
The concept of My Lil' Town is super cute: a little town run by children, where kids can role play a variety of careers. Future adults can get hands-on experience as workers or customers at a pretend bank, restaurant, and grocery store. They can play teacher at the school, and get comfortable being the person giving or receiving the X-ray at the little hospital. There is even a gas station where kids can "fuel up" their tricycles and Little Tykes cars before taking them for a spin around the facility's track. The concept may seem familiar to families who have been to Pretend City Children's Museumy in Orange County. My daughter especially enjoyed the play beauty salon, where kids can put on makeup (pretend of course) and style doll hair. There's also a pretend fire station, police station, and even a small jail cell to put away the bad guys. (Don't worry though—there's no lock on the door!)
After exercising their imaginations, kids can exercise their bodies on the giant jungle gym at the center of My Lil' Town. Here, kids can tucker themselves out climbing, sliding, jumping in a ball pit, and going through obstacle courses. Not tired yet? There are three different climbing walls at this playspace, some easier than others. The climbing walls cost extra though: $3 for one turn or $5 for two. Video game fans (maybe including parents?) can also pay to play Xbox, PlayStation, or Nintendo Switch. Ten dollars will get your gamer 30 minutes of play time.

My Lil' Town has three climbing walls.
A real highlight of My Lil' Town is the impromptu dance parties. Every hour or so the lights suddenly dim, the disco ball turns on, and Baby Shark starts playing on the stereo. Or Let It Go. Or some other smash kids' hit. Sometimes bubbles even start falling from a machine near the ceiling. It's a really fun surprise, and the kids love it.
Hungry kids in tow? There are several tables for easy eating on-the-go, though parents may want to bring their own grub as My Lil' Town only sells a few snacks and drinks. Across the street at the North Hills Plaza shopping center there is a Starbucks, Baja Fresh, and Panera Bread, among other stores and restaurants.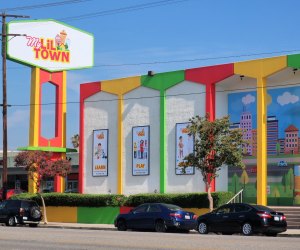 Parking at My Lil' Town is free.
During the week, My Lil' Town is open 10am-7pm. On the weekends it's open if no birthday parties or special events are planned (be sure to call ahead). An all-day play pass is $20 ($17 for siblings), or $15 for two hours of action ($13 for sibs). There is an option for purchasing a 10-visit pack, though it cannot be split between children. Expect to sign a waiver form upon entering the play space, or fill it out online in advance. Similar to most other LA play spaces, adults and kids are required to wear socks.
There is a free parking lot next to My Lil' Town or street parking on Devonshire. And after playing, don't forget to pick up a lollipop or package of fruit snacks on the way out the door—compliments of My Lil' Town!
All photos by author