25 Fun Things To Do in Northridge with Kids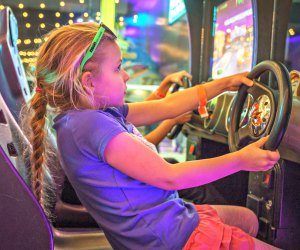 Northridge isn't a must-visit destination for parents the way DTLA, Hollywood, and even Santa Monica are, but that's no reason to avoid it. You may just find that this little Valley suburb west of the 405 has a lot of the cute restaurants, fun shops, and awesome playgrounds found in other parts of the city—but with fewer crowds, less traffic, and tons of free parking. Sounds better now, doesn't it? This not-entirely-sleepy suburb has plenty of locations for kids (and even one for college-age kids, at least if they attend CSUN). Here are a few ways to enjoy a visit to this corner of the San Fernando Valley.
1. Hit the arcade, play pool, sing karaoke or, you know, go bowling at the Matador Bowl.
2. Introduce your kids to the video games of your youth (look Ma, a joystick!) at the Neon Retro Arcade.
The Soraya will wow you with a great live performance. Photo by Luis Luque
3. See a phenomenal live performance (anything from acrobats to classical music) at the Soroya, the Valley Performing Arts Center.
4. Go rollerskating (yes, there are still rinks!) at Skateland Northridge.
5. Let little kids go nuts in 4,000 square feet of inflatable fun at Maddie's Playhouse.
6. Root for the Matadors (that's CSUN's men's and women's basketball teams) at CSUN.
7. Need retail therapy? Head to the Northridge Fashion Center, but be forewarned —there's a Build-A-Bear AND a Disney Store.
8. Visit the pool at the Northridge Recreation Center and be wowed by the twisty, water park-worthy slide.
9. All kids are welcome at the Northridge branch of the indoor playground We Rock the Spectrum
10. Catch a star show at the Donald E. Bianchi Planetarium. Weather permitting, take a peek through the telescope at the campus observatory after the show, too.
West Valley District Yard is a kid-pleaser. Photo courtesy of LA Sanitation
11. Spot real sanitation trucks and a garbage can warehouse at the West Valley District Yard during an open-to-the-public recycling event.
12. When it's warm out, watch family-friendly flicks on the Oviatt Library lawn at CSUN
13. Take in a performance by concert violinist Elisabeth Waldo at the mission-style theater of the Rancho Cordillera del Norte.
14. See turtles, ducks, and squirrels at the CSUN pond.
15. Play basketball, tennis, or explore the playground at Dearborn Park.
16. Little ones will enjoy a chance to play with the toys at SmallVille PlayLand, while slightly bigger kids will appreciate the inflatables.
17. Want to experience a kid-friendly escape room? Try the enchanted forest, wizard, or genie-themed options at Enchanted Escape Room.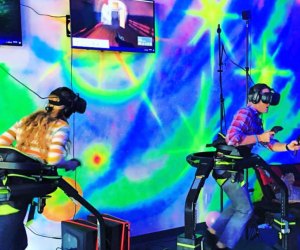 Photo courtesy of VR Territory/Facebook​
18. Virtual reality games specifically for kids? Yes, please. Meet (sort of) cowbots, beast pets, and more at VR Territory.
19. See over 1,200 native California plants on 1.5 acres at CSUN's Botanical Garden. Watch out for the badger (seriously).
20. Don't miss the weekly CSUN Farmers Market for fresh produce and other delights.
21. It's tiny, but the Museum of the San Fernando Valley has lots of heart and art. Be sure to call before you visit to make sure they're open.
22. Who says the SFV doesn't have art? Visit CSUN's Art Galleries to see works by Los Angeles artists, former students, and more.
23. Got a junior Babe Ruth at home? Take him or her to the batting cage at MonkeySports and pick up any sporting goods you need, too.
24. The kids won't leave their video games alone? Make it a family activity by heading to Dave & Buster's.
25. Want to introduce the kids to Cajun and Asian cuisines? Think they'll like making a mess and eating with their hands? Head to the Northridge Kickin Kasian.