KidStock
Pretend City Children's Museum

Online Robotics Camp
Young Gates - Kids Online Personalized Classes

Artificial Intelligence with Scratch Online Camp
Young Gates - Kids Online Personalized Classes
Sign up for our free newsletters.
Glen Ivy Hot Springs: Where Playing in the Mud Is a Treat for Mama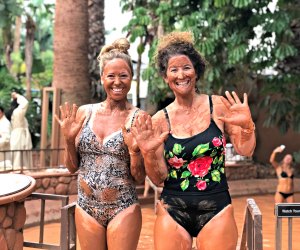 2/5/18
- By
Laura Esposito
Kids love getting into mud about as much as moms usually dread the sight of it. But don't make the mistake of reducing mud to a simple laundry nightmare. LA mamas have long found the mud baths at Glen Ivy Hot Springs to be rejuvenating, good for their skin and, yes, even fun to play in. You could invite your so-grown-up teen to take a spa day with you (no one under 16 allowed!), or you could just leave the posse with Papa and run for the hills on your own. Either way, a day escape to Glen Ivy Spa is an Angeleno secret worth knowing.
Note for 2020: See the Glen Ivy website for info on its new socially distanced spa services, including outdoor massage and private cabanas for lounging and eating.
Personally, I've always harbored an irrational fear of spas, particularly with respect to the level of nudity required. But after a couple of years enduring the daily grind of motherhood and the isolation of working from home, the relaxing and liberating idea of an entire day in a warm bath finally overshadowed my anxiety. When a friend invited me to join her at Glen Ivy, I heard myself enthusiastically reply, "Oh my God, I would LOVE to. That sounds AH-MAZ-ING!" And it was.
Glen Ivy is an hour and forty-five minutes east of Los Angeles—just long enough to forget what a diaper smells like. Any remaining fear I had that I would be prancing around all day in a state of nature was allayed upon entering the reception area, by the sight of an enormous and beautiful gift shop teeming with bathing suits (in case you fled the nursery so fast that you forgot to bring one). The grounds offer a total of 19 pools including thermal mineral baths, hot and cold plunges, a lap pool, a saline pool, saunas, steam rooms, showers, and mud all nestled along a lovely garden path. There's also an option to attend fitness and wellness classes, or for an extra fee indulge in individual spa treatments—or something mysteriously named The Grotto.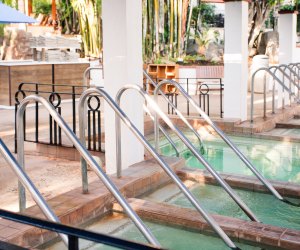 A person could hang out a long time in these thermal mineral baths.
The thermal mineral baths are the main attraction for most visitors. The water in these pools comes directly from the earth and has been rejuvenating bathers for more than 150 years. Maintaining a temp of 104 degrees, the naturally occurring sulfur and other minerals absorb into the skin to soothe aching muscles and joints. We loved it and could have stayed here all day, were it not for our curiosity about Club Mud and that Grotto.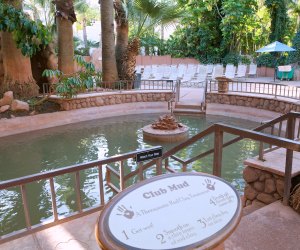 Fresh mud, anyone?
Club Mud is the stop that's most likely to make your kids jealous (which is presumably why so many moms were risking their iPhones for a selfie). The idea is to slather yourself from head to toe in red clay that draws impurities from the skin and exfoliates—and for some reason it's hilarious. That may be because the mud turns you the exact color of an Oompa Loompa, or because there's something delightfully primal about taking a mud bath in a setting reminiscent of the set of The Land of the Lost. We laughed our heads off playing in the clay and getting dirtier than a toddler with an ice cream cone.
Once sufficiently coated with goo, you sit in the Wafa to dry, then rinse off in the showers. It's fun watching the mud change color from dark red to chalky brown as it dries, and you'll love how your skin feels when you're done.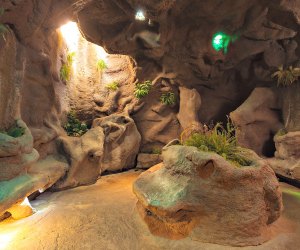 The Grotto is unlike any other spa experience...
Getting muddy was an indulgent hoot, but we had even more fun—and experienced even smoother skin—in The Grotto (a $25 add-on). For this part of our spa adventure we were transported to an underground coat-check for bathrobes and sandals (if you're unsure about checking your phone, take my advice and check your phone), where a personal attendant painted us all over with a special body mask of aloe vera, coconut oil, eucalyptus, and lavender. This was followed by the hydration chamber, a warm, wet cave where we sat (or rather slipped around and giggled) while we allowed the treatment to soak in. A stop in the shower room for rinsing followed, before relaxing in the cool chamber for a snack of apples and tea (and feeling our smoooooth arms).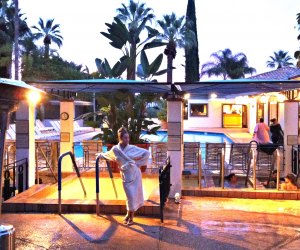 The sun sets on an indulgent day. Photo by Mommy Poppins
The mommies of LA have been escaping to this decadent day spa in the desert for decades; it's a great way to pretend to have a getaway without even staying away overnight. During the winter months, Glen Ivy is open until 5pm; in summer it stays open as late as 9pm on weekend evenings. Admission ranges from $36-$68 (depending on timing), and spa treatments or fitness classes are added on either a la carte or as a package deal. Guests must be at least 16 years old, so there is no choice but to take a parenting day off to enjoy this treat. I may have had apprehension before indulging in my day at Glen Ivy, but by the time we pulled away, I was asking myself how soon I could go back—for a day of playing in the mud.
Photos courtesy of Glen Ivy unless otherwise noted