Things To Do in Silicon Valley: A Kid's Guide to Tech and Science Fun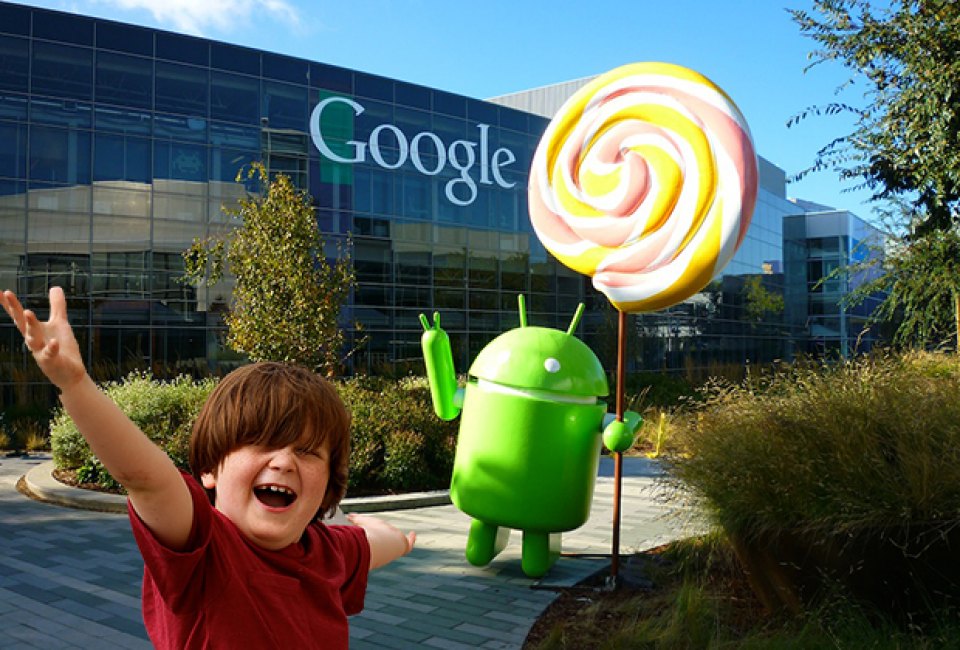 8/27/16
- By
Anna Fader
"What would you do with kids in Silicon Valley?," people asked me when they heard we were planning on spending a few weeks there this summer. Sure, the nerd capitol of America doesn't sound that thrilling at first. But just as we have to thank the geeks and nerds for bringing us great stuff like the smart phone, the internet and Pokemon Go!, having all those squares concentrated in one place means San Jose, Palo Alto, and the surrounding towns are jam-packed with some pretty awesome stuff for those of us who appreciate the geekier side of life.
Whether your family members are true technology buffs or just love a good science museum, there's loads of fun from Santa Cruz to Palo Alto to get your geek on. Here are the top things to do in Silicon Valley for science and technology-loving kids: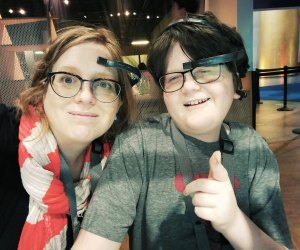 Sporting our biometrics gear at The Tech Musem of Innovation
Tech Museum of Innovation - It might not surprise you that San Jose, the capitol of Silicon Valley, has the most hi-tech science museum you'll find anywhere. At this must-do kid spot, you are part of the science. As you explore, discover and engage in interactive science and technology exhibits throughout the museum, from building and programming robots to bioengineering your own being, you can wear a biometrics set that collects your data. At the end of your visit, you get a graphic, visual display of how your body and brain reacted to the exhibits as you moved through the museum. Pretty cool. Make sure to start your visit downstairs to get your biometrics headset. Also check the schedule for great special workshops and programs.
Children's Discovery Museum - A more playful way to engage with science concepts, the Children's Discovery Museum has a bubble room, water play tables, and other kinetic, exhibits. Toddlers and younger kids will have a blast.
Intel Museum - On the Intel campus in Santa Clara, this small museum is really just a corporate history showroom. Only the most hardcore computer geeks will enjoy learning about the history of the microchip, but it's free. There are a few fun features, like the binary typewriter that teaches kids how to write in binary by projecting their typed words onto a huge display...which certainly couldn't lead to any mischief, eh hem.
Happy Hollow Park and Zoo - In addition to the animals related environmental education, Happy Hollow offers rides and a giant play structure. If all that doesn't wear the kiddos out, walk through Kelley Park to the Japanese Friendship Garden to visit the Koi fish pond.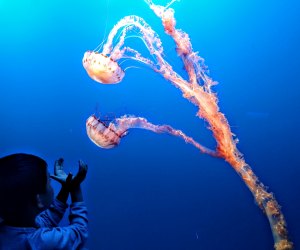 Mystified by jellyfish at the Monterey Bay Aquarium.
Monterey Bay Aquarium - Touted as one of the best aquariums in the country, the Monterey Bay Aquarium does not dissapoint, especially if you love otters, octopus and loads and loads of giant fish tanks. If you have the energy, after you visit the aquarium walk north along the coastal path and you'll spot seals lounging on the beach and maybe other wildlife. It's a pretty walk and will ultimately take you to a park and then a bit further a beach where you can rent paddle boards and kayaks.
Rosicrucian Egyptian Museum - An excellent collection of Ancient Egyptian artifacts displayed in a building built in Ancient Egyptian style. See a child mummy, a baboon mummy and the daily planetarium show. The museum is set in a rose garden for a pleasant addition to the your visit.
Computer History Museum - You don't have to be a super geek excited to see a real live Cray-1 supercomputer to love The Computer History Museum. From the 1969 Neiman Marcus Kitchen Computer to Google's self driving car this surprisingly fascinating museum is a must-do when in the area. Parents will especially love seeing all their old toys and gaming systems and challenging the kids to a game of Pong. Definitely give yourself a few hours to explore the whole museum and pick up up the family discovery deck to help navigate the exhibits. On Friday nights the museum is open late and there's live music and food trucks making it an extra fun stop.

​RELATED: Things to Do in San Francisco With Kids

NASA Ames Research Center - Kind of like NASA itself, this museum feels a bit like a dinosaur. Underfunded, dated exhibits, without the bells and whistles that many expect at a modern science museum. On the other hand, it's free and there's some pretty interesting stuff about space exploration and spacecraft on display here.
Palo Alto Junior Museum & Zoo - A really nice little children's museum. Children up to nine will love the exhibits which are designed to teach science and nature concepts through play. There's also an indoor bug exhibit and a small outdoor zoo.



Endless summer at the Santa Cruz Beach Boardwalk.
Santa Cruz Beach Boardwalk - The Santa Cruz boardwalk is another must-do in the area. Go for the rides, the boardwalk snacks and the big beach. My family, of course, adjusted their glasses and headed right for the arcade, one of the biggest I've seen, and didn't reemmerge for a few hours. Be aware that weekend summer traffic to the beach is like Disney World slow. If possible, park and walk or take a shuttle bus. Santa Cruz also has the best food I found in the whole area. Stay for dinner at a nice restaurant. We enjoyed lovely home made pasta dishes in the cozy little Gabriella Cafe.
Roaring Camps Railroads - As much as the smart phone has transformed 21st century, the steam engine revolutionized the 19th. Train lovers will enjoy the pleasant ride and educational patter as you ride through an old growth redwood forest on an authentic steam locomotive.
Henry Cowell Redwoods State Park - While you are waiting, or after, your railroad ride definitely walk over to the Henry Cowell State Park where you'll find an interperative trail and visitors' center to learn more about these scientifically fascinating and majestic flora.
California's Great America - Is it too much of a stretch to say an amusement park is a science destination because of the physics lessons you can learn by riding roller coasters? Maybe, but I don't care. Great America is a super fun day full of all the loop de loops, flips and flying and splashes that your heart can take. Extra credit if you can determine the kinetic energy needed for the sprialling Demon roller coaster.
The Mystery Spot - The story states that this wacky fun house causes balls to roll uphill and other strange phenomena. Can your kids figure out the real science to myth bust the place?
Googleplex & Apple - Unfortunately you can't get an official tour of either of these technology giants, but you can visit their corporate stores to pick up some sweet swag. Checking out the Google campus is fun to catch a glimpse of the famously fun Google work/lifestyle. You'll see lots of employees riding the colorful loaner bikes to get around campus, gardens growing organic vegetables for use in the cafeterias, and great photo ops with the giant Android and other quirky sculptures around campus.
Lead photo: Googleplex. All photos by the author.