8 Houston Parks Perfect for Kids' Birthday Parties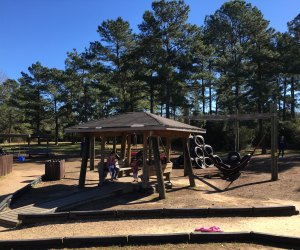 Hosting birthday parties for your kids comes with so many choices nowadays. Which indoor playground is best? What kind of cake will be served? What will the decorations be? Will there be entertainment? Can you get away with just not throwing one at all? The answer to the last one is....probably not (unless your kid is turning 3 and under and they won't know the difference anyway.) Our favorite place to host a birthday party is a great park - one with picnic tables so you don't have to bring any, lots of shade, plenty of room to run around, and great playgrounds so the kids don't have a reason to say they are bored.
The good news is, Houston is home to lots of great parks perfect for birthday parties. Here are some of our favorites.
1. Donovan Park - Heights
700 Heights Blvd., Houston
This beautiful park has a sprawling castle-themed wooden playground to keep kids busy for hours accompanied by a wooden train for the Thomas enthusiasts. The only downside is there is not an on-site bathroom.
2. Spring Creek Park - Tomball
15012 Brown Road, Tomball
You'll find a wooded paradise here northwest of Houston. There are two playgrounds, one which caters to preschool-age children, and a larger one with a massive slide. There's an archery range, hiking trails, and lots of picnic tables including a pavilion you can rent from Harris County.
RELATED: Houston parks with lots of shade
3. Levy Park - Upper Kirby
3801 Eastside, Houston
The recently renovated Levy Park is a gem for all things urban outdoors. An enclosed dog park, performance pavilion, rock climbing wall, interactive water features, children's play space and more.
4. Pumpkin Park (River Oaks Park) - River Oaks
3600 Locke Lane, Houston
River Oaks Park, also known as Pumpkin Park, is straight out of a storybook. Cinderella's pumpkin carriage is the crowning feature here, however you'll also find multiple sports' playing courts, a short hike and bike trail, and the park's other unique and defining attraction: a set of wishing trees where you can write a wish on a slip of paper and pin it to the trees - perfect for a dream come true.
5. Mary Jo Peckham Park - Katy
5597 Gardenia Lane, Katy
This West Houston gem Mary Jo Peckham Park has a playground with areas for both older kids and toddlers, a stocked fishing pond, miniature golf, a fish pond, lots of ducks to feed, and a barbecue pavilion for parties!
RELATED: Ultimate guide to Houston birthday party spots and ideas
6. Carol Fox Park - Jersey Village
15913 Jersey Drive, Jersey Village
This park is one of our favorites for so many reasons. It's fenced in, features a giant climbable Noah's Ark playscape, and has lots of smaller play areas for kids of all ages. There are a few picnic tables and lots of trees for shade.
7. Colonial Park - West University Place
4130 Byron, Houston
West University Place is home to some great parks, including Colonia, which as amenities for the young and old - sand volleyball courts, a covered pavilion, trails, picnic tables, grilling stations, and lots of space to play.
8. Jerry Matheson Park - Tomball
1240 Ulrich Road, Tomball
Jerry Matheson has one of our favorite playgrounds around the city. It's all wooden and has tons of areas, climbables, and even a zip line so that kids of all ages will have a great time. There is a covered pavilion perfect for partying adjacent to a field perfect for running!
Top photo: Jerry Matheson Park/By the author