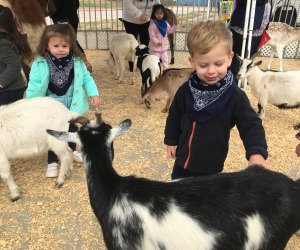 5 Animal Party Entertainers Houston Kids Will Go Wild For
As parents, we want to make our children's birthday parties unforgettable, and planning one such party is definitely not monkey business. One easy way to do this is incorporate what literally every kid loves - animals. Here are five companies that provide animal entertainers, from monkeys to snakes to ponies. Most of these shows are geared towards kids ages 4 and up because of their educational and interactive content, but traditional petting zoos and pony rides are still a go for toddler parties. And don't forget to check out our birthday party guide for more fun and easy ideas.
Marsha's Petting Zoo
281-399-1714
These folks have more than three decades of experience under their belts. You can have a full-size petting zoo delivered to your party (along with qualified staff) as well as ponies, and even an adorable train that takes the kids for a quick ride around the street or parking lot, depending on your party's location. Petting zoos for parties include up to 20 exotic and farm animals, including llama, exotic deer, piglets, lambs, goats, ducks, chickens, and bunnies, to name a few. As yes, even if you live in the heart of Houston these animals are allowed because they are not permanent residents.
Prices are based on location and need and are subject to change, so call for current numbers.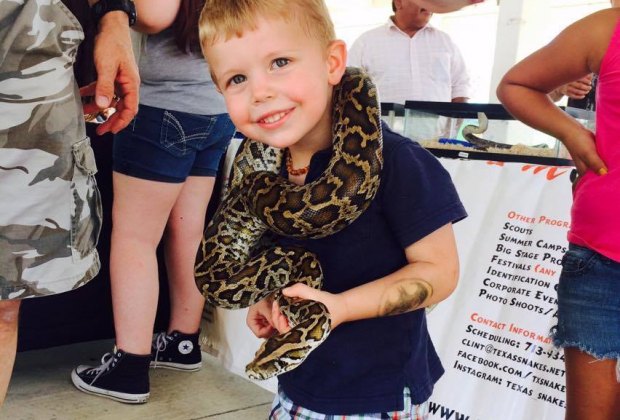 Photo courtesy of Texas Snakes
Texas Snakes
713-934-7668
The founder of Texas Snakes is a long-time (one could say lifetime) snake enthusiast and native Houstonian, and the company has years of entertaining experience. Along with the animals themselves, Texas Snakes also sells snake-themed party favors and has fun cake ideas to make the planning process all the easier. The team usually brings eight snakes and a turtle, and all are non-venomous. The kids are allowed to interact with all of the animals.
Prices are based on party location, but you can expect to spend between $225-250 along with a $50 non-refundable deposit.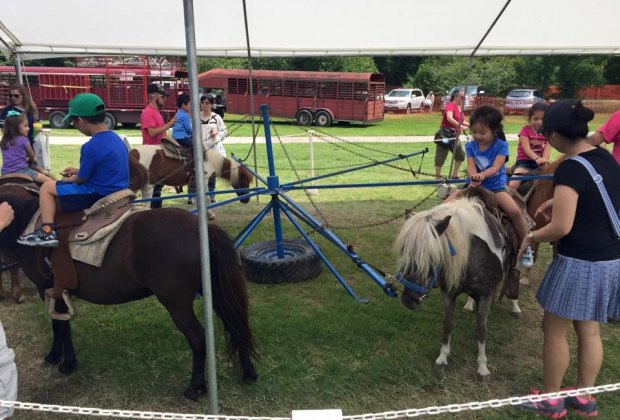 Photo courtesy of Incredible Events
Incredible Events
281-412-5200
There is no shortage of animals to pick from at Incredible Events. Among the more affordable, party-friendly options is the petting zoo, both traditional (baby farm animals) and exotic, bird shows, camel rides, and monkey shows. The latter includes three monkeys and a photographer who takes pictures of all of the kids with the monkeys and prints them on-site. The company is essentially a one-stop-shop for party rentals, as it also rents out DJs, characters, and inflatables.
Prices vary depending on location and package, but in general, the traditional petting zoo costs $550 for two hours, and $600 for two hours if you include a pony ride. One camel for rides is $375 an hour, and the monkey package is $500 for the hour. The exotic petting zoo is $400 per hour.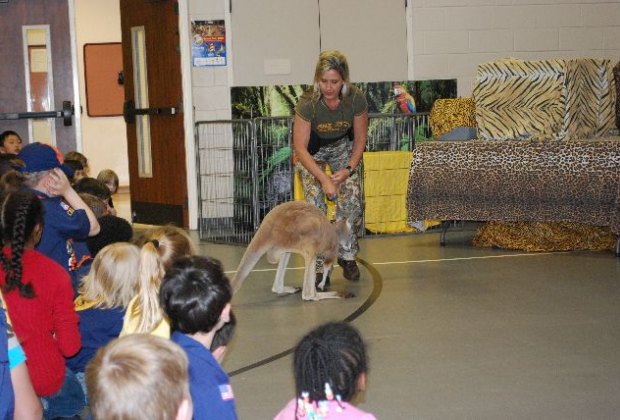 Photo courtesy of Pacodu Exotics
Pacodu Exotics
713-670-6648
Located in Magnolia, Pacodu offers interactive presentations of exotic animals, including the red tail boa, Ring Tailed Lemur, Wallaroo, Red Foot Tortoise, Blue and Gold Macaw parrot, large iguanas, and more. The main party package includes eight animals, which is a mix of mammals, reptiles, and one bird. The presenter gives educational info on each animal one at a time, and it usually takes about an hour.
The price for the one-hour birthday package is $300, and there is an additional fee for locations more than 50 miles away round trip.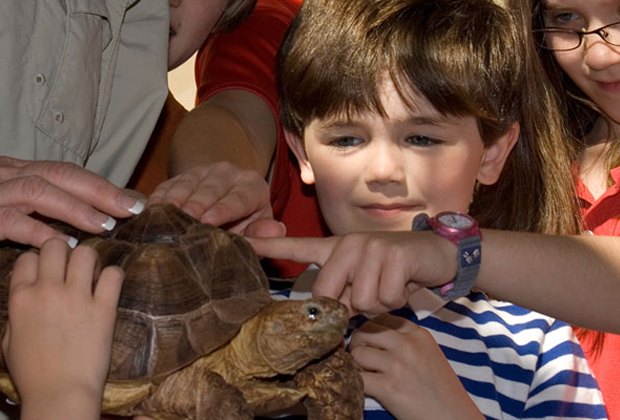 Photo courtesy of My Reptile Guys
My Reptile Guys
877-544-7755
This is one of the more affordable animal entertainer providers in the Houston area, and perfect for kids who love reptiles, from massive pythons to bearded dragons. There are several party packages to choose from with My Reptile Guys: The Jungle, which includes seven animals and a 40-minute show; the Expedition, which includes nine animals and a 50-minute show; the Grand Safari, which features 12 animals and a one-hour show. Along with the educational show, the kids get to interact with and pet each animal. They also have ideas for a reptile-themed party, from decorations to snacks.
Prices depend on the package - $190 for the Jungle, $210 for the Expedition, and $225 for the Grand Safari. Travel fees apply for certain locations as this company's home base is in Missouri City.
Top photo of Marsha's Petting Zoo by Carrie Taylor