Nature Trails & Giant Playgrounds: Playing at Spring Creek Park in Tomball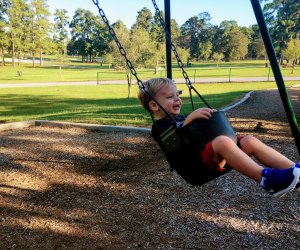 Nestled into the side of a slow, winding road in the small town of Tomball northwest of Houston, you'll find Spring Creek Park, an expansive park that is bursting with things to do. It's also home to some of my fondest memories growing up, as I used to frequent it often with my family, and being able to bring my kids to this park is like stepping back in time. This isn't just any park, though; it's a place that begs for adventures, appeals to kids of all ages, and could just be your next camping trip - all without having to very far from the city.
The sprawling 114-acre facility is home to a plethora of activities set amongst the trees (which is why it's already claimed a spot on our list of parks with LOTS of shade - a must for any Houston park in the summer!) making it the perfect spot to settle in for the day; just pack a picnic and get ready to explore!
Playgrounds

The train park, perfectly suited for younger kids.
The first of two playgrounds in the facility is the 'train park,' named aptly for its steam engine design. This smaller playground area is suited for younger kids, with swings, pint-sized slides and a more compact space that makes it easy to keep an eye on everyone. My 2-year-old gleefully had no problems keeping up with her older brother in this area, and at age 4, he was fairly entertained as well. As is the case with the entire park, there are plenty of benches for supervising and picnic tables for quick snacks between play. If you have littles, this is your spot.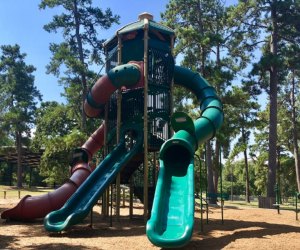 Towering heights and winding slides make the larger playground a haven for bigger kids.
On the other side of the park near the basketball courts is the second, larger playground, which - with its towering slides and winding staircases - is definitely aimed at older kids. The playground boasts three different slides, multiple swings, a rock climbing wall, and plenty of equipment designed for climbing, hanging, and expending energy. One thing to note for parents of multiple age ranges: my oldest loved this playground and zoomed up the stairs to slide down the monstrous slides over and over again.
My youngest, however, made it to the top and then promptly changed her mind and came right back down the way she went up. Once she was back to the mid-level slide she was good to go, though, and she happily stuck to that level to play. There is plenty of other play equipment at this playground for the smaller kids to stay occupied while big kids tackle the slides.
Trails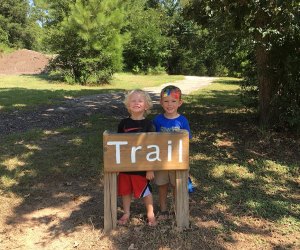 Little adventurers ready to explore some trails.
One of the awesome attractions that Spring Creek Park has is its multiple trail systems. I have vivid memories of running on these trails as a kid, and it was a little like deja-vu watching my kids run through them after all these years. The trails are easy to hike with little ones and several branches off in various directions so you can tack on additional mileage without adding on any true distance. There are plenty of areas for exploring built into the trails, like a dried out creek bed or an empty meadow (that I remember being much larger than it seems to be now), with all trails opening up to other sections of the park. There are also trails on both sides of the park and all take maybe 10-15 minutes to hike before leading back to familiar grounds.
While fairly wooded, each trail is wide and clearly marked as a trail (no second-guessing if you're on the trail or not) and they're the perfect type of trail for beginner hikers to explore. They also are teeming with small wildlife and birds, and we saw three red-beaked woodpeckers on our trek.
Other Amenities
Eight RV/camper hook-ups, three tent-camping sites, and one primitive campground can be reserved free of charge in advance for seven day stretches at a time.
A shower pavilion for campers and public restrooms and picnic areas for park visitors.
Two barbecue pavilions, a large and small one (reservations can be made for use of the pavilions).
Two lighted tennis courts
A basketball pavilion
An unlit softball field
A sand volleyball court.
Disc golf course
Archery range
Fishing along Spring Creek.
Spring Creek Park isn't just a park, it's a place to explore that encourages family activity and fun. And just like I grew up going with my family, I intend on my kids growing up going with theirs - and highly recommend you do the same!
Top photo by Carrie Taylor/Mommy Poppins. All other photos by the author.