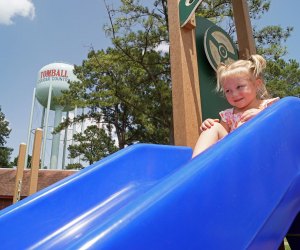 20 Things to Do With Kids in Tomball, TX
One of the many great things about living in the greater Houston area is that we are surrounded by small towns and communities full of history, attractions, and fun things to do. Tomball is northwest of Houston and can be accessed from Highway 249, and is the perfect spot for a morning or day out with the kids. If you're looking for more north Houston fun, check out our list of things to do in The Woodlands with kids.
1. Spend an afternoon at Spring Creek Park.This 114-acre park is full of trees, two playgrounds, walking trails, a covered pavilion, and plenty of picnic tables.
2. Play on the massive wooden playground at Jerry Matheson Park and then hop across the street to Juergens Park.
3. Pick deliciously fresh fruit and veggies at Matt Family Orchard, from blueberries to pears to pumpkins.
4. Indulge your sweet tooth at Nonnie's Soda Fountain, which serves up homemade ice cream and milk shakes in a nostalgic soda shop environment.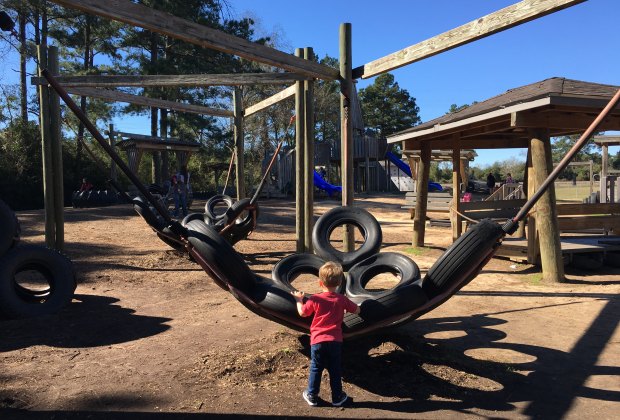 Playing on the giant tire swings at Jerry Matheson Park/Photo by Carrie Taylor
5. Chow down on some homestyle cooking at Brautigam's Bar and Grill, which is right next to the historic depot and Nonnie's and makes for a great start to a perfect family night out.
6. Naturally, next on our list is a visit to the historic downtown Tomball Train Depot where kids can take a picture with the conductor, run around on the sprawling green space, and cool off in the splash pad. The depot itself is a small museum displaying train memorabilia, art, and antiques.
7. Stop by the Tejas Chocolate Craftory for some seriously mouth-watering barbecue (yes, you read that right - BARBECUE), and - of course - homemade chocolate.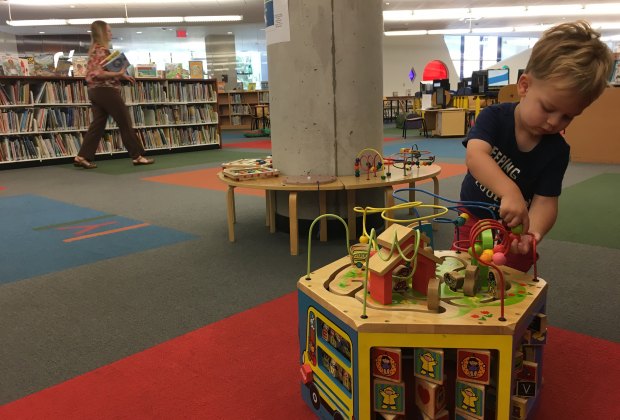 Playing at LSC-Tomball Community Library/Photo by Carrie Taylor
8. Tour the Tomball Museum Center, which houses a collection of historic homes and buildings, including the farming museum, a doctor's office, and log cabin. The center is open 10 a.m.-2 p.m. Thursday and Saturday and 2-4 p.m. Sunday. Note: as of July 2017 the website was down, but the center is in business and can be reached at 281-255-2148.
Related: Insider's Guide to Exploring River Oaks With Kids
9. Learn and play at the Lone Star College - Tomball Community Library, which has a fairly large children's section including games and books for babies and toddlers, story time rooms, and multiple reading nooks.

Inside the historical Tomball Downtown Depot/Photo courtesy the City of Tomball
10. Browse the many, many, many antiques and knick-knacks at Granny's Korner.
11. Party downtown at the Tomball German Heritage Festival, which is generally held at the end of March or early April and features music, food, games, and more. Come back during Christmas time for an old-fashioned German market.
12. Browse handmaid goods and locally grown food at the Tomball Farmers Market, which is open 9 a.m.-1 p.m. Saturdays year-round.
13. Taste the pie at Jane and John Dough Bakery, which also serves breakfast and lunch.
14. Take part in a big family party at the 2nd Saturday at the Depot, where the historic downtown depot is filled with games, crafts, and a free movie screening under the stars.
Related: All-Day Fun: Destination Parks Around Houston
15. Look for birds from the observation blind, walk the shaded trails, or try to catch a fish or two inside the Theis Attaway Nature Center.
16. Try to clear your plate and eat an entire chicken fried steak at Goodson's Cafe or Mel's Country Cafe.
17. Catch a flick at Tomball Premiere Cinemas, which is a smaller theater located in town, or Regal Lone Star 19 (formerly Silverado), which is larger, includes IMAX, and is located south of town on Highway 249.
18. Learn about local history and enjoy the many hiking trails at the Kleb Woods Nature Preserve, which was originally land settled by German immigrants - the Klebs - in the 1840s.
19. Bowl a strike at Tomball Bowl, which has bumpers on all of its lanes for the littlest of bowlers, fun disco lights, and arcade games.
20. Test your tactical skills at TXR Paintball, which is technically about 10 minutes southwest of the city limits, but we'd be remiss to not mention it on behalf of the older kids. The 75-acre wooded facility is filled with castles, bridges, creeks, and speedball arenas.
Top photo courtesy of the City of Tomball