Indoor Pool Parties for Houston Kids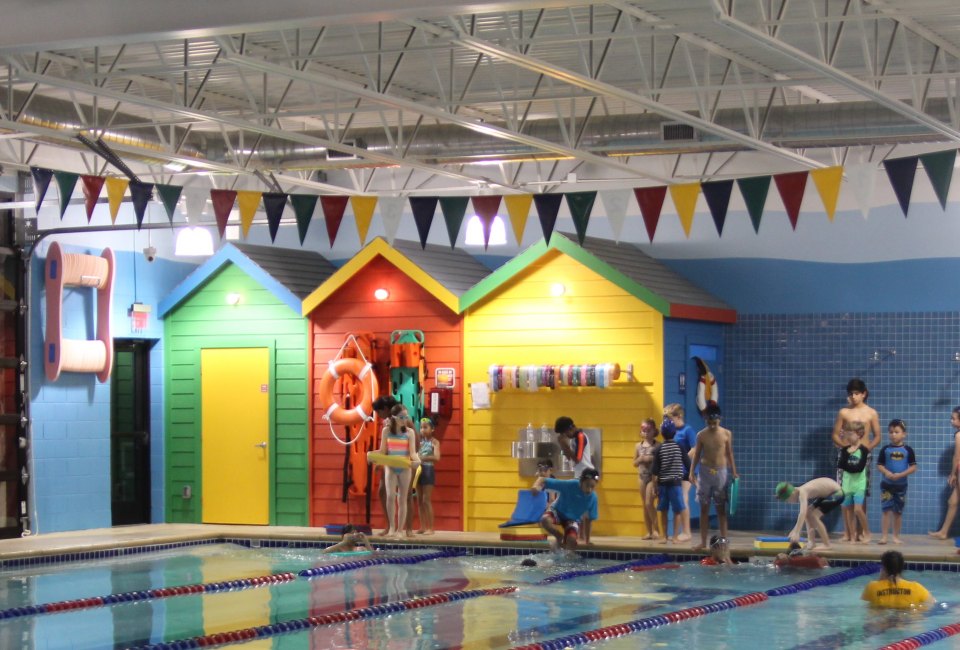 5/3/17
- By
Carrie Taylor
Whether you're looking to host a pool birthday party in May or December, these indoor pools in Houston are great options year-round. You can arrange a two-hour party of free play in the water, or get adventurous and make it a SCUBA party. And if you need more birthday party inspiration for your kiddo, check out our Houston party guide with ideas on how to plan the best bash ever.
SwimJim
1100 Wilcrest Drive, Houston 77042
713-784-1777
You can bring as many swimmers as you want to a party at SwimJim Swim School. Each party lasts two hours long, and the facility provides a lifeguard as well as a party host. There are tables on-site, and packages include pool toys and floats, tables and chairs, and goodie bags for each child. Outside food and decorations are also allowed. Prices start at $320 for 25 swimmers, $395 for 25-50, and custom pricing for additional guests.
PENGU Swim School
27020 Cinco Ranch Blvd., Katy 77494
281-665-3310
484 Wakefield, Houston 77018
713-688-2400
PENGU's colorful and playful facility is perfect for a fun pool party. Parties are two hours long and can only be scheduled on Sundays from 11 a.m.-1 p.m., 1:30-3:30 p.m., or 4-6 p.m. Kids spend one hour in the pool, which is temperature controlled, and the other hour in the lobby where you can set up tables and chairs and enjoy cake and refreshments. Prices are $450 for up to 24 children, $525 for 25-35 children, and $575 for 36-46 children.
Houston Swim Club
2810 Business Center Drive, Ste. 148, Pearland 77584
713-434-7946
19702 Hwy. 290, Houston 77065
281-807-7946
The Houston Swim Club has five locations around the greater Houston area, but only the Pearland and Cypress locations offer birthday party options. Parties are hosted only on Saturdays for two two-hour time slots - 1:30-3:30 p.m. or 4-6 p.m. The club provides lifeguards as well as a host to help set up and organize, and you can bring your own food and decorations. Parties are $275 for up to 15 swimmers.
Goldfish Swim School
1801 S. Dairy Ashford Road, Ste. 103, Houston 77077
832-856-7946
Goldfish offers party packages for kids ages 4 months to 12 years old. The package includes two hours of party time, lifeguards, party invitations that include a map to the facility, table coverings, decorations, and cupcakes and beverages. Parties can be held 3:30-7:30 p.m. Saturdays and Sundays and accommodate up to 24 children.
Houston Scuba Academy
12505 Hillcroft St., Houston 77035
713-721-7788
Host a scuba party your little one won't forget at the Houston Scuba Academy. Party-goers get to snorkel or scuba, swim and play games in the indoor heated pool, which has two shallow ends and a deep middle. Only kids ages 8 and up are eligible for scuba parties. They even have staff on-site to take underwater photos. The package is $250 and includes 1 1/2 hours of party time for 20 kids, masks, snorkels and fins, and 30 minutes in the classroom for cakes and snacks.
Sea Star Swimschool and Gymnastics Center
4000 Cartwright Road, Missouri City 77459
281-403-7946
At Sea Star, you can host a pool or gymnastics party. Pool parties last 1 1/2 hours with one hour of pool time, which can include free play or games and activities. The staff takes care of planning activities, setup, and cleanup as well as supervision. Parties are for children ages 3-12 years old and are scheduled at 2, 4 and 6 p.m. Parties cost $250 for up to 15 children, and there is a $10 fee for every additional child.
Sea Sports Swim
12001 Barker Cypress Road, Cypress 77433
281-304-7946
The heated indoor pool at Sea Sports is available year-round, and the facility actually allows a longer party time - three hours. You get use of the pools, party rooms, lifeguards on hand, and tables and chairs, and can also choose to have a SCUBA party for an extra fee. For a three-hour party for up to 20 swimmers, it costs $250, and $350 for a swim and SCUBA party, which can accommodate 15 guests.
YMCA
Various locations around Houston
The YMCAs across Houston each offer unique birthday packages and during the summer many offer pool parties where you can use a portion of the pool or make it a private affair. Call your neighborhood YMCA for pricing and offers.
Photo courtesy PENGU
Click Here to Sign Up!
i