Insider's Guide to Exploring Seabrook, Texas with Kids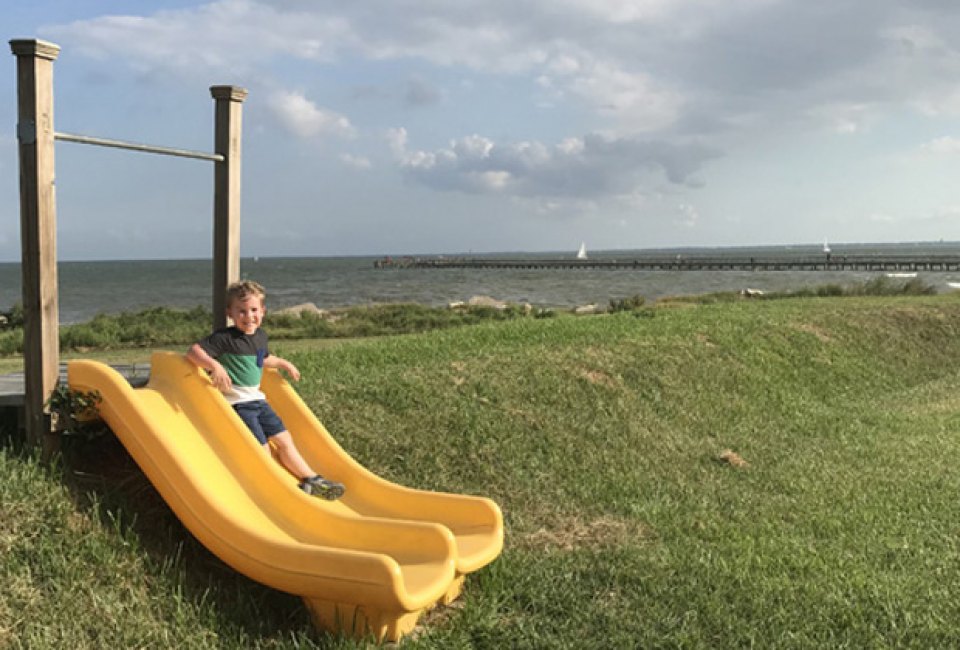 10/16/17
- By
Ashley Jones
Southeast Houston is home to several waterfront communities, each with their own unique take on seaside living. Many Houstonians head to Kemah or Galveston when looking for a little bit of a bay breeze, but the small city of Seabrook, just minutes away from the popular Kemah Boardwalk, boasts a host of activities for the entire family to enjoy. Our family lived in Seabrook for three amazing years, and we were fortunate to experience everything Seabrook has to offer on a daily basis. It's also a wonderful place to visit! With 18 parks, 13 miles of hiking and biking trails, unique shopping and dining options, and no shortage of community spirit, exploring Seabrook can be a refreshing way to spend a day with kids outside of the typical tourist towns.
Things to do
1. Explore the Evelyn Meador Library to find a large selection of books for kids and adults alike. They offer story times for babies, toddlers, and preschoolers, as well as activities for teens like crafting and coding workshops.
2. Take your skateboarders and roller blades to the Seabrook Skateboard Park at Rex Meador Park. The ramps and smooth concrete obstacles give skaters plenty of space to practice tricks.
3. Hike or bike one of the 13 miles of scenic trails in Seabrook. Our personal favorite family trail is the one in Pine Gully Park. It's elevated over marshlands to give kids the chance to spot turtles, frogs, and other creatures in their natural habitat.
4. Browse the shops in Seabrook's historic district, where you'll find an eclectic mix of antique shops, boutique stores, and pet stores. Be sure to stop for a cup of coffee at El Lago Coffee and Antiques to enjoy while you stroll through the seaside shops.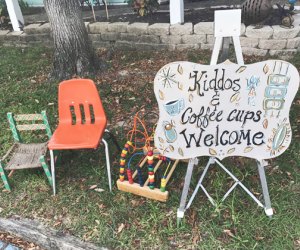 This sign outside of Clever Parrot Antiques encourages parents to bring their kids and their caffeine shopping.
5. Visit the Seabrook Free Little Library at City Hall. This "take one, leave one" concept library box encourages kids to trade books from out of their own collection to exchange with one from the box to be enjoyed by other young readers. These boxes are not only found in Seabrook but all around the greater Houston area as well.
6. Play a rousing game of disc golf on the course located at Miramar Park. The 9-hole course winds through a wooded area with plenty of shade from the heat.
7. Go for a swim at Pelican Bay, Seabrook's public swimming pool. Non-residents do have to pay a small fee for pool entry, but sliding down the giant twisty slide makes it all so worth it. Pool hours vary, please check the pool's website for more information.
8. Splish and splash at the Monroe Field splash pad. Water sprays and spouts from nautically themed equipment, complete with a boat and a pelican that dumps a beak full of water from high overhead. The splash pad is completely fenced in, and features restrooms and covered picnic tables.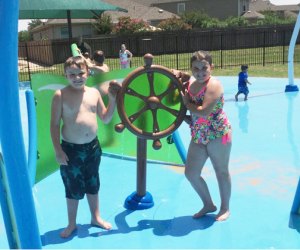 Take a turn with the captain's wheel at the nautical-themed splash pad at Monroe Field.
9. Drive down scenic Todville Road to see gorgeous custom-built waterfront homes. Our kids always love when we take this route, which ends right at the base of the Kemah bridge.
10. Attend one of the City of Seabrook's many festivals and parades throughout the year including, Breakfast with Santa, Fourth of July kids parade, and an annual Easter Egg Hunt. Several boating festivals also take place in Seabrook each year, including the Harvest Moon Regatta race and the Keels and Wheels classic car and boat show. Celebration Seabrook is the hallmark of the entire year of events in Seabrook, complete with vendors, food trucks, arts and crafts, cooking demonstrations, and more!
11. Visit Mass Nursery and explore a variety of unusual and unique plants that are local to the Southeast Texas coastal region. This family owned and operated nursery also hosts gardening classes throughout the year.
12. Have a family volleyball or basketball tournament on the courts at Rex Meador Park. Be sure to bring your own balls to play. Afterward, enjoy a cookout on one of the park's open barbeque pits.
13. Take the entire family fishing on Seabrook's 1,000 ft fishing pier at Pine Gully Park. While there, kids can enjoy playing on the newly renovated playground equipment or in the tunnels and on the slides built right into the park's natural landscape. Pine Gully Park even features a real fort area, perfect for a game of capture the flag.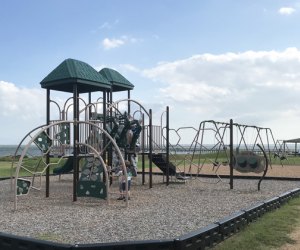 The new playground equipment at Pine Gully Park offers a gorgeous waterfront view.
Restaurants
No day in Seabrook is complete without a visit to one (or more!) of its unique local restaurants. These family-friendly spots will have your kids and their tummies thanking you.
Tookies
1202 Bayport Blvd., Seabrook
281-942-9334
This long-standing family favorite burger joint is perfect for lunch or dinner. Ask to be seated in the train room where kids can watch a real, working toy train circle around the top of the room during your meal.
Tookies Seafood
1106 Bayport Blvd., Seabrook
281-942-9445
This new seafood restaurant is the gold standard for dinner in Seabrook. Their menu is an eclectic mix of seafood favorites and cajun flair.
Seabrook Classic Cafe
2511 E. NASA Parkway, Seabrook
281-326-1512
The family-friendly atmosphere at Seabrook Classic Cafe pairs perfectly with the down-home diner food for a great meal any time of day.
Midnite Slice Pizza
1605 2nd St., Seabrook
281-291-7498
Midnite Slice serves up unique pizza topping combinations day and night, with a different special each day. Take the kids and sit on their patio for a no-fuss meal.
Seabrook Waffle Company
1402 5th St., Seabrook
281-291-8186
This local legend serves mouth-watering Belgian waffles with just about any topping you can imagine. Their Vietnamese iced coffee is steeped for 24 hours and sweetened with condensed milk, making it the perfect fuel for parents on a busy day exploring Seabrook.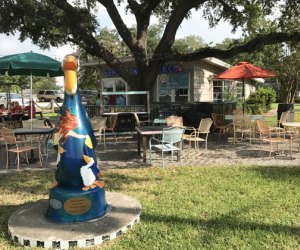 The Seabrook Waffle Company patio features one of Seabrook's painted pelican statues, found in various places around the city.
Mario's Flying Pizza
1304 Bayport Blvd., Seabrook
281-474-5103
Mario's is home to hand-tossed New York style pizzas. Kids can watch the pizza makers fly spinning discs of dough into the air while enjoying their meal. Also, Kids 12 and under eat FREE on Tuesday nights with the purchase of an adult entree.
Laredo's Tex Mex Cafe
2119 Bayport Blvd., Seabrook
281-291-8080
This hidden gem is the oldest Mexican food restaurant in Seabrook and is serving up timeless family recipes daily.
Neptune's Subs
1917 Bayport Blvd., Seabrook
281-474-3973
Home of the Seabrook-famous "Bald Monday" where bare-headed diners eat for less on the first Monday of each month, this fun and friendly sandwich shop slices their meats fresh daily and has been serving subs in Seabrook for more than 25 years.
All photos by Ashley Jones