The Woodlands Children's Museum: Little Kid Heaven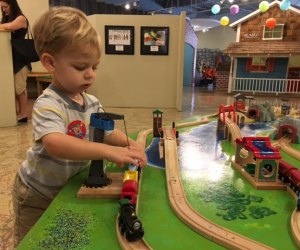 The Houston Children's Museum is great, but it can be a bit overwhelming for younger children. The last time I took my toddler I could see the fear in his eyes as I tried to herd him and his cousin through seas of big kids. It's why I love The Woodlands Children's Museum because it is perfect for my family right now. The 11,000-square-foot facility is geared toward children up to age 10, and the best part is it is just small enough that I can sit in one spot for a good 5-10 minutes and still have my toddler in sight.
When we go to the museum, I like to get there right when it opens at 10 a.m. Because there is often an activity, like storytime theater or a puppet show, at 11 a.m., it gives my son time to run around before then. Our latest visit was on a Friday morning, and the crowd was not bad. I get claustrophobic when surrounded by too many strollers and little people, and it never felt too cramped during our two-hour visit. One thing to note about admission, which is $6 per person ages 1 and older, is that you can leave and re-enter all day with the same ticket. This makes it a great destination if you are visiting The Woodlands for the entire day, or weekend, depending on what part of the metroplex you live in.
There are 15 exhibits inside the museum. The main attractions inside replicate real-life tasks and experiences, so there is a miniature house with a kitchen and cleaning tools, a market with shopping baskets and plastic foods, and a fire truck equipped with several hats and jackets for dress up. Just those three spaces alone are enough to keep young ones occupied for a while, especially for little hoarders like my son who spent most of our visit pushing "his basket" of carrots around the museum.
Next to the house is the stage and reading area where the staff-led activities take place. We enjoyed storybook theater during our last visit, which brought kids on stage to hold up animals and make animal noises during a reading of "Polar Bear, Polar Bear, What Do You Hear?" The kids also got to borrow a teddy bear and learn a song and dance in honor of Teddy Bear Day. Other daily activities include Dr. J's Experimental Science, which explores the "ooey, gooey, fizzy and explosive side of science," shadow puppet theater, math play, Lego time, Lego read and build, and Mad Science. You can check the online calendar for the days and times for each event, and they are free with admission.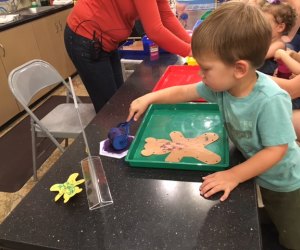 An arts and crafts area lets kids make special projects like the paper teddy bears my nephew made during our visit. The friendly staff helped him and the other children color on, stamp and sew together paper teddy bear cutouts to take home. It's a nice way to get the kids focused on a specific project and get their creative juices flowing.
The other half of the museum includes an area of over-sized blocks for building and activities, half of a truck sticking out of the wall where kids can pretend to drive, and an area of private party rooms. There is also an enclosed water sensory area complete with plastic aprons (hallelujah) and fishing poles. It kept my toddler focused for nearly 15 minutes as he tried to fish out the colorful fish in the trough. There are other smaller activity areas, including a train table, sensory bins, and a toddler zone for smaller babies to crawl around without fear of being trampled.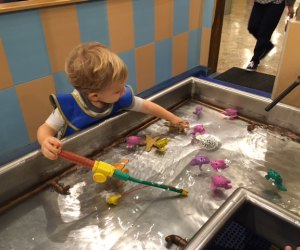 Our visit was a casual outing, but the museum hosts many events throughout the year as well as workshops. Membership is $76 for a family of four and includes unlimited free admission and discounts on birthday parties and workshops. Normal hours are 10 a.m.-5 p.m. Tuesday through Saturday and noon-5 p.m. Sunday.
This museum may be on the smaller side, but it is packed full of educational and fun learning opportunities for your kids. I definitely recommend taking a visit. Don't worry about parking either as it's located in the Panther Creek Shopping Center and has plenty of spots.
All photos by Carrie Taylor